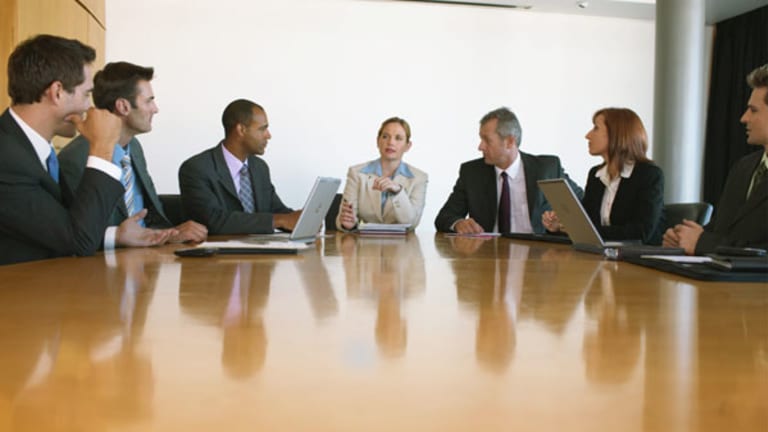 Fed Keeps Pushing to Make Big Banks Boring
U.S. rules are 'an incremental negative' for the big U.S. banks, according to Goldman Sachs analysts.
NEW YORK (
) -- Big banks will see a further dent to profits under proposals
by the
Federal Reserve
aimed at increasing the quality of assets the institutions hold.
Goldman Sachs analysts called the proposal "an incremental negative for large-cap banks versus the rules proposed by the Basel committee, creating further pressure on net interest margins." For regional banks, however, the rule is a "modest positive," Goldman's analysts contend.
Critics of the new rules, such as Rafferty Capital Markets analyst Dick Bove,
argue they are causing a drop in lending
.
In comparing the Fed rule, known as the Liquidity Coverage Ratio (LCR), to the Basel 3 international capital standards, Goldman notes several more difficult requirements.
For example large-cap banks will have to calculate their LCRs "over a 30 day period, reporting their lowest ratio over that period (as opposed to just the ratio on day 30)." In addition, the Fed "left the door open for further buffers," stating the LCR, "is a minimum requirement and organizations that pose more systemic risk to the U.S. banking system or whose liquidity stress testing indicates a need for higher liquidity buffers may need to take additional steps beyond meeting the minimum ratio in order to meet supervisory expectations".
The Fed rules also have quicker implementation dates, "more punitive," assumptions on cash flow, and narrower definitions of what constitutes a high quality asset, according to the Goldman team.
While
Bank of America
(BAC)
,
JPMorgan Chase
(JPM)
,
Citigroup
(C)
and
Morgan Stanley
(MS)
have all said they are compliant under the Basel rules, Goldman's analysts say the banks have not released sufficient information to enable them to assess their preparedness for the LQR.
Wells Fargo
(WFC)
noted it increased its liquidity in the third quarter, but has not said whether it is prepared for the Basel rules.
Goldman's report states that JPMorgan's net interest margins declined by 0.18% as a result of efforts to increase its liquidity in the second quarter, while Wells Fargo's declined by 0.15% "from deposit growth and liquidity actions this year."
--
Written by Dan Freed in New York
.
Disclosure: TheStreet's editorial policy prohibits staff editors, reporters and analysts from holding positions in any individual stocks.