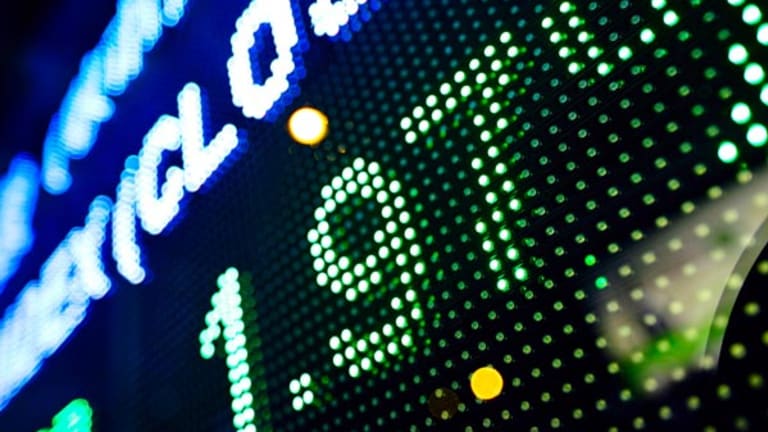 February 26 Premarket Briefing: 10 Things You Should Know
U.S. stock futures are bouncing upward on Thursday, as investors await a flood of data on consumer prices, jobless claims and housing.
Updated from 6:52 a.m. EST.
NEW YORK (TheStreet) -- Here are 10 things you should know for Thursday, Feb. 26:
1. -- U.S. stock futures were bouncing upward on Thursday, as investors await a flood of data on consumer prices, jobless claims and housing.
European stocks were mixed on Thursday. A bigger-than-expected decline in German unemployment helped, and earnings reports from some of the region's largest companies came in.
2. -- The economic calendar in the U.S. on Thursday is busy. The Consumer Price Index is reported at 8:30 a.m. The jobless claims report arrives at 8:30 a.m. Durable goods order data also come out at 8:30 a.m. The FHFA house price index on single-family houses is released at 9 a.m.
3. -- U.S. stocks on Wednesday didn't make any big moves after Federal Reserve Chair Janet Yellen finished two days of testimony in Congress and emphasized that the Fed would raise rates when the economy could withstand the move.
The S&P 500 (SPY) closed down 0.08% to 2,113.86. The Nasdaq (QQQ) drooped 0.02% to 4,967.14. The Dow Jones Industrial Average (DIA) rose 0.08% to 18,224.57.
4. -- Morgan Stanley (MS) will pay a $2.6 billion fine to settle claims on the sale of mortgage bonds before the financial crisis of 2008. This fine follows two big fines last year, in which Morgan Stanley agreed to a $1.25 billion fine for selling bad mortgage-backed securities to Fannie Mae (FNMA) and Freddie Mac (FMCC) ; plus another settlement for $275 million for understating its delinquent loans to the Securities and Exchange Commission.
The U.S. Department of Justice is pursuing other big banks as well -- notably Bank of America (BAC) , Citigroup (C) and JPMorgan Chase (JPM) , which together have paid more than $35 billion in cash penalties and consumer relief.
In premarket trading, Morgan Stanley stock was sinking 0.52%.
5. -- Spanish electric and natural gas company Iberdrola (IBDRY) will buy the northeastern U.S. utility UIL Holdings (UIL) for $3 billion, the companies announced Thursday. UIL shareholders will exchange their shares for new U.S.-listed shares in Iberdrola USA.
According to the deal, UIL is worth $52.75 a share. Iberdrola will assume around $1 billion in UIL's debt.
UIL shares leapt 20.5% in premarket trading.
6. --U.K. bank Standard Chartered (SCBFF) will replace its CEO, Peter Sands, with former JPMorgan Chase banker Bill Winters in June, it announced. Singapore's Temasek, the bank's largest shareholder, said it was pleased with the plan.
The move is part of a larger overhaul for the bank, including the departure of Chairman John Peace and some board members. Standard Chartered has faced U.S. fines for breaking sanctions and has lost money in commodities loans.
7. -- Brent crude oil prices are dropping toward $61 a barrel. On Wednesday, prices for Brent and West Texas Intermediate crude rallied 5% and 3%, respectively. But U.S. crude oil stockpiles rose by 8.4 million barrels last week, the Energy Information Administration said Wednesday. Oil stores of 434.1 million barrels are the largest since records began in 1982. 
Oil refineries were reducing output to address the oil glut.
8. -- The Federal Communications Commission is expected to approve new "net neutrality" rules Thursday. The new rules would categorize Internet access as a public utility and prevent companies from charging a premium for faster delivery of some content or from deliberately slowing down delivery of other content. 
Cable companies and Internet service providers are likely to tangle this regulatory decision in the courts.  
9. -- Asian stocks were at five-month highs after Chinese factory data was reported to be strong, and as investors embraced Yellen's comments to the U.S. Congress. It also looks likely that China will take measures to boost its slowing economy.
10. -- Google (GOOG) (GOOGL) is expected to announce plans for a new headquarters this week. The company employs 20,000 people at its Mountain View, Calif., headquarters; the city has a population of 80,000. Google seems set to stay in Mountain View, where it is the biggest employer and taxpayer.
Google shares were up 0.05% in premarket trading.
-- Written by Nora Morrison
Nora Morrison is an editor, writer and researcher on music, popular culture and business. She is an associate editor at
TheStreet
, and is on Twitter at
.