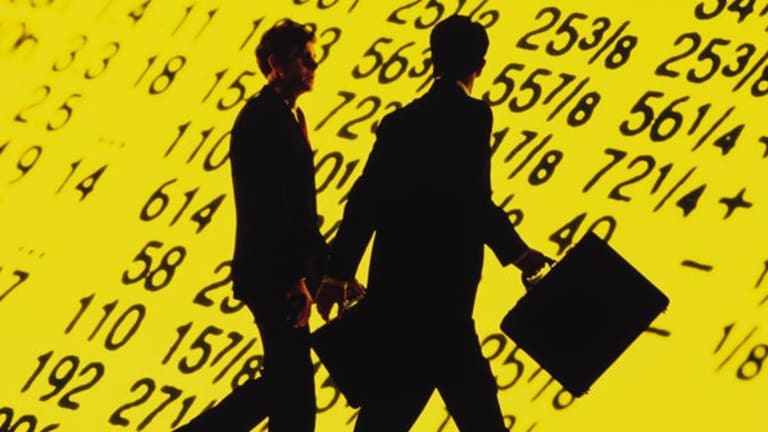 February 25 Premarket Briefing: 10 Things You Should Know
U.S. stock futures are mixed as investors await Federal Reserve Chair Janet Yellen's continued testimony before Congress, and as the Nasdaq reaches toward 5,000.
Updated from 6:55 a.m. EST.
NEW YORK (TheStreet) -- Here are 10 things you should know for Wednesday, Feb. 25:
1. -- U.S. stock futures were mixed as investors await Federal Reserve Chair Janet Yellen's continued testimony before Congress Wednesday, and as the Nasdaq (QQQ) reaches toward 5,000.
European stocks were down across the board, with London's FTSE 100 off 0.37%.
2. -- The economic calendar in the U.S. on Wednesday includes the new home sales report at 10 a.m. Fed Chair Janet Yellen's testimony in Congress picks up for the second day at 10 a.m. The Energy Information Administration presents data on petroleum inventories in the U.S. at 10:30 a.m.
3. -- U.S. stocks on Tuesday closed at record highs after Yellen's testimony in the Senate seemed to please investors.
The S&P 500 (SPY) closed up 0. 28% to 2,115.48. The Nasdaq rose 0.14% to 4,968.12. The Dow Jones Industrial Average (DIA) jumped 0.51% to 18,209.19.
4. -- In Tuesday's testimony before the Senate Banking Committee, Fed Chair Janet Yellen said that the U.S. economy was recovering, but that it still had room for improvement. She said the Fed was moving slowly toward raising interest rates, and could announce an increase as soon as March. That means that a June raise in interest rates is still possible, although a later increase seems more likely.
Yellen also pushed back against Sen. Rand Paul's (R-Ky.) bill to audit the Fed. Yellen said such a bill would reduce the Fed's autonomy and its ability to make unpopular moves when necessary.
On Wednesday, Yellen's testimony continues, this time before the House Financial Services Committee.
5. -- Big-box retailer Target (TGT) reports earnings just as the opening bell rings on Wednesday. Analysts expect earnings per share of $1.46, up from the 90 cents in its year-ago quarter. Revenue estimates are at $21.64 billion, compared to $21.52 billion a year ago. 
In premarket trading, Target shares were rising 0.97%.
6. -- The Federal Communications Commission is expected to categorize Internet access as a public utility on Thursday, which would prevent companies from charging a premium for faster delivery of some content. The decision is a victory for "net neutrality," although cable companies and Internet service providers are likely to take their objections to the decision to the courts. 
7. -- Earnings are down at big U.S. banks, likely due to legal costs. JPMorgan Chase (JPM) , Bank of America (BAC) and Citigroup (C) alone paid $4.4 billion in legal costs this quarter. The FDIC said that U.S. bank earnings were down 7.3% for the quarter.
JPMorgan Chase also insisted that it would not be worth more if it were broken up, something that some analysts have suggested.
JPMorgan Chase stock was up 0.15% in premarket trading.
8. -- The Keystone XL oil pipeline was approved in Congress but on Tuesday was vetoed by President Barack Obama. The pipeline would carry 800,000 barrels of heavy petroleum daily from the Canadian oil sands in Alberta to the Gulf of Mexico. The White House could still conceivably approve the pipeline, but that looks unlikely at the moment. Congressional Republicans don't have the votes to overcome the veto.
Oil prices remain low, down about 50% from their highs in June 2014.
9. -- Meanwhile, oil inventories are at an 80-year high. The Energy Information Administration will present more data on the supply glut in an announcement Wednesday.
Chesapeake Energy (CHK) , which reports before the opening bell Wednesday, was sinking 4.4% in premarket trading.
10. -- Facebook (FB) announced that it had 2 million advertisers on Tuesday. Advertising giant Google (GOOG) (GOOGL) has about 4 million advertisers, about the same as it had in 2011, when Facebook only had 500,000 advertisers.
The abundance of ads on Facebook should allow the company to provide ads that more closely match user interests.
Facebook stock was trading up 0.37% in premarket trading.
-- Written by Nora Morrison
Nora Morrison is an editor, writer and researcher on music, popular culture and business. She is an associate editor at
TheStreet
, and is on Twitter at
.