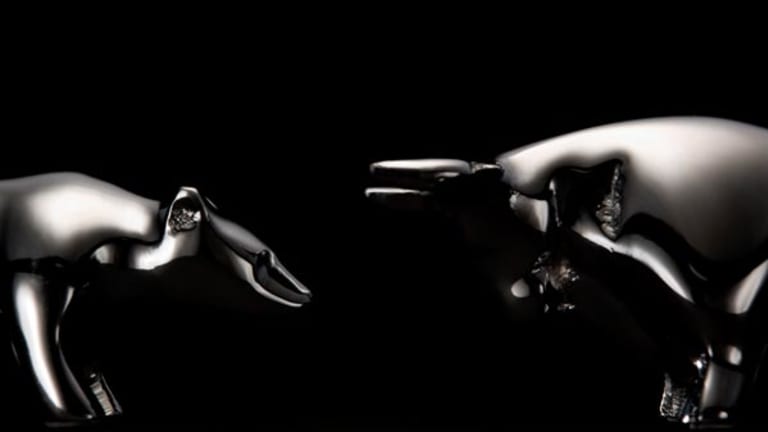 February 19 Premarket Briefing: 10 Things You Should Know
U.S. stock futures are mixed going into Thursday trading, as investors digest Wednesday's Federal Reserve Open Market Committee comments, and as Greece asks for new loans.
Updated from 6:44 a.m. EST
NEW YORK (TheStreet) -- Here are 10 things you should know for Thursday, Feb. 19:
1. -- U.S. stock futures were mixed going into Thursday trading, as investors digested Wednesday's Federal Reserve Open Market Committee suggestion that a rate raise may not be around the corner, and as Greece asks for new loans.
European stocks were steady, despite uncertainty about Greece's debt deal.
2. -- The economic calendar in the U.S. on Thursday includes the jobless claims report at 8:30 a.m. In the last report, on Feb. 7, 304,000 new initial unemployment claims were filed; this month about 290,000 are expected.
The Bloomberg Consumer Comfort Index is scheduled for 9:45 a.m. The Energy Information Administration reports on natural gas supply and demand at 10:30 a.m. and petroleum at 11 a.m. The Federal Reserve balance sheet will be released at 4:30 p.m.
3. -- U.S. stocks on Wednesday closed mixed, with the S&P 500 (SPY) - Get SPDR S&P 500 ETF Trust Report down slightly, by 0.03% to 2,099.68. The Nasdaq (QQQ) - Get Invesco QQQ Trust Report rose 0.14% to 4,906.36. The Dow Jones Industrial Average (DIA) - Get SPDR Dow Jones Industrial Average ETF Trust Report stayed above 18,000, but was down 0.1% to 18,029.85.
4. -- Greece has asked for a six-month loan extension from Europe. Greece's current bailout deal expires shortly, and the country has been haggling with other eurozone countries -- especially Germany, which is calling for more austerity -- over the terms of a deal.
The chairman of the eurozone finance ministers group, Jeroen Dijsselbloem, confirmed the move in a tweet: "Received Greek request for six-month extension."

A deal on Greece's debt would both avoid a national bankruptcy and prevent Greece from exiting the eurozone.
Reports Thursday said Germany rejected Greece's proposal to extend its bailout.
5. -- Crude oil futures were sliding 4.3% to under $50 a barrel after new U.S. data showed a much quicker buildup of oil inventory than anticipated. Oil prices peaked in June 2014 at $107 a barrel.
The American Petroleum Institute said that U.S. crude oil stocks rose by 14.3 million barrels last week, far above analyst expectations of 3.2 million barrels. If the U.S. Energy Information Administration confirms these numbers today at 11 a.m., the jump in inventory would be the largest since records began in 1982.
6. -- Intuit (INTU) - Get Intuit Inc. Reportwill report earnings Thursday after the closing bell. The maker of TurboTax software has run into problems with fraudulently filed tax returns. However, last quarter Intuit reported strong earnings.
7. -- Wal-Mart  (WMT) - Get Walmart Inc. Reportreports earnings before the opening bell. Investors will be looking for the company's holiday performance, as well as the impact of Wal-Mart's experiments with smaller stores. 
8. -- The Federal Reserve's Open Market Committee suggested Wednesday that it might wait to raise rates. The Fed has not raised rates since 2006. The dollar weakened against the yen in response to the news.
Commentators are busy disputing what effect a delayed raise in rates will have on the economy.
9. -- Ball (BLL) - Get Ball Corporation Report , maker of jars and bottling materials, has agreed to pay about £4.4 billion, or $6.8 billion, to buyRexam (REXMY) . The deal will create the largest maker of cans for food and beverages. Ball will pay a premium of 17% over Rexam's closing stock valuation Wednesday. 
The food and beverage container industry has contracted even more after last month's $16 billion merger of Rock-Tenn (RKT) - Get Rocket Companies Inc Class A Report , the second-biggest North American packaging company, with MeadWestvaco (MWV) . 
10. -- A labor dispute at ports in Los Angeles and Long Beach, Calif., is causing bottlenecks and backups in ports along the whole U.S. West Coast. The U.S. Labor Secretary Thomas Perez has been meeting with labor and management for two days in an attempt to resolve the conflict and get the port back to full operation.
As of Wednesday, 32 cargo ships were anchored off of the L.A.-area ports due to the delays. The backlog may eventually have repercussions in retail sales and other businesses.
-- Written by Nora Morrison
Nora Morrison is an editor, writer and researcher on music, popular culture and business. She is an associate editor at TheStreet, and is on Twitter at No Ticker.