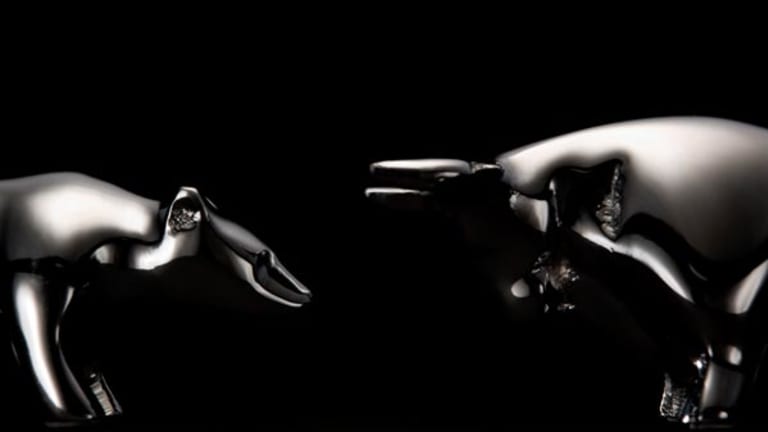 Feb. 27 Premarket Briefing: 10 Things You Should Know
U.S. stock futures point lower; Fed Chairwoman Janet Yellen testifies before the Senate Banking Committee; Tesla reveals plans for its battery factory; Best Buy swings to profit, J.C. Penney reports a narrower-than-expected loss.
Updated from 6:58 a.m. EST
Here are 10 things you should know for Thursday, Feb. 27:   
1.-- U.S. stock futures were pointing to a lower open for Wall Street on Thursday while European shares declined on rising tensions in Ukraine.
Asian stocks ended the session mixed. Japan's Nikkei 225 closed lower by 0.3%
2.-- The economic calendar in the U.S. on Thursday includes weekly initial jobless claims at 8:30 a.m. EST, and durable-goods orders for January at 8:30 a.m. Federal Reserve Chairwoman Janet Yellen is scheduled to testify before the Senate Banking Committee in Washington at 10 a.m.
3.-- U.S. stocks on Wednesday closed little changed after January's new home sales beat expectations, while retailers dominated gains.
The S&P 500 effectively finished unchanged at 1,845.16, while the Dow Jones Industrial Average gained 0.13% to close at 16,200.34. The Nasdaq rose 0.1% to 4,292.06.
4.-- Reports were emerging that dozens of heavily armed pro-Russia gunmen have seized control of local government buildings in the Ukrainian region of Crimea.
While Russia has raised questions over the legitimacy of the new Ukrainian authorities after President Viktor Yanukovych fled Kiev last week and has initiated surprise military drills, Ukraine has put its domestic security forces on high alert and urged Russian forces not to leave their base in southern Crimea.
5.-- Tesla Motors (TSLA) - Get Free Report on Wednesday revealed plans for its battery factory, which has been dubbed Gigafactory. Much to no one's surprise, it's massive.
The carmaker said it expects to reach production unit rates of 500,000 cars per year by 2020 because of the Gigafactory, faster than Morgan Stanley analyst Adam Jonas had noted.  
Tesla said because of Gigafactory, battery costs would come down more than 30% by 2017, when the mass market, Gen III vehicle is slated to appear.
The factory is expected to require anywhere from between 500 and 1,000 acres, taking up 10 million square feet and housing up to 6,500 employees.
Tesla said it is choosing among four states to get the battery packs to its plant in Fremont, Calif.: Arizona, Texas, Nevada and New Mexico.
The company and its partners will invest between $4 and $5 billion into the plant by 2020, with $2 billion coming from Tesla alone. Tesla didn't specify who would be partnering on the plant.
Tesla shares rose 3.3% in premarket trading on Thursday to $261.41.
6. -- Best Buy (BBY) - Get Free Report, the electronics retailer, swung to a fourth quarter and topped Wall Street expectations.
Net income after paying preferred dividends totaled $293 million, or 83 cents a share, a reversal from a year-earlier loss of $409 million, or $1.21 a share.
Excluding results from discontinued operations, net income was $1.24 cents a share, topping the forecasts of $1.01 a share.
Revenue fell 3% to $14.47 billion. Analysts expected revenue of $14.66 billion.
Best Buy shares rose 6$ in premarket trading to 27.36.
7 -- J.C. Penney (JCP) - Get Free Report, thestruggling retail chain, surprised investors by reporting better-than-expected bottom-line results for the fourth quarter.
The Plano, Texas-based company reported GAAP net income for the January-ending quarter of $35 million, or 11 cents a share. On an adjusted basis, the company reported a loss of $206 million, or 68 cents a share. Analysts had called for a quarterly loss of 85 cents a share.
The stock soared 21.3% in premarket trading to $7.23.
8.-- Exxon Mobil (XOM) - Get Free Report, the world's largest oil company by market value, lowered spending on new wells, offshore platforms and fuel plants by 13% after boosting reserves to a record last year, Bloomberg reported.
Capital expenditures will average about $37 billion annually this year and for the next several years, compared with $42.5 billion in 2013, Exxon said in a Securities and Exchange Commission filing, Bloomberg reported.
Exxon plans to spend $6 billion this year on projects to reduce emissions linked to climate change and air, water and soil pollution, according to the filing. That level of expenditure would be even with 2013 and will continue at that rate next year, the report said.
9. -- Royal Bank of Scotland (RBS) - Get Free Report, which is taxpayer-owned, recorded a pretax loss of 8.2 billion pounds ($13.7 billion) for 2013. It also announced on Thursday a new plan to transform itself, streamlining the bank to make it smaller and safer.
In premarket trading, shares of RBS fell 7.5%.
10.-- Arizona Gov. Jan Brewer on Wednesday vetoed a Republican bill that set off a national debate over gay rights, religion and discrimination and subjected Arizona to blistering criticism from major corporations and political leaders from both parties.
The bill backed by Republicans in the Legislature was designed to give added protection from lawsuits to people who assert their religious beliefs in refusing service to gays. But opponents called it an open attack on gays that invited discrimination.
-- Written by Joseph Woelfel
To contact the writer of this article, click here:Joseph Woelfel
To submit a news tip, send an email to:tips@thestreet.com.
Copyright 2014 TheStreet.com Inc. All rights reserved. This material may not be published, broadcast, rewritten, or redistributed. AP contributed to this report.