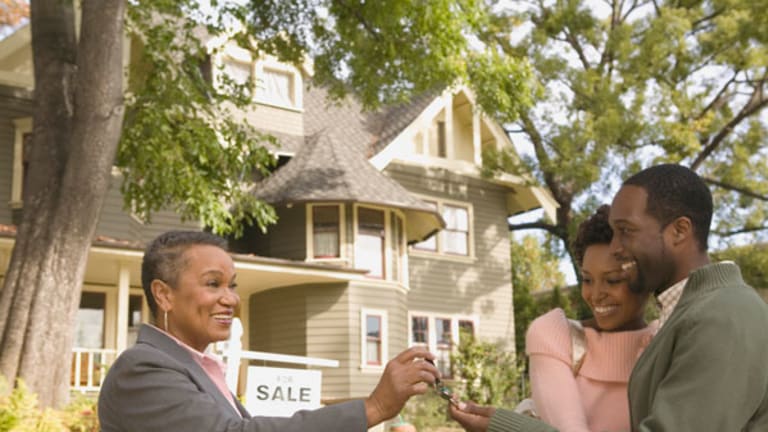 Fears Soak Standard Pacific
Bonds drop sharply as investors grow nervous about liquidity issues. Legg Mason unloads its stake.
Editor's note: "Bricks and Mortar" is a mock portfolio created by reporter Nicholas Yulico that is meant to help generate real estate and gaming-related stock ideas. In keeping with TSC's editorial policy, Yulico doesn't own or short individual stocks.
Standard Pacific
(SPF)
investors received two very bearish signs from the market this week amid fears of more bankruptcies in the homebuilding industry.
The homebuilders' subordinated bonds fell sharply to even more distressed levels, and
Legg Mason
(LM) - Get Legg Mason, Inc. Report
disclosed it had sold most of its position in the stock. In turn, Standard Pacific shares have fallen about 18% this week to trade around $3.30 Friday.
Last month, I flagged the stock as overvalued in my Bricks and Mortar mock portfolio, and cautioned that the company has
heavy liquidity issues. This week's developments make me even more wary.
Standard Pacific's subordinated bonds, which carry a coupon of 9.25% and mature in 2012, were trading at 53, or a yield of 28.7%, on Tuesday. By Friday, they had plunged to a price of 38.5, or a yield of 40%.
That 27% drop is a whopping move and a sign that the subordinated bondholders are getting nervous about the possibility of bankruptcy.
Another negative sign for shareholders is Legg Mason's decision to unload most of its stake in the company's stock just two months after it bought the shares.
"While the reduction could be due to any of several factors, we also believe it could be a red-flag with respect to the builder's future prospects," says Frank Lee, an analyst with CreditSights, in a research note, referring to the move by Legg Mason.
Legg Mason had amassed 6.678 million shares, a 10.3% stake, just two months earlier. The fund's position was reduced to 913,200 shares, or a 1.25% stake.
Overall, Legg Mason may have lost around $35 million, or 52% of its original investment, according to CreditSights. That estimate assumes Legg Mason bought its position in Standard Pacific on Aug. 31 (date of original filing) and sold the batch of shares on Oct. 31 (date of latest filing).
"We fear that Legg Mason's decision to opt out of SPF now and salvage its remaining $32 million investment could be viewed as a foreboding sign of upcoming pressures," Lee wrote.
CreditSights views Standard Pacific as a possible bankruptcy candidate given its liquidity issues. A Standard Pacific representative couldn't be reached for comment.
The threat of bankruptcy is alive and well among public homebuilders, even though none have filed yet. In the past month, four private builders have filed for bankruptcy, including last week's filing by Levitt and Sons, a subsidiary of
Levitt Corp.
( LEV).
Tousa
( TOA), a small Florida homebuilder, said this week it may be forced to file.
Dominion Homes
( DHOM) and
WCI
( WCI) are also on "the verge of filing," according to CreditSights. Both are at the mercy of their banks, which have provided temporary covenant relief.
A word of caution: Equity investors tend to get entirely wiped out in a Chapter 11.