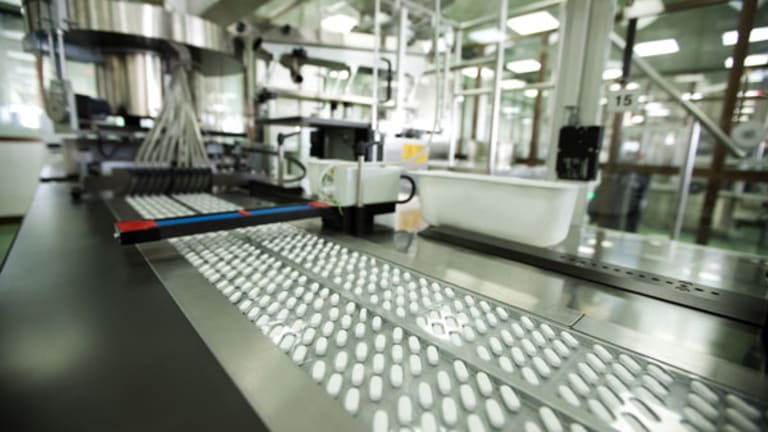 FDA Tells Delcath No Approval Without New Clinical Trial
Delcath's liver-tumor device uses a filter that FDA says does not work.
NEW YORK (
) --
Delcath Systems
(DCTH) - Get Free Report
is in serious trouble two days before an FDA advisory panel meets to review its medical device-chemotherapy system known as Melblez. In a scorching review, the FDA makes it fairly clear that Melblez will not be approved until Delcath conducts a new clinical trial.
Delcath shares had plunged 36.69% to 88 cents just before noon.
FDA spells out its demand on pages 28-29 of the Melblez briefing document made public Tuesday morning. The entire document is only 34 pages long, so FDA sorta buried the lede:
The substantial increase in the incidence and severity of the adverse reactions seen in patients treated with the Melblez kit using the Clark filter as compared to the Asahi filter was not predicted by the battery of in vitro tests or by the limited PK data collected in the clinical trials.
FDA concludes that other, unidentified factors caused the increase in toxicity observed in the change from Asahi to Clark filters. Therefore, any new filter introduced as a new component of the device (Delcath Hepatic Delivery System) for this combination product must be evaluated in a clinical trial in order to have confidence in the safety profile of that iteration of the Melblez Kit.
Bolded emphasis mine.
The device portion of Melblez consists of clamps, tubes and most importantly a filter that isolates a patient's liver from rest of the bloodstream. Once the liver is blocked off, it is bathed in very high doses of the chemotherapy melphalan to kill tumors. The Melblez filter is supposed to remove the melphalan from the patient before it can escape the liver, enter the bloodstream and cause severe side effects or death.
FDA, in its review, essentially concludes the Melblez filter does not work well enough. Too many patients are experiencing severe side effects, discontinuing treatment or dying from what appears to be melphalan-related toxicity.
Delcath is trying to switch to a newer filter, known as Gen2, which it claims can more effectively prevent toxic melphalan from leaking out of the liver and into the patient's bloodstream. But Delcath never conducted a clinical study in humans of the new, Gen2 filter. FDA calls out the company for this unacceptable shortcut:
In NDA 201848, Delcath has requested to market an iteration of the Delcath Hepatic Delivery System containing a new filter, referred to as the GEN 2 filter. No clinical trial data have been submitted to support the safety or efficacy of this device...
Delcath argues that non-clinical studies are sufficient to support marketing of a device that includes a new filter; however, similar studies did not identify factors which caused the clinically important increase in toxicity seen in the Asahi-to-Clark transition. Therefore, these non-clinical studies are insufficient alone to safely bridge the marketing of a device containing a new filter, and clinical trial safety data are necessary to support an approval. In addition, the impact of a filter change on the efficacy of this drug-device combination product is unknown and its efficacymust be established in a randomized clinical trial.
That's pretty much game over for Delcath. The company's entire business plan is predicated on receiving FDA approval for Melblez using the Gen2 filter. FDA clearly states here that Delcath needs to conduct a new clinical study of the Gen2 filter before it will be approved. Delcath has not conducted this study.
The conclusion of the FDA review of Melblez is just as damning:
Melblez Kit is an active treatment with anti-tumor activity; however active treatments are not equivalent to treatments that impart a clinical benefit. The improvements in hPFS and hORR demonstrated in Study 1 did not correlate into clinically important improvements in progression free survival or in overall survival. There is no statistical method that can be applied to demonstrate that crossover of patients to receive Melblez kit treatment is obscuring a survival benefit.
There are unavoidable, life-threatening risks of hypotension-associated stroke and myocardial infarction, bone marrow suppression, hemorrhage, hepatic failure, and gastrointestinal perforation associated with Melblez Kit treatment. Despite careful selection of patients and rigorous training of those who performed the procedure in the clinical trials, there was a high treatment related mortality rate that in the best-case scenario would be replicated in the postmarketing setting. Although the proposed REMS may assure that new treatment teams will be taught the procedure and be properly certified, there is no basis for concluding that the outcomes will be superior to those observed in clinical trials, that is, that the adverse reaction profile will be better. The REMS program is designed to mitigate the severe risks of Melblez Kit treatment but cannot be expected to eliminate toxicities inherent to this treatment. In addition to the serious risks identified in the review of this application, it is important to include the number of days that the patient is expected to be hospitalized in determining the risk-benefit profile.
-- Reported by Adam Feuerstein in Boston.
Adam Feuerstein writes regularly for TheStreet. In keeping with company editorial policy, he doesn't own or short individual stocks, although he owns stock in TheStreet. He also doesn't invest in hedge funds or other private investment partnerships. Feuerstein appreciates your feedback;
to send him an email.