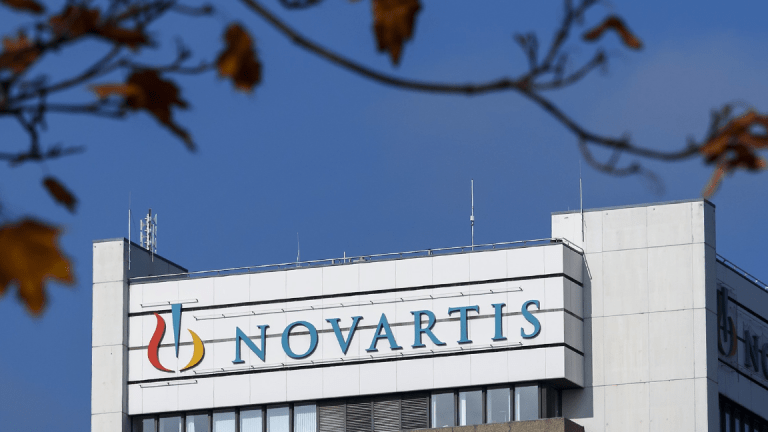 FDA Says Some Data From Novartis Gene Therapy Manipulated
The FDA says some data from the testing of Novartis's gene-therapy product Zolgensma was manipulated, but the drug should stay on the market.
The U.S. Food and Drug Administration said Tuesday that some data from the testing of Novartis's  (NVS) - Get Novartis AG Report gene-therapy product Zolgensma was manipulated, but the agency also said the drug should stay on the market.
Shares of Novartis were down 2.8% to $88.16.
In May, the FDA approved Zolgensma, which is intended to treat children less than two years of age with spinal muscular atrophy SMA, a leading genetic cause of infant mortality. 
On June 28, the FDA said AveXis, the product's manufacturer, informed the agency about a data manipulation issue. The issue affects the accuracy of certain data from product testing performed in animals submitted in the biologics license application and reviewed by the FDA.
Novartis agreed to acquire AveXis in April 2018 for $8.7 billion in cash.
"The FDA is carefully assessing this situation and remains confident that Zolgensma should remain on the market," the FDA said in a statement.
"Out of the large amount of submitted information reviewed by the agency, our concerns at this time are limited to only a small portion of the product testing data that was contained in the marketing application."
The FDA also said that "AveXis became aware of the issue of the data manipulation that created inaccuracies in their BLA before the FDA approved the product, yet did not inform the FDA until after the product was approved."
"The agency will use its full authorities to take action, if appropriate, which may include civil or criminal penalties," the FDA said.
At roughly $2.1 million per patient, Zolgensma has been called the most expensive treatment on the market.
In a statement, Novartis said that it stands behind Zolgensma, saying that "the data in question were a small portion of our overall submission and are limited to an older process no longer in use."
"We maintain that the totality of the evidence demonstrating the product's effectiveness and its safety profile continue to provide compelling evidence supporting an overall favorable benefit-risk profile," the statement said. "We remain steadfast that this important treatment remain available to pediatric patients with SMA less than 2 years of age."
Catch Up: Today's Top News Videos Below