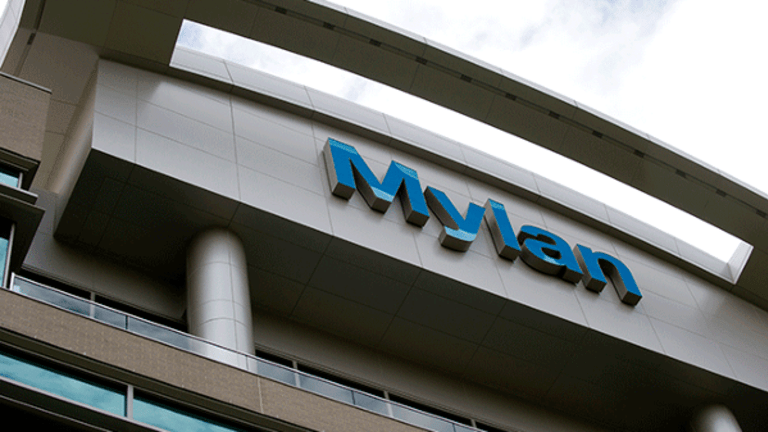 FDA Rejection of Mylan Generic Adds to its Woes
The company's shares were falling again on Wednesday, this time on the news that its initial application for an anti-asthma generic had been rejected by the FDA.
Mylan (MYL) shares fell Wednesday on news that the Food and Drug Administration has rejected its new drug application for its generic version of Advair, a drug that treats asthma and chronic obstructive pulmonary disease and is marketed by GlaxoSmithKline. 
Mylan's shares fell 2.8% midday, hitting $40.54 apiece at the time of writing. The stock is down 13% in the past year, largely because of scandals involving its pricing and marketing practices for the EpiPen, an injector that treats severe allergic reactions.
Company officials issued a statement noting that Mylan is considering its next steps for Advair on Wednesday.
Many analysts are struggling to understand what exactly the impact of this announcement will be, as the application was submitted through a new FDA process for approving generics, and it's still unclear what Mylan's next steps would be for resubmitting its application.
But at least one analyst says the impact could be significant.
"Advair is very material to Mylan," analyst Ronny Gal of Bernstein wrote via email.
He had expected a delay, though. Only 9% of drug applications are approved on the first FDA go-around, and Gal noted that Advair is a complex product.
The news came just days after Sandoz, a peer in the space, petitioned the FDA to delay approval based on concerns over its efficacy, which pharmaceuticals competitors often do. Sandoz plans to launch its own generic version of Advair.
Analysts note that the FDA's public response to the petition on March 10 suggested it might have some merit. Instead of denying Sandoz's petition, the FDA response noted that "we have not made a final determination" whether to approve the drug application.
"Had FDA denied the Sandoz citizen's petition outright, it may have implied that FDA does not deem Sandoz's point to be important, and the odds of generic approval today would have been higher," Evercore analyst Umer Raffat wrote via email. "But that didn't happen."
So what does that mean going forward? At a minimum, analysts say Advair won't help Mylan anytime soon. 
"We suspect Mylan may not offer an actionable timeline on its May earnings call, but the prudent decision would be to remove the product from the 2017 guidance," Leerink analyst Jason Gerberry wrote Wednesday.
He added that Leerink expects consensus earnings per share for the current year to drift downward toward the company's estimate of $5.15 per share, as compared to consensus estimates of $5.33 per share.
The news of Mylan's generic Advair comes just one day after its announcement that the company has hired former SEC commissioner Daniel Gallagher for a newly created position at the company. Gallagher will serve as the new chief legal officer for Mylan. Mylan is facing several federal and state investigations into its drug pricing and marketing practices. 
"I think Mylan is expecting multiple challenges on the D.C. front, so a D.C. guy makes sense," Gal of Bernstein said by email Tuesday. "It also signals possibility for further generic industry consolidation."
Mylan declined further comment on the news.