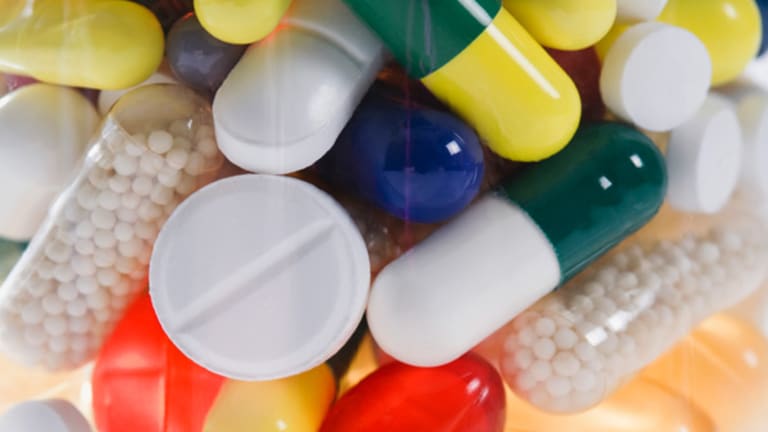 FDA Panel Rejects Vion Leukemia Drug
Concerned about safety, panel asks for another trial to be conducted
Concerned about safety, panel asks for another trial to be conducted
NEW HAVEN, Conn. (
) --The FDA's cancer drug advisory panel voted unanimously against approval of Vion's leukemia drug Onrigin.
By a 13-0 vote, the panel recommended that a new randomized controlled trial be conducted before the drug is approved. The same panel rejected Genzyme's leukemia drug during a morning session for similar reasons.
Vion shares closed Tuesday down 23% at $2.60.
Vion Makes Case for Leukemia Drug to FDA Panel
(At 3:04 PM EDT>
NEW HAVEN, Conn. (
) --After dinging Genzyme's leukemia drug this morning, the FDA's panel of cancer experts is back this afternoon to review
Vion Pharmaceutical's
( GENZ) leukemia drug Onrigin.
Vion is seeking Onrigin's approval as a treatment for elderly, poor-risk patients with acute myeloid leukemia. This is the same cancer type discussed this morning on the Genzyme panel but the patients treated with Onrigin are much sicker.
But like this morning's session, Vion and the FDA are at odds over the adequacy of the single-arm trials designed to support Onrigin's approval. In addition, the FDA has raised serious safety concerns about Onrigin.
In its presentation to the advisory panel, Vion's representatives made the case that the elderly patients enrolled in its Onrigin studies had a number of risk factors making it difficult if not impossible to treat them with standard chemotherapy drugs.
Despite the poor prognosis for these patients, treatment with Onrigin led to a 32% remission rate. For those patients who responded to Onrigin treatment, the median overall survival was greater than one year.
Fourteen percent of patients treated with Onrigin died within a month of treatment, but Vion said this rate of mortality was not much different from that seen with other drugs used to treat these patients. Moreover, lung toxicity and higher infection rates were also not surprising given the poor health status of these patients as they entered the study.
The FDA's presentation was more negative. The agency's reviewer said that about one third of the patients who responded to Onrigin were likely healthy enough to be treated with standard chemotherapy. More than half of responding patients also received another chemotherapy drug in addition to Onrigin, which makes it difficult to separate out the contribution of Onrigin.
Moreover, the responses in Onrigin-treated patients were brief, with 38% lasting less than 90 days.
The FDA's review spent a lot of time discussing lung toxicity associated with Onrigin, which led to patient deaths and a large part of the serious adverse events reported in the study. Again, without a randomized controlled trial, FDA said it was difficult to ascertain whether the drug was to blame for the lung toxicity or whether it was due to the underlying disease of the patients. The FDA noted that other lung toxicity was also an reported adverse event in other Onrigin studies.
Like Genzyme, FDA recommended to Vion that it conduct a randomized controlled study in elderly, high-risk AML patients, but the company did not heed that advice.
With the FDA and Vion presentations completed, the advisory panel will spend the rest of the meeting asking questions and debating the Onrigin clinical data. Check back later for another update.
Vion shares were down 19% to $2.73 in recent trading.
FDA Panel Turns Down Genzyme Cancer Drug
(At 12:06 PM EDT)
CAMBRIDGE, Mass. (
) -- The FDA advisory panel reviewing
Genzyme's
( GENZ) cancer drug Clolar recommended that a new randomized controlled trial be conducted before the drug is approved.
The panelists, in a 9-3 vote, expressed their belief that Clolar is an active drug for elderly patients with acute myeloid leukemia (AML) but that the data submitted by Genzyme from a single-arm study wasn't sufficient for approval.
In this regard, the cancer experts on the panel concurred with FDA officials who criticized Genzyme for not conducting a randomized clinical trial that would have compared Clolar against some other treatment.
The negative vote by the panel was likely buffered by the fact that Clolar is already an approved drug for pediatric cancer patients, which means doctors can use the drug off-label to treat elderly AML patients today.
The panel also seemed concerned that Genzyme has yet to start a confirmatory study of Clolar in pediatric patients -- a commitment the company made to FDA when the drug was granted accelerated approval in 2004.
Genzyme officials said that confirmatory trial in children would start next year. The company also said it is already conducting randomized, controlled studies of Clolar in elderly AML patients.
Genzyme shares were down 84 cents to $54.87 in recent trading.
Sequenom Down Syndrome Test Rumor False, Report says
(at 10:57 AM EDT)
SAN DIEGO, Calif. (
) --The market rumor that pushed
Sequenom
(SQNM)
shares sharply higher Monday was false, according to newspaper report.
Sequenom shares jumped 21% Monday to $6.39 on market chatter that an independent study by researchers at Brown University was going to released soon which would show Sequenom's genetic prenatal test for Down syndrome to be highly sensitive.
But a researcher at Brown University called the rumor false, according to a story published Tuesday morning in the
.
"I don't know where this rumor comes from, but I guarantee it didn't come from us, Glenn Palomaki, senior research associate at Brown's department of pathology and laboratory medicine, told the San Diego Union-Tribune. "We've done no study, and we're not releasing any interim data in the near future.
Sequenom shares were down 10% to $5.73 in recent trading.
FDA, Genzyme Spar in Cancer Drug Review
(At 9:33 AM EDT)
CAMBRIDGE, Mass. (
) -- A panel of cancer experts convened by the
Food and Drug Administration
is meeting right now outside Washington, D.C. to review a leukemia drug from biotech firm
Genzyme
( GENZ).
Genzyme is seeking approval for the drug, known as Clolar, as a treatment for elderly patients with acute myeloid leukemia (AML) who are not healthy enough for standard chemotherapy.
AML is the most common form of adult leukemia, a cancer of the bone marrow. Clolar is already approved for children with treatment-resistant forms of acute lymphoblastic leukemia (ALL).
Dr. Richard Pazdur, chief of the FDA's cancer drug division, kicked off the advisory committee meeting with critical comments about the Clolar application. He reiterated the FDA's position that between 21% and 41% of the elderly patients enrolled in the study were, in fact, healthy enough to receive chemotherapy for their AML.
Treatment with Clolar was associated with a 45.5% remission rate in the study, but Pazdur pointed out that many of these patients also responded to treatment with chemotherapy or other therapies after receiving Clolar.
He also criticized Genzyme for seeking approval based on a phase III study that lacked a control arm. The FDA, in a previous meeting, told the company that such a trial would make interpretation of any Clolar data difficult, said Pazdur.
A cancer expert invited to speak by the FDA then presented historical data showing that older patients with AML can treated with chemotherapy with positive results. The speaker also refuted Genzyme's notion that a controlled study of elderly patients with AML wasn't feasible.
Genzyme experts countered with a presentation of the Clolar data showing that the remission rate in the pivotal study remained strong even when patients who may have benefited from standard chemotherapy were removed from the analysis.
The company disagreed with FDA about the suitability of chemotherapy for elderly, high-risk AML patients, stating that historical data show the benefit-to-risk ratio is poor.
Genzyme also stated that it tried to design a controlled study of Clolar in elderly AML patients but that the company and the FDA could not reach agreement on the design of the study. This forced the company to conduct the single-arm study.
The FDA presentation to the advisory committee just started. Check back later for updates, including the panel's debate and vote on whether or not to recommend Clolar's approval, expected to take place between 11 am and noon.
This afternoon, the same panel of cancer experts will review another drug to treat AML, this one from
Vion Pharmaceuticals
( GENZ).
Endo Drug Faces FDA Decision Wednesday
(At 7:26 am EDT)
CHADDS FORD, Pa. (
) -- Drug stock catalyst junkies take note: Tomorrow (Sept. 2) the U.S. Food and Drug Administration is expected to issue an approval decision on
Endo Pharmaceuticals'
(ENDP) - Get Report
long-acting injectable testosterone drug, Nebido.
At Monday's close of $22.57, Endo shares are up almost 40% since June 1.
In a note previewing Wednesday's FDA action date, Wedbush analyst Patricia Bank gives 65% odds for a full Nebido approval, a 35% chance that the FDA delays the decision for another 90 days (without a requirement for new clinical studies.)
Said Bank: "Our assumption is that, if granted approval, we do not anticipate any black box warnings or restricted distribution based on the additional safety data base of 14,000+ injections with no additional incidences of cough. However, we think that most of the potentially good news may already be reflected in the stock at this point." She has a neutral rating and a $22 price target on the stock.
Barclays Capital analyst Rich Silver is also telling his clients not to chase Endo's stock ahead of the FDA approval decision date, although he's more bullish on the stock long term with an overweight rating and a $29 price target.
"Trading at a compelling 7.3x our FY10 EPS estimate, Endo shares offer a very attractive risk/reward profile for longer term oriented investors, in our view," wrote Silver in a recent research note.
Modest July sales for AMAG's Feraheme, per IMS report
LEXINGTON, Mass. (
) --
AMAG Pharmaceuticals'
(AMAG) - Get Report
newly launched iron replacement therapy Feraheme posted July sales of $298,000, according to monthly tracking data released Monday by IMS Health.
AMAG launched Feraheme on July 13, so modest sales shouldn't surprise anyone. Investors are
worried about the Feraheme launch
, and that has contributed to the recent weakness in AMAG's stock price.
The current Street consensus for third-quarter Feraheme sales is about $6 million. Unless AMAG offers some more visibility into the drug's launch (which it has been loathe to do so far) the next IMS Health sales report at the end of September, tracking August sales, will be key.
-- Reported by Adam Feuerstein in Boston
Adam Feuerstein writes regularly for TheStreet.com. In keeping with TSC's editorial policy, he doesn't own or short individual stocks, although he owns stock in TheStreet.com. He also doesn't invest in hedge funds or other private investment partnerships. Feuerstein appreciates your feedback;
to send him an email.