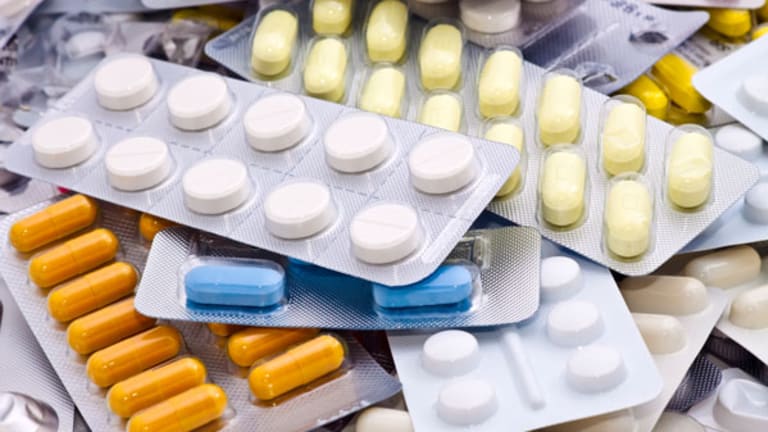 FDA OKs Medicines Co.'s Cleviprex (Update)
The drugmaker climbs after receiving regulatory approval for the intravenous drug to reduce blood pressure.
Updated from 10:43 a.m. EDT
The Medicines Co.
(MDCO) - Get Medicines Company Report
said Monday that the Food and Drug Administration approved its intravenous drug to reduce blood pressure.
Shares were climbing 86 cents, or 3.8%, at $23.46 in recent trading Monday morning.
Cleviprex is indicated for when oral therapy is unfeasible or undesirable. It has a speedy onset and offset of action and is metabolized in the blood and tissues and doesn't accumulate in the body, whereas current IV antihypertensive drugs are metabolized in the kidney and/or liver, according to the company.
"We're very pleased to have the opportunity to set what we think will be a new standard of a care," said Medicine's Co. CEO John Kelley in an interview on Monday.
"One of the attributes for Cleviprex seemed to be its ready-to-use formulation where hospitals would not have to reconstitute the medication," wrote Stanford Group analyst Biren Amin in a note on Monday. "However, on Friday, EKR Therapeutics received approval for ready to use formulation of Cardene IV."
Amin says the approval of
Teva's
(TEVA) - Get Teva Pharmaceutical Industries Ltd. Report
nicardipine, which is similar to Cardene, also could add pricing pressure. Thus the analyst sees Cleviprex's price as a factor for potential success. Because it has a faster onset/offset of action, similar pricing could make it competitive, but a significant premium could see market resistance, he writes.
The Medicines Co. Kelley reiterated on Monday that the company is aiming for $5 million to $10 million in 2008 sales, and it believes the Cleviprex could see up to $200 million or more of U.S. sales in five years. Stanford Group's Amin has a U.S. peak sales projection of $134 million.
Investors --
unaware
of the drug's PDUFDA date, or goal date for an FDA decision -- have been waiting to hear about Cleviprex. The Medicine's Co. revealed in June that
regulators had requested
additional preclinical data back in April, causing a three-month delay.