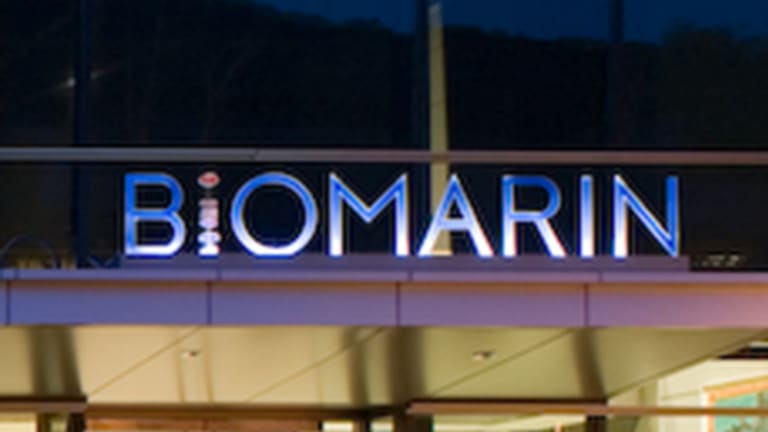 FDA Letter Raises Questions About Biomarin Handling of Muscular Dystrophy Drug
Biomarin hasn't started confirmatory trials of DMD drug drisapersen suggested by FDA regulators.
Biomarin hasn't started confirmatory trials of DMD drug drisapersen suggested by FDA regulators.
If you mention Biomarin Pharmaceuticals (BMRN) - Get Report to buyside health care investors, it takes just minutes for the conversation to steer to "the letter." And then a question:
Based on the letter's contents, is Biomarin headed for trouble when an FDA advisory committee meets in three weeks to review its drug drisapersen?
The letter was written in June 2014 by Dr. Billy Dunn, a top official at the U.S. Food and Drug Administration. In it, Dunn expresses doubt about the clinical data collected to support the approval of drisapersen as an experimental treatment for Duchenne muscular dystrophy, a genetic muscle-wasting disease.
Drisapersen is the most advanced and important drug in Biomarin's pipeline today. Approval of the drug in the U.S. and Europe could add $1 billion or more in revenue to Biomarin's top line and propel its stock price higher. Shares of Novato, Calif.-based Biomarin were slipping 0.5% to $116.44 Monday, trimming its 2015 advance to 29%.
Dunn's letter raises important questions about drisapersen, though it wasn't entirely negative. He also laid out a strategy by which the drug could be submitted to the FDA for review and perhaps win approval.
Has Biomarin followed Dunn's drisapersen advice? From the outside, it's not entirely clear. That's why investors tracking the company and drisapersen have been reading and re-reading Dunn's letter as it makes its way around Wall Street. Companies ignoring the FDA's rules or suggestions often find themselves later dealing with the painful consequences of a rejected drug.
Biomarin Chief Medical Officer Hank Fuchs addressed investor worries about the Dunn letter on the company's quarterly conference call last week. In Biomarin, investors should just trust management, he said.
"Biomarin knows what's it's doing," said Fuchs, emphasizing the company knows how to win FDA approval for rare-disease drugs like drisapersen.
That trust will be put to the test on Nov. 24 at the FDA's advisory committee meeting.
"In total, the clinical evidence of efficacy of drisapersen for the treatment of DMD appears to be inconclusive based on our preliminary review of the studies conducted, both in the intent-to-treat populations and in various post-hoc subgroup analyses," said FDA's Dunn in his June 2014 letter to Prosensa, the Dutch biotech firm which owned drisapersen at the time.
One month earlier, Prosensa executives had met with officials at the FDA seeking guidance about a drisapersen approval filing. The problem: Drisapersen had failed to demonstrate a benefit in a crucial six-minute walk test compared to a placebo in a large, phase III clinical trial of DMD patients. Prosensa sought FDA advice because it believed flaws in the design of the phase III study -- conducted by former partner GlaxoSmithKline -- prevented drisapersen from showing positive results. In contrast, data from smaller, mid-stage studies showed drisapersen improved muscle function in Duchenne patients and helped them walk longer.
At the FDA meeting in May 2014, the company argued that drisapersen data from four clinical trials, pooled together, showed that the drug worked and should be considered as the basis for approval. But before investing time and money necessary to put together a regulatory submission, Prosensa went to the FDA to gauge its feelings.
"We find some of your hypotheses about factors that might have led to a lack of statistically significant findings in the Phase 3 study (DMD114044), in contrast to the nominal findings in earlier studies, plausible but not conclusive," wrote Dunn in the letter. "Although we have discussed with you our reservations about the persuasiveness of the available data, we are open to filing an NDA [New Drug Application] for drisapersen for consideration under an accelerated approval pathway (assuming the submitted application otherwise meets the applicable standards). As we are sure you appreciate, however, our willingness to consider an application for filing cannot be taken to suggest the outcome of our review."
To present a more convincing case to the FDA for drisapersen's accelerated approval, Prosensa was "strongly urged" to conduct and submit additional data analyses from previously conducted clinical trials, according to Dunn's letter. The accelerated approval pathway for drisapersen would also require Prosensa to conduct additional confirmatory studies. In his letter, Dunn told Prosensa to move quickly to get these new studies started because initial data could be invaluable to the agency's review.
"Stressing that we have not determined whether an application for drisapersen would be approved, any accelerated approval would require confirmatory studies to verify the clinical benefit. Confirmatory studies should be underway at the time of approval. We envision two approaches for confirmatory trials, and we urge you to initiate both of these trials as soon as possible," wrote Dunn. [Emphasis his.]
Before Prosensa could act on the FDA suggestions for drisapersen laid out in the June 2014 letter, Biomarin swooped in to acquire the company for $850 million in November 2014. When the deal closed months later, the future of drisapersen became Biomarin's responsibility.
Biomarin submitted drisapersen to the FDA and expects an approval decision to be made on Dec. 27. The FDA is convening an expert panel on Nov. 24 to review the drisapersen data. The panel will consider Biomarin's submitted drisapersen data and weigh that against the interpretation of the data presented by the FDA. At the end of the meeting, the experts on the panel will vote to recommend drisapersen's approval or not.
In the weeks leading up to the Nov. 24 FDA advisory panel, investors are debating whether or not Biomarin conducted additional analyses of data compiled from the studies conducted by Prosensa that would satisfy the agency's concerns as described in Dunn's June 2014 letter. On its quarterly conference call last week, Biomarin says new drisapersen analyses were submitted to FDA and will be presented by the company on Nov. 24.
But Biomarin has not started the two confirmatory clinical trials of drisapersen suggested by FDA in Dunn's letter to Prosensa. [Sarepta Therapeutics (SRPT) - Get Report , also seeking FDA approval for a competing DMD drug, has started a confirmatory trial.]
When asked to explain why the new drisapersen studies have yet to begin despite FDA's strong urging, Biomarin's Fuchs, speaking on last week's conference call, said:
"We've made a lot of preparations for what that confirmatory program could be, but we don't want to initiate enrollment into a confirmatory study until we're sure that we have the issues that are in consideration addressed in a confirmatory study. Now I should also remind you that we have ongoing a very large natural history study, reported some preliminary results to that in April at the American Association of Neurology. So we're already accumulating prospective natural history data on patients. And we clearly have been in discussion with the Food and Drug Administration about the nature of next steps of studies. We don't have anxiety about where we stand in regard to pulling the trigger, if you will, on a confirmatory study."
Biomarin CEO Jean-Jacque Bienaime added, " And if may, I mean, correct me if I'm wrong, Hank. But I mean, so far, we've never heard from the FDA that inititation of the confirmatory trial was a prerequisite for approval of the drug."
To which Fuchs replied, "That's correct."
The FDA's June 2014 letter to Prosensa suggests otherwise. The controversy will be cleared up on Nov. 24.
A complete copy of the FDA letter written to Prosensa in June 2014 can be found here.
Adam Feuerstein writes regularly for TheStreet. In keeping with company editorial policy, he doesn't own or short individual stocks, although he owns stock in TheStreet. He also doesn't invest in hedge funds or other private investment partnerships. Feuerstein appreciates your feedback; click here to send him an email.