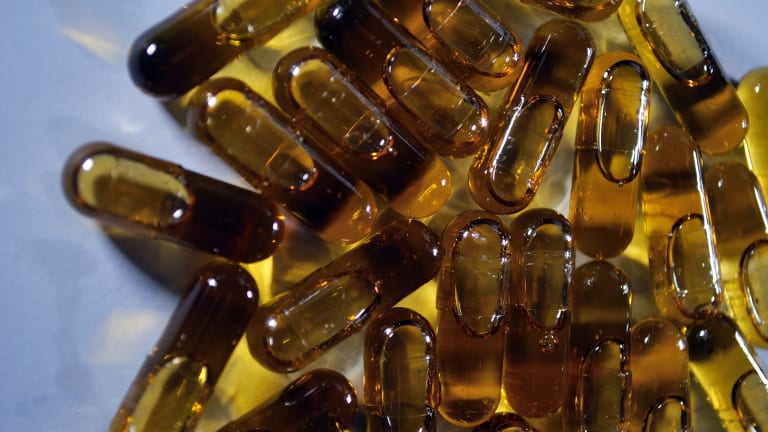 FDA Approval Of GW Pharma's Cannabis-Based Drug Marks Milestone
Approval of epilepsy drug using the marijuana derivative CBD is the first time the FDA has sanctioned medical use of cannabidiol.
Medical use of cannabis passed a major milestone this week after the U.S. Food and Drug Administration approved GW Pharmaceutical's (GWPH) - Get GW Pharmaceuticals Plc Report new epilepsy drug, the first ever based on a cannabidiol.
The drug, Epidiolex, is designed to treat two rare and severe forms of epilepsy.
Results from Phase III trials of the drug showed it reduced the amount of seizures significantly in patients with Lennox-Gastaut syndrome and Dravet syndrome. Both conditions can cause patients to have multiple seizures a day and have been linked to cognitive deterioration.
"It's a real recognition by the federal government for the first time that there are medicinal benefits deemed in a cannabis plant," Kris Krane, president of 4Front, said.
Epidiolex still has to be approved by the U.S. Drug Enforcement Agency before it can be prescribed to patients, a process called rescheduling which can take up to 90 days. Steve Schultz, vice president of investor relations at GWPH, thinks Epidiolex will be reclassified to the "unrestricted end of the schedule spectrum."
Although marijuana is still a Schedule I drug, Epidiolex's move to a lower drug class would signifiy a change in how the government views CBD and the benefits of the cannabis derivative.
"It's making it more and more difficult for the federal government to leave marijuana as a Schedule I substance...when [the FDA has] now approved one of the main compounds in marijuana for medical prescriptions," Krane said.
Approval of Epidiolex also opens the door for more research to be done on the possible medical benefits of other cannabinoids found in marijuana, Will Garvin, a healthcare attorney at Buchanan Ingersoll and Rooney, said.
GWPH has paved the way for companies like Zynerba Pharmaceuticals (ZYNE) - Get Zynerba Pharmaceuticals Inc. Report and Insys Therapeutics (INSY) , which are developing their own cannabinoid-based drugs, to seek FDA approval.
"GW is solving a lot of problems that no one else will have to go through," Garvin said.
One of the risks associated with getting CBD oil from a state-sanctioned dispensary is that the dosage could vary with each use and the chemical makeup could be different from product-to-product. FDA regulation can help rectify that.
"It's an FDA-approved drug so what you're getting is going to be 100% consistent from use to use," Krane said. "If you're buying something on the medical marijuana market, it's not going to be 100% the same thing that is produced every time."
The drug is expected to launch in the fall, meaning clinicians can start prescribing Epidiolex to patients soon, Schultz said.
"Our product evolves the medical application of CBD to enable a true prescription medicine," Schultz said.
Even though Epidiolex's approval marks a success in the advancement of CBD medicines, it is still unclear how readily the drug will be accepted by the physician community.
Dr. Shlomo Shinnar, the president of the American Epilepsy Association, sees the use of Epidiolex and other CBD-based medicine approved by the FDA as safe and effective, but does not know how much it will be used outside of the two syndromes it's supposed to treat.
"This is the first time a marijuana-based compound if you will, has been allowed to go to clinical trials and has been shown to work. It's a wonderful addition to our armamentarium, but we'll have to see how widely it gets used and how widely it's accepted," Shinnar said.
Parents of children with epilepsy and adult patients have embraced CBD as a medical alternative, but that excitement has not translated over to doctors necessarily, Shinnar said. He would like more trials to be run to see how effective the drug is for other forms of epilepsy.
"The physician community is certainly willing to use CBD but not necessarily as often and as early as some of the patients would like," Shinnar said.
Shinnar thinks doctors would be reluctant to prescribe CBD medicine if the only reason was because parents or patients asked to switch over from a drug that has been working to CBD because it's a more natural option, he said.
Another hurdle that cannabis-based drugs will have to clear is gaining approval from insurance companies to pay for the treatments.
Garvin does not see these obstacles as too daunting for GW Pharmaceuticals because of the applicability of Epidiolex -- which has been proven to help patients -- and because of the media buzz that has surrounded it and the debate about medical marijuana, he said.
GW shares have fallen about 3% in the past two days since the approval, amid broad market weakness.