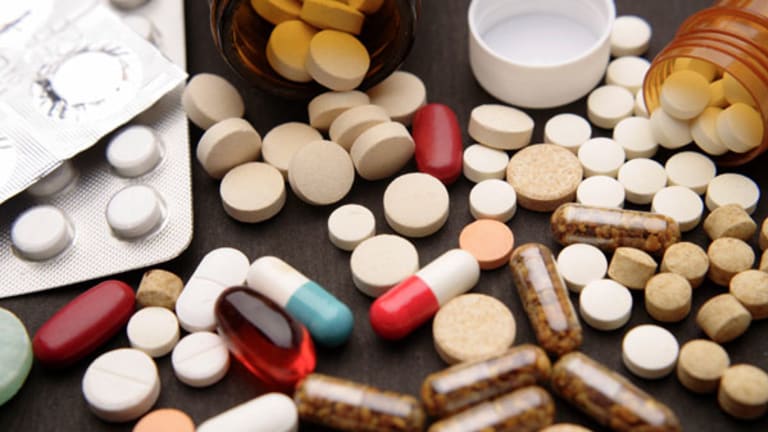 FDA: Amylin Pharma Concealed Heart Safety Risks of Key Diabetes Drug
Amylin also misled investors about the cause of Bydureon's rejection in October 2010.
SAN DIEGO (
) --
Amylin Pharmaceuticals
(AMLN)
concealed a study from the U.S. Food and Drug Administration that raised heart safety concerns about its diabetes drug Byetta and then hindered FDA access to the data when the agency discovered its existence, newly released FDA records show.
Later, Amylin executives lied to investors by failing to disclose that this hidden Byetta heart-safety study played a key role in FDA rejecting the company's follow-on diabetes drug Bydureon, according to these same FDA records.
The allegations that Amylin stonewalled FDA about the heart safety of its diabetes drugs and then misled investors about the issue come as the company is said to be seeking a Big Pharma buyer after turning down an unsolicited offer from
Bristol-Myers Squibb
(BMY) - Get Bristol-Myers Squibb Company Report
.
Amylin shares are up 154% this year, the stock's highest level in four years, on speculation about a takeover despite a slow commercial launch of Bydureon, which FDA eventually approved in January after two rejections.
AstraZeneca
(AZN) - Get Astrazeneca PLC Sponsored ADR Report
,
Sanofi
(SNY) - Get Sanofi Report
,
Merck
(MRK) - Get Merck & Co., Inc. Report
,
Pfizer
(PFE) - Get Pfizer Inc. Report
and
Takeda
have reportedly submitted bids or are considered making a bid for Amylin, according to various unconfirmed media reports.
The review and approval of Bydureon was a "long and complicated process, in part due to Amylin's withholding of information on Byetta that FDA deemed to be important to its evaluation of the safety and effectiveness of Bydureon," according to a
written by Mary Parks, division director of the FDA responsible for the review and oversight of diabetes drugs. Parks wrote the memo in January 2012 after Bydureon was approved but was only recently
posted to the FDA's web site alongside additional disclosures about the Bydureon review process
.
"Amylin is committed to being transparent with regulatory agencies, the patients and physicians who put their trust in our products, and our investor community," said company spokeswoman Alice Izzo Friday in response to questions about the FDA memo. "Our interactions with regulatory agencies have been, and will continue to be, forthright and timely. Throughout the Bydureon review process, Amylin responded appropriately to requests for additional data."
Amylin has been selling Byetta since 2005 but the drug is relatively inconvenient because diabetics must inject themselves twice per day. To improve convenience and boost sales, Amylin developed Bydureon, which uses the same drug ingredient as Byetta but is formulated with technology from
Alkermes
(ALKS) - Get Alkermes Plc Report
so that patients require only one injection per week.
Since the active ingredient in Byetta and Bydureon is the same, Amylin asked FDA to rely on efficacy and safety data from Byetta clinical trials for part of the regulatory review of Bydureon. FDA agreed to Amylin's request.
Amylin submitted Bydureon for approval in May 2009 but FDA rejected the drug in March 2010, citing the completion of a risk management plan and resolution of some product quality issues as the only deficiencies needed to be remedied.
One month later, in April 2010, regulators with Health Canada told FDA about a "thorough QT study" of Byetta conducted two years earlier by the company. So-called tQT studies measure the effect a drug has on heart rhythm, an especially important issue to FDA given concerns about the cardiovascular safety of diabetes drugs. This tQT study of Byetta raised significant heart safety concerns for Canadian regulators.
But Amylin had never told FDA about the tQT study of Byetta and failed to include the troublesome heart-safety data in the initial Byduron approval filing. Amylin withheld these negative safety data even though Amylin agreed to supply FDA with Byetta efficacy and safety data for use in the Bydureon review, FDA's Parks charges in her memo.
"More importantly, FDA was not informed by Amylin that Health Canada considered several findings from tQT study concerning enough such that approval was delayed in Canada because agreement on product labeling could not be reached," Parks writes.
Immediately upon learning of the existence of the Byetta tQT study, FDA contacted Amylin and asked for the data to be included in the Bydureon resubmission. Amylin resubmitted its Bydureon application on April 22, 2010 but data from the Byetta tQT study were "absent" from the filing, Park states in her memo.
Instead, Amylin submitted the Byetta tQT study data separately as an addendum to the original Byetta regulatory file. Asked whether Amylin was trying to conceal potential negative heart-safety data from FDA, Amylin spokeswoman Izzo says the company notified FDA in an "appropriate manner."
Regardless of how the previously undisclosed Byetta heart-safety study was filed, FDA considered the data as part of Amylin's Bydureon resubmission. On Oct. 18, 2010, FDA rejected Bydureon a second time, in part over the safety concerns raised by the Byetta heart safety study conducted in Canada.
FDA told Amylin that an entirely new tQT study of Bydureon would have to be conducted. If the study demonstrated a clean heart-safety profile for Bydureon, Amylin could resubmit the drug again for review.
Amylin's stock price was cut in half the day Bydureon's second FDA rejection was announced. Investors were widely expecting the diabetes drug to be approved and were shocked, even angry, that FDA had thrown a new heart-safety roadblock in front of Bydureon's approval without prior warning. In the months leading up to Bydureon's resubmission and during the review process, Amylin executives had insisted to investors that FDA was satisfied the drug was heart safe.
Amylin CEO Dan Bradbury spoke to investors and analysts on an Oct. 19, 2010 conference call, held right after the company announced FDA's decision to reject Bydureon. According to a transcript of the conference call, Bradbury continued to insist that FDA's raising of a Bydureon heart safety concern came as a surprise.
"I would just be clear that it was only on receipt of the complete response letter that we were truly aware that this was an approvability issue for the agency," said Bradbury, responding to analyst questions. "The agency did request the tQT study that was done for Byetta during the timing of the review. This study was completed back in 2009. So, they certainly were reviewing it. However, we were not aware that this was an approvability issue until we received the complete response letter last night."
Bradbury, in his response, fails to mention that Amylin didn't inform FDA about the Byetta tQT study when it was conducted and that FDA regulators only found out about it after being contacted by their Canadian counterparts. Bradbury also fails to say the Byetta tQT study raised safety concerns related to Bydureon of which Amylin was aware due to the action of Canadian regulators, according to the FDA's version of events.
Later in the conference call, an analyst asks, "… And then was the thorough QT study required for Byetta or is this Bydureon a unique request?"
Bradbury responds: "So, that's a great question. The tQT study wasn't required through the initial approval in the United States of Byetta. It was requested by another agency for us to complete and we did that for them. It is now, I believe, a requirement. This is part of the evolution of the increase in focus on cardiovascular safety for all medicines, particularly those in diabetes. It is now a requirement for all medicines in diabetes to have a tQT study, as far as I'm aware."
Bradbury alludes to the Canadian heart-safety study of Byetta, but he fails to mention that Amylin tried to keep the data out of FDA's hands during the Bydureon review. Had FDA been aware of the study at the beginning, it would have almost certainly been raised as an issue by U.S. regulators. Bradbury also ignores the fact that FDA very much wanted to see the Byetta tQT study in order to fully assess the safety of Bydureon.
"We responded appropriately to requests for additional data, and followed processes outlined by FDA for our submission," said Amylin's Izzo on Friday, disputing the FDA's charge that Amylin and its executives concealed important safety data related to Byetta and Bydureon from the agency.
In early November 2010, two weeks after the FDA rejected Bydureon, Amylin held its regular third-quarter conference call. According to a transcript, one analyst on the call prefaced his questions to Amylin executives with a note of thanks to how they handled the Bydureon setback. "Hey guys. Thanks for all the disclosure. I think I speak for everybody, you guys handled this well. We appreciate it."
"I appreciate your kind remarks with regards to disclosure," Bradbury says, in response. "We do try very hard to be as transparent as possible with everybody about what we know about the business."
The FDA has a problem with Bradbury's definition of "transparent" -- so, too, may investors and potential Amylin suitors now that the company's version of events leading to the second rejection of Bydureon have been revised.
--Written by Adam Feuerstein in Boston.
>To contact the writer of this article, click here:
Adam Feuerstein
.
>To follow the writer on Twitter, go to
http://twitter.com/adamfeuerstein
.
>To submit a news tip, send an email to:
.
Follow
TheStreet
on
and become a fan on
Adam Feuerstein writes regularly for TheStreet. In keeping with company editorial policy, he doesn't own or short individual stocks, although he owns stock in TheStreet. He also doesn't invest in hedge funds or other private investment partnerships. Feuerstein appreciates your feedback;
to send him an email.