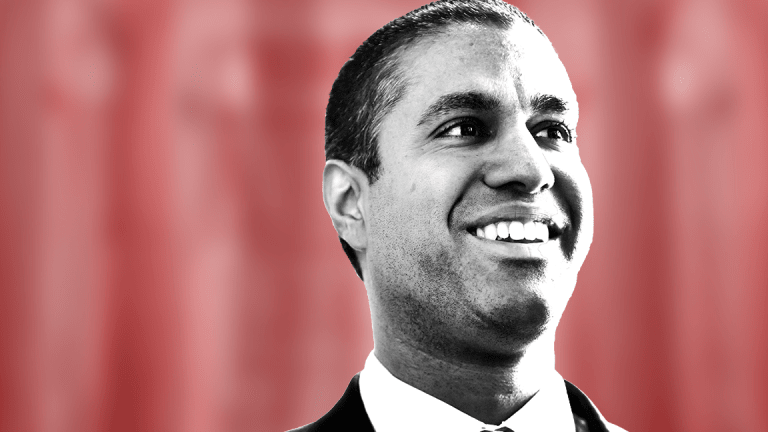 Why the FCC Is Ready to Roll Back Net Neutrality Rules on Thursday
Public outcry over rules that would roll back the Obama administration's Open Internet Order is intense, but FCC Chairman Ajit Pai has the votes.
As Federal Communications Commission Chairman Ajit Pai prepares for a vote on Thursday to roll back Obama administration rules on net neutrality, the din grows louder.
World Wide Web inventor and M.I.T. professor Tim Berners-Lee, Vint Cerf, one of the fathers of the internet; Apple (AAPL) - Get Apple Inc. Report co-founder Steve Wozniak and 18 other leading internet figures wrote a letter to chairs and ranking members of House and Senate committees that oversee the FCC this week asking them to put off Thursday's vote.
Meanwhile, 39 Democrat and independent Senators wrote Pai asking him to abandon the rules, while more than 100 Republican lawmakers signed a letter supporting the "Restoring Internet Freedom" proposal.
Celebrities from Alyssa Milano to William Shatner have exhorted the FCC to maintain net neutrality.
"Celebrity talk about the end of the internet as we know it is nothing more than 'hysteria,'" Pai said on a recent podcast for the Heartland Institute. Despite the protests, Pai has the votes, 3 to 2, to pass the rewrite. 
Pai's new rules would scrap former commissioner Tom Wheeler's 2015 Open Internet Order, which contained "bright line" rules that prohibited blocking, throttling or prioritizing some traffic. It would do away with a clause giving the FCC authority over the "general conduct" of service providers that the ISPs say is vague.
"The principle that's at the heart of net neutrality is really a pretty simple one," said Jeffrey Blumenfeld, a former Department of Justice lawyer who co-chairs Antitrust and Trade Regulation at Lowenstein Sandler LLP. "Users should be able to get to whatever content they want without regard to the preferences of the entity by which they are connected to the internet."
ISPs such as AT&T (T) - Get AT&T Inc. Report and Comcast (CMCSA) - Get Comcast Corporation Class A Report have said they do not intend to block or throttle content. Prioritizing traffic can be harmful to consumers, but it can also be necessary for applications such as self-driving cars that require high-speed, low latency transmissions.
Pai's new rules would require that ISPs disclose any blocking, throttling or prioritization policies--a sort of honor system. The FCC and the Federal Trade Commission will split duties for enforcing anti-consumer or anti-competitive behavior. The FCC will review complaints. The FTC will investigate whether the ISPs have lived up to their disclosures, and look into unfair and deceptive practices.
Acting Federal Trade Commission Chairman Maureen Ohlhausen discussed the body's qualifications at a Tuesday event, noting that the FTC is the "primary U.S. enforcer of commercial privacy and data security obligations" and has brought more than 500 privacy and data-security cases. Uber Technologies Inc. submitted to audits after the FTC accused it of deceiving consumers by "failing to monitor employee access to consumer personal information and by failing to reasonably secure sensitive consumer data stored in the cloud," the agency said in an August release.
While the FTC has deep experience in privacy and anti-consumer behavior, Blumenfeld suggested that the FCC has greater technical and legal experience with the nuances of network management than the FTC.
"There is simply no way that the FTC, no matter how well intentioned or how well staffed, can ensure that the internet can operate with true openness in any way near what the FCC, properly motivated and properly staffed, could do about real enunciated standards of what openness means," he said. 
Advocates of Pai's plans support the return to the laissez-faire approach that began under the Clinton administration and saw the emergence of companies such as Alphabet's (GOOGL) - Get Alphabet Inc. Class A Report Google, Facebook (FB) - Get Meta Platforms Inc. Class A Report and Netflix (NFLX) - Get Netflix, Inc. Report .
Former FCC commissioner and Wilkinson Barker Knauer LLP lawyer Kathleen Abernathy suggested at a recent panel hosted by Recon Analytics LLC that the FCC should not be prescriptive when creating a regulatory framework because they cannot anticipate the next leaps in technology that their rules might prohibit.
"To create reg (regulatory) frameworks around bad things that might someday happen because you think you might know better than the sector what is going to happen with the internet is always a mistake," she said. "Regulators need to have the humility to sit back and let these technology thrive and engage when and where there is harm to consumers."
One certainty is that lawsuits will follow. Net neutrality has been litigated numerous times in the last decade and Pai's rules will not go unchallenged.
Another certainty is that, despite the vocal protests, Pai has the votes to pass his net neutrality rules. Republican commissioner Michael O'Rielly said the sheer number of comments would not decide the outcome. "Thankfully, our rulemaking proceeding is not decided like a 'Dancing With the Stars' contest," he said.
Apple, Alphabet, Comcast and Facebook are holdings in Jim Cramer's Action Alerts PLUS Charitable Trust Portfolio. Want to be alerted before Cramer buys or sells APPL, GOOGL, CMCSA or FB? Learn more now.
More of What's Trending on TheStreet: