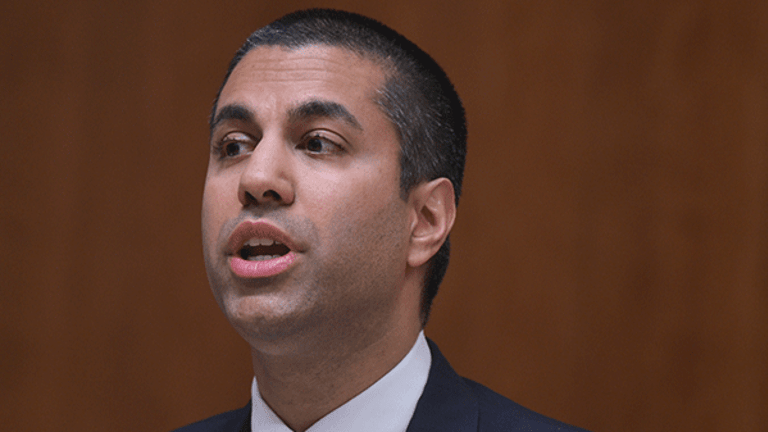 FCC Kicks Off Process to Roll Back Net Neutrality
Amid heated debate, the FCC voted 2-to-1 to create new broadband regulations that would undo the 2015 Open Internet ruling.
The Federal Communications Commission voted 2-to-1 Thursday to create new broadband regulations that would strike down a prominent order by former FCC Chairman Tom Wheeler in 2015 and would consider whether Internet service providers can block content, throttle speeds or create internet fast lanes.
The vote sets in motion Pai's plan to undo Wheeler's 2015 Open Internet Order, whichclassified broadband as a traditional telecom, or a "common carrier," with regulations akin to a utility, rather than as a more lightly regulated information service. The 2015 ruling had drawn criticism from broadband providers such as Comcast (CMCSA) - Get Comcast Corporation Class A Report and AT&T (T) - Get AT&T Inc. Report , which say the tougher regulations inhibit investment.
"The Internet was not broken in 2015. ... We were not living in a digital dystopia," Chairman Ajit Pai said at the FCC's meeting on Thursday, suggesting that Wheeler's move overreached. In a proposal entitled "Restoring Internet Freedom," Pai urged a "return to the Clinton-era, light-touch framework" under which companies such as Alphabet's (GOOGL) - Get Alphabet Inc. Class A Report Google, Netflix (NFLX) - Get Netflix, Inc. Report and Amazon (AMZN) - Get Amazon.com, Inc. Report emerged. Fellow FCC commissioner and Republican Michael O'Rielly voted along with Pai on the measure.
Commissioner Mignon Clyburn, however, said "Destroying Internet Freedom" would be a more appropriate title for Pai's proposal. Removing the classification of broadband as a telecom service under Title II of the Communications Act would "deeply damage the ability of the FCC to be a champion of consumers," the Democrat said. 
The Washington, D.C., Court of Appeals has found that the FCC cannot prohibit content blocking unless it treats broadband as a telecommunications service rather than an information service. The court upheld Wheeler's rules last year. Many observers have noted that it could take an act of Congress, and not an FCC order, to firmly establish new rules on net neutrality.
"[Pai's proposal] contains a hollow theory of trickle-down economics suggesting that if we just remove enough regulations from your broadband provider, they will automatically improve your service, pass along discounts from those speculative savings, deploy more infrastructure with haste and treat every provider fairly," Clyburn said.
Clyburn also scolded the commission for "declining to review an $85 billion transaction with massive public Interest implications," referring to AT&T's (T) - Get AT&T Inc. Report pending purchase of Time Warner (TWX) . Pai has said that because the transaction does not involve the transfer of FCC licenses, the commission does not have reason to consider it.
Alphabet and Comcast are holdings in Jim Cramer's Action Alerts PLUS Charitable Trust Portfolio. Want to be alerted before Cramer buys or sells GOOGL or CMCSA? Learn more now.
The commissioners also clashed over whether Wheeler's order actually hurt investment. Clyburn asserted that investment by publicly traded broadband providers increased by 5% since the 2015 order, while Pai said the 12 largest ISPs cut domestic broadband capital expenditures by 5.6%.
Pai said the final rules would factor in an analysis of costs and benefits, as well as comments from the public.
"We will not rely on hyperbolic statements about the end of the internet as we know it and 140-character argle-bargle," Pai said.
Nearly 2.2 million comments have been filed already, but O'Rielly said the sheer number of comments would not decide the outcome. "Thankfully, our rulemaking proceeding is not decided like a Dancing with the Stars contest, since counts of comments submitted have only so much value."
Hyperbolic or not, the debate will be charged and loud. HBO host John Oliver has rallied viewers to oppose Pai's plan -- repeating a stance he took in 2014. The FCC's servers running the comment system crashed after one of Oliver's broadcasts this month, although the Commission said it was because of a denial of service attack and not because the site was unable to process a flood of submissions. 
Comments are due by July 17.
If the FCC strikes down Wheeler's classification of broadband as a traditional telecom service, akin to a utility, but decides to keep prohibitions on blocking and throttling service, legal challenges could arise.
If the courts thwart Pai's plan to loosen internet regulations, he may need to turn to a group that rivals John Oliver's fan base for hyperbole -- the U.S. Congress.