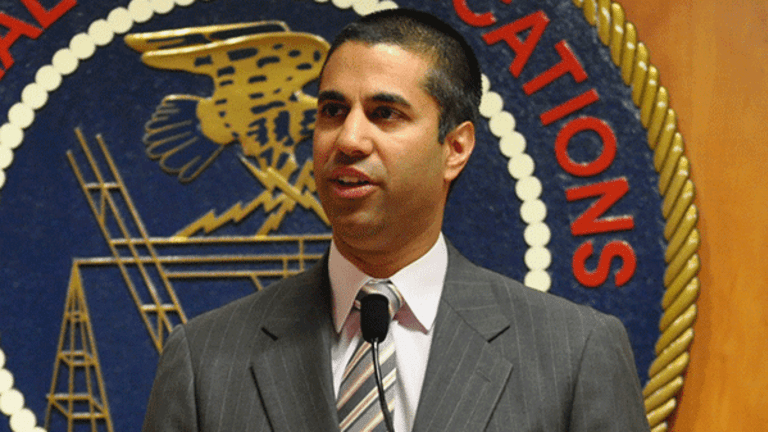 Publish date:
FCC Chairman Ajit Pai Fires Opening Salvo in Bid to Repeal Net Neutrality
The FCC's new chief laid out the case for rolling back regulations that classify broadband as a utility in a much-watched speech in Washington, D.C. on Wednesday.
The FCC's new chief laid out the case for rolling back regulations that classify broadband as a utility in a much-watched speech in Washington, D.C. on Wednesday.
In a highly anticipated speech in Washington D.C. on Wednesday, Federal Communications Commission Chairman Ajit Pai laid out a roadmap for overhauling the agency's regulation of broadband.
Pai wants the FCC to return to the light regulation of broadband that had existed since the Clinton administration, and to undo political moves by the Obama White House that he charges have cost billions in investment. But critics say Pai's moves would be a favor to big cable and telecom companies, and put free speech and competition at risk.
The speech marks the beginning of a politically charged regulatory review that will last much of the year.  The debate will touch on public interest issues such as free speech over the open Internet. It will also impact economic issues for companies such as Comcast (CMCSA) - Get Comcast Corporation Class A Report , Verizon (VZ) - Get Verizon Communications Inc. Report and AT&T (T) - Get AT&T Inc. Report  that provide broadband service, and companies such as Alphabet (GOOGL) - Get Alphabet Inc. Class A Report , Facebook (FB) - Get Facebook, Inc. Class A Report and Netflix (NFLX) - Get Netflix, Inc. (NFLX) Report that make vast amounts of money selling online advertising, media and services.
"It's basic economics," Pai said, regarding his plan to terminate rules from the Obama administration that classified broadband under Title II of the Communications Act of 1996, thereby treating Internet service like a utility. "The more heavily you regulate something," he said, "the less of it you're likely to get."
The rule change, set in place in 2014 and completed in 2015, not only reclassified broadband service, but also prohibited policies such as blocking or prioritizing certain traffic.
"Nothing about the Internet was broken in 2015," Pai said, attributing the changes instead to politics to spark the Democratic base after disappointing midterm elections. He further argued that the added regulations cost the U.S. $5.1 billion in reduced broadband capital investment, and said undoing the regulations would renew investment in infrastructure.  
In addition to rolling back Title II regulation of broadband, Pai aims to get rid of the internet conduct standard that the Obama FCC put in place as part of its Open Internet Rules. Pai said the FCC had used the standard to block "zero rating" services, by which ISPs can provide some video or other content without it eating into a consumers' data plans. The FCC had argued that the policies allowed broadband providers to prioritize some content. 
The Title II reclassification in particular riled telecoms and cable operators because it opened the door for regulation of price and other terms of service.
On Wednesday right after Pai's speech, Comcast CEO Brian Roberts issued a statement supporting the reversal of the Title II designation, which he described as "a 1930s statute that is outdated and harms consumers by curtailing investment" in broadband networks. "We don't block, throttle, or discriminate against lawful content delivered over the Internet, and we are committed to continuing to manage our business and network with the goal of providing the best possible consumer experience," Roberts said.
Former FCC Commissioner Michael Copps, who advises advocacy group Common Cause, called the decision a "red light for democracy and a green light for cable and telecom giants," in a statement. "Ending net neutrality would be a body blow to the open dialogue upon which successful self-government depends," he stated.
The FCC will vote on a rule-making process at its May 18 meeting and will seek public comment if it passes.
Pai predicted a charged process. "Throughout the discussion that is to come, you will hear from the other side that Title II regulation is the only way to preserve a free and open Internet," he said. "This is a lie. They will repeat it over and over again, but it's just not true."
Comcast, Alphabet and Facebook are holdings in Jim Cramer's Action Alerts PLUS Charitable Trust Portfolio. Want to be alerted before Cramer buys or sells CMCSA, GOOGL or FB? Learn more now.