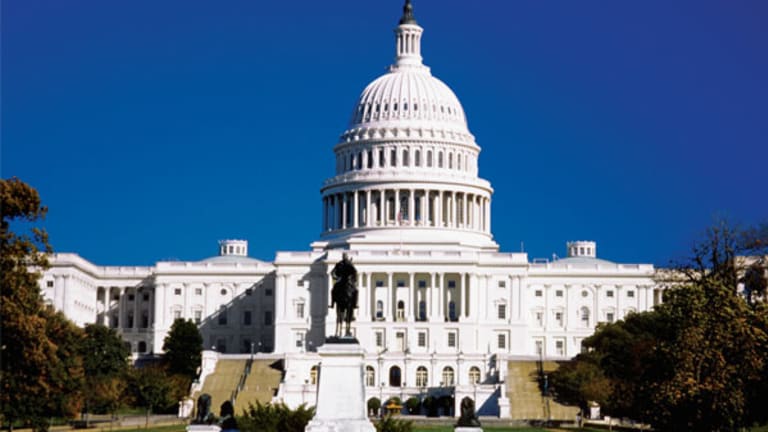 Fast-Track Trade Authority Needs to Pass
It would help the U.S. economy and boost shares of companies that are major exporters.
NEW YORK (TheStreet) -- American companies that are major exporters such as Boeing (BA) - Get Boeing Company Report, Caterpillar (CAT) - Get Caterpillar Inc. Report and DuPont (DD) - Get DuPont de Nemours, Inc. Report are selling more abroad than ever, according to the most recent data from the Department of Commerce. This was detailed in a previous article on TheStreet.
Investors should look for shares of these companies that sell abroad to gain if Congress updates and passes Trade Promotion Authority legislation. Congress is expected to introduce legislation after it returns from its current recess.
Last passed in 2002, Trade Promotion Authority expired in 2007. The law gives the president the ability to negotiate trade deals on a fast track. Under the law, Congress would have to pass the deals, but wouldn't be able to amend them.
The law had existed in some form from the 1930s to 2007. It helps U.S. exporters because it facilitates agreements that allow for greater international trade. 
In addition to helping American companies and increasing jobs, it benefits consumers by allowing for more choices in the marketplace with the introduction of more foreign goods.
As a percentage of gross domestic product, American exports have increased every year since 2009, 
according to the Economics and Statistics Administration of the Department of Comemrce.
At 14% of GDP for the most recent year, U.S. exports are at a record level. That is almost a 50% increase from the level in 2009.
In dollar amounts,American exports have surged from $1.578.9 trillion in 2009 to $2.195.9 trillion in 2012.
That increase in selling more goods and services abroad has been bullish for U.S. exporters. Boeing shares are up more than 80% this year to about $136 a share. Its quarterly sales growth is 10.60%, more than double the 4.20% rate for over the past five years. In late October, Barclays recommended Boeing with a target price of $145 a share.
The American worker certainly needs more exports.
Long-term unemployment benefits just expired for 1.3 million. More exports from the U.S. would create more jobs for American workers. According to Caterpillar CEO Doug Oberhelmn, these are better jobs too, paying an average of 18% more. Almost 10 million Americans work in jobs for the 300,000 U.S. companies in the export sector, according to the International Trade Administration.
It would help members of Congress keep their jobs if they passed trade legislation that would increase jobs and promote growth. A recent CNN poll found that two-thirds of Americans feel this is the worst Congress in their lifetime. That can't be reassuring for lawmakers with the midterm elections coming up next year.
Jonathan Yates does not have a position in any of the stocks mentioned in this article.
This article represents the opinion of a contributor and not necessarily that of TheStreet or its editorial staff.
Jonathan Yates has written for numerous publications including Newsweek and The Washington Post. He is a former general counsel for general counsel for a publicly traded corporation. Much of his career was spent working on Capitol Hill for Members of Congress in both the House and Senate. He has degrees from Harvard University, Georgetown University Law Center and The Johns Hopkins University.