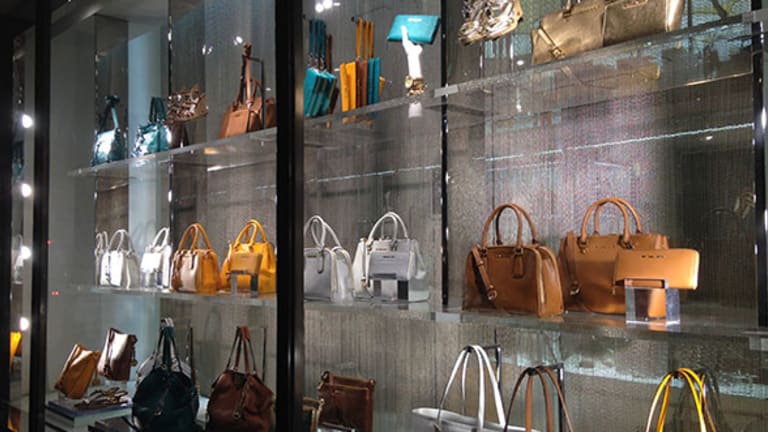 Michael Kors May Have Signed Its Death Warrant
Here is why investors should stay away.
Just months ago, Michael Kors (KORS) was a hot stock.
Hopefully, investors in the luxury-goods company were able to take advantage of those heady months. Because by the end of last year, the rising sales that the company had touted took a turn for the worst.
This week, Michael Kors released its results for the fiscal third quarter ended Dec. 31, and investors weren't pleased. Although the company beat the consensus when it came to earnings, recording $1.64 a share versus the forecast of $1.62 a share, income plummeted 8%, comparable sales took a 6.9% hit and revenue fell 3.2%.
Management also slashed the company's outlook for the full fiscal year, saying that it expects sales of $4.48 billion instead of $4.55 billion, which would be a disappointing decline from the $4.71 billion reported in fiscal 2016.
Why are the company's sales so rotten this fiscal year? Revenue from wholesale -- such as sales at Macy's (M) -- took a nearly 18% hit.
As ecommerce revolutionizes the way that people around the globe shop, department stores have been struggling. Shopping mall stalwarts such as Macy's and Nordstrom (JWN) , which arestores where consumers could expect to purchase a Michael Kors handbag, have reported disappointing holiday-quarter sales.
The stores started adding extra promotional days and deepening their discounts, which had a negative impact on revenue and profit at Michael Kors.
The company said that it would pull back its wholesale offerings and refuse to participate in some store promotions. But still, the loss to its third-party sales has been significant.
Department stores aren't entirely to blame, however. The company's own branded stores saw dwindling foot traffic during the holiday quarter, and operating margins in Michael Kors retail stores lost more than six points.
Shares of Michael Kors stock fell by more than 13% during trading on Tuesday, though they are up slightly Wednesday.
Don't be tricked into thinking this is a value stock.
The company has made a big mistake by not participating in store promotions. Right now, those sales are practically providing life support to the dying brick-and-mortar industry.
When American shoppers log out of Amazon (AMZN) and drive to the mall, they are doing so for big discounts. Although the discounts have lessened the value of some of the brand's products, Michael Kors will keep taking a hit to sales, thanks to this decision.
Luxury retail brands including Burberry, Kate Spade (KATE) and Tiffany (TIF) ,along with Michael Kors, are all on shaky ground. Investors should look for profits elsewhere this year.
---
There are better opportunities to make money this year. In fact, I know a way you can make as much as $67,548 per year starting right now. The trader who told me about this simple step-by-step process has been right more than eight out of 10 times! Go here for more information.
The author is an independent contributor who at the time of publication owned none of the stocks mentioned.