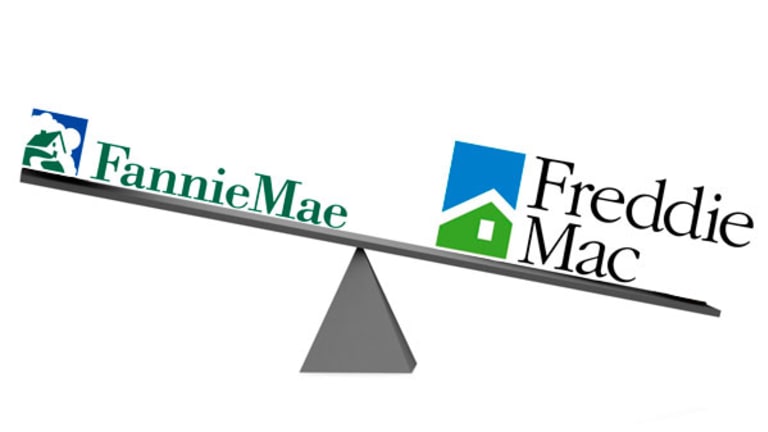 Fannie Mae Keeps Shoveling Cash to the Government
The government Keeps Wallowing in GSE Dividends while private investors suffer.
NEW YORK (TheStreet) -- Fannie Mae (FNMA) on Monday pointed to a pretty stark reality for the government-sponsored mortgage giant's private shareholders.
Fannie announced fourth-quarter earnings of $6.5 billion and said it would pay dividends totaling $7.2 billion to the government in March.
Fannie Mae and its sister company Freddie Mac (FMCC) -- together known as the government sponsored enterprises, or GSEs -- were taken under government conservatorship at the height of the U.S. real estate crisis in September 2008. The government -- that is, the taxpayers -- took huge senior preferred stakes in the GSEs, with Fannie and Freddie initially required to pay annual dividends of 10% on the governments preferred shares.
The U.S. Treasury holds $117.1 billion senior preferred Fannie Mae shares and $72.3 billion in senior preferred Freddie Mac shares, with both GSEs having stopped taking draws from the Treasury during the second quarter of 2012. Under their modified bailout agreements, the GSEs must pay all earnings to the government in excess of minimal capital cushions. Meanwhile, all dividends for junior preferred shareholders have been suspended since September 2008.
Fannie on Monday said that once the March dividend payment is made, it will have paid the government total dividends of $117.2 billion, exceeding the size of the Federal Government's preferred stake. That's a return of over 100%, for an investment of less than five and a half years, but there's still no mechanism in place for either GSE to begin repurchasing government-held preferred shares.
Freddie Mac is also expected to report total dividends exceeding the government's preferred investment, once it reports its fourth-quarter results.
There have been several lawsuits against the government by investors holding common or junior preferred shares of the GSEs, with high-profile investors including Bruce Berkowitz of Fairholme Funds, as well as consumer advocate Ralph Nader, who are advocating for the survival of Fannie and Freddie.
While the fashion in Washington for quite some time has been to "kill-off Fannie and Freddie," the government hasn't taken action yet, for fear of jeopardizing the U.S. housing recovery, since the GSEs purchase nearly all newly originated mortgage loans. Members of Congress and the Obama administration are also reluctant to see the dividend gravy train come to a halt.
But there is hope for patient private GSE investors, as indicated by comments from Senators Bob Corker (R., Tenn.) and Mark Warner (D., Va.), during a Financial Services Roundtable meeting in January.
Investors cheered Fannie's announcement, sending the firm's common shares up over 9% in afternoon trading to $3.58, while Freddie's common shares were up over 6% to $3.44. GSEs' common shares rose more than 11-fold during 2013.
The GSEs' junior preferred shares didn't fare so well, with Fannie Mae's preferred Series F shares (FNMAS) pulling back 0.6% to $10.34, while Freddie's preferred Series Z (FMCKJ) shares were flat at $10.60. Both preferred issues have par values of $25.00.
Philip W. van Doorn is a member of TheStreet's banking and finance team, commenting on industry and regulatory trends. He previously served as the senior analyst for TheStreet.com Ratings, responsible for assigning financial strength ratings to banks and savings and loan institutions. Mr. van Doorn previously served as a loan operations officer at Riverside National Bank in Fort Pierce, Fla., and as a credit analyst at the Federal Home Loan Bank of New York, where he monitored banks in New York, New Jersey and Puerto Rico. Mr. van Doorn has additional experience in the mutual fund and computer software industries. He holds a bachelor of science in business administration from Long Island University.