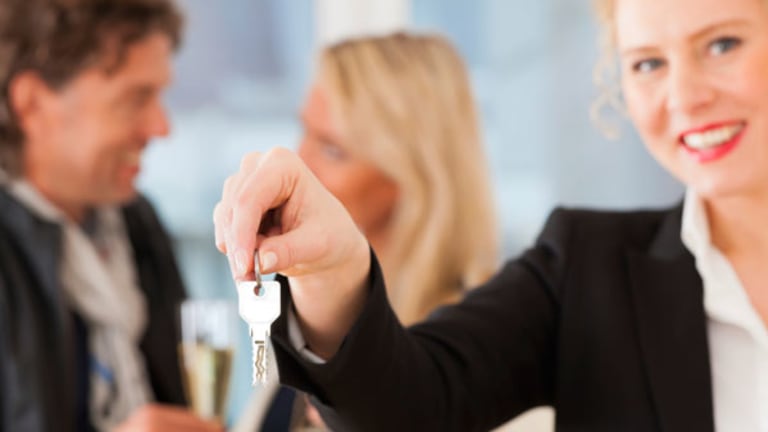 Fannie Mae, Freddie Mac Results Should Concern Bank Investors
Fannie Mae and Freddie Mac used some smoke and mirrors to make their quarterly results look not-so-bad, which should give bank investors pause.
Fannie Mae and Freddie Mac used some smoke and mirrors to make their quarterly results look not-so-bad, which should give bank investors pause.
NEW YORK (
) --
Fannie Mae
and
Freddie Mac
used some smoke and mirrors to make their quarterly results look not-so-bad, which should give bank investors pause.
Shares of both companies have soared since they released results last Thursday, touching highs not seen since March. Since Thursday's close of 79 cents, Fannie surged as much as 67%, touching a high of $1.32 on Tuesday before easing back to close at $1.07. Freddie, whose results
were apparently stronger, reached $1.89 on Tuesday, more than double its close of 84 cents on Thursday, before closing at $1.56.
As penny stocks of
zombie companies, the prices tend to be volatile and unpredictable, but it was the first time either company had broken the dollar mark in more than three months. Still, investors should be wary of indications that their results are slowly improving, especially since investors are not high on the government's list of priorities as it settles the future of the two mortgage-finance giants.
The fact of the matter is that accounting adjustments played a far bigger role in propping up the bottom line than did any moderation of losses in Fannie and Freddie's core book of business.
The implementation of FAS 115-2, which eases rules on recognizing losses, gave Fannie's assets a positive adjustment of $5.6 billion after taxes and lessened its allowance for future tax expenses by $3 billion. The change boosted Freddie's equity by $8.5 billion -- thereby allowing the firm to avoid drawing additional funds from the Treasury Department.
In a counterintuitive twist, although the housing market -- as measured by home prices, delinquencies, defaults and foreclosures -- continued to sour, the easing of accounting rules allowed Fannie to mark up assets by $823 million. That compares with writedowns of $1.5 billion in the first quarter. Freddie posted mark-ups of $2.9 billion on some assets, and said credit expenses decreased in part because of "enhancements" to its methodology for estimating future loan loss.
It is true that there are signals that things are getting less worse in the housing market, but they haven't yet started to get better across the board. When excluding the accounting change and examining core results, both firms would have posted big losses, and Freddie would not have been able to avoid taking more money from the federal government.
Freddie's interim CEO John Koskinen acknowledged that reality by saying "we recognize that our financial results for the quarter include one-time accounting adjustments and mark-to-market gains that are subject to change in future periods."
He added that the outlook "remains cautious due to rising foreclosures, growing unemployment, tight lending standards and buyers' reluctance to re-enter the market."
Furthermore, the statistics accounted for in quarterly results only relate to assets on balance sheet. Freddie Mac holds $61.9 billion worth of non-performing assets off balance sheet, four times as much as those on the books. Fannie Mae holds $144.2 billion, 5.5 times as many as assets on balance sheet.
In about five months, another accounting rule called FAS-140 is set to change, which stands to have the opposite effect on Fannie and Freddie's results. That shift will require financial firms to move all off-balance sheet items, called QSPEs and qualified VIEs, onto their books. The rule will affect banks like
Bank of America
(BAC) - Get Report
,
Wells Fargo
(WFC) - Get Report
,
JPMorgan Chase
(JPM) - Get Report
,
Citigroup
(C) - Get Report
,
Goldman Sachs
(GS) - Get Report
, as well as the troubled insurance giant
American International Group
(AIG) - Get Report
and other smaller competitors across the country.
Depending on what pre-emptive steps have already been taken, the companies may have boost reserves to cover potential losses on those assets, since they were not required to do so before. So while financial firms are reaping the benefits of a positive accounting change now, investors ought to get prepared for a less helpful shift come January.
-- Written by Lauren Tara LaCapra in New York
.