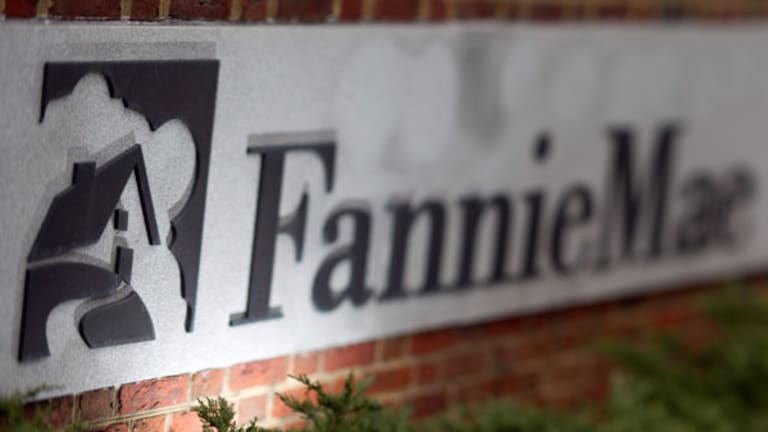 Publish date:
Fannie, Freddie Shareholders Roll Dice, Sue Uncle Sam (Update 1)
Investors on Monday sued the federal government, claiming $41 billion, saying its takeover of the GSEs was 'unprecedented and usurious.'
Investors on Monday sued the federal government, claiming $41 billion, saying its takeover of the GSEs was 'unprecedented and usurious.'
Updated from 8:42 a.m. ET with market reaction and comments from Hagens Berman Sobol Shapiro LLP and Spector Roseman Kodroff & Willis, P.C.
NEW YORK (
) -- The first of what is likely to be a series of lawsuits by private shareholders of
Fannie Mae
(FNMA)
and
Freddie Mac
(FMCC)
was filed on Monday, according to a
Bloomberg
report.
According to the complaint filed in the U.S. Court of Federal Claims in Washington, the government's placement of Fannie and Freddie into conservatorship in September 2008 was "beneficial to the economic welfare of the nation," however, the takeover also "destroyed the value of Fannie Mae's and Freddie Mac's common and preferred stock."
According to the complaint, which seeks $41 billion in damages, the federal government "trampled the private ownership rights" of investors. The complaint, filed by Hagens Berman Sobol Shapiro LLP and Spector Roseman Kodroff & Willis, P.C. (SRKW), also claims "the government bullied and coerced the companies' boards of directors" of Fannie and Freddie to agree to the conservatorship.
Named plaintiffs include the main subsidiary of
Washington Federal
(WAFD) - Get Report
of Seattle, the Austin Police Retirement System.
Fannie and Freddie, together known as the government-sponsored enterprises, or GSEs, were taken under government conservatorship in September 2008. The U.S. Treasury holds $189.4 billion in senior preferred share of the GSEs, for bailout assistance, and dividends on all other share classes have been suspended since September 2008.
The GSEs continue to play a critical role in mortgage finance, holding roughly $5.2 trillion in mortgage loans and mortgage backed securities as of March 31, and purchasing roughly 90% of newly originated mortgage loans in the U.S.
Common shares of the GSEs have rebounded tremendously this year, as the two companies returned to profitability in 2012, and have been paying dividends to the government in sufficient amounts for some private investors to see the possibility for the companies to escape the bailout.
Fannie Mae reported a
record first-quarter operating profit
of $8.1 billion, and also announced on May 9 that it would pay the Treasury a second-quarter dividend of $59.5 billion, after recapturing most of its valuation allowance for deferred tax assets.
Freddie Mac reported first-quarter operating earnings of $4.5 billion and announced a second-quarter dividend of $7 billion to the Treasury.
Following the June dividend payments from Fannie and Freddie, the government will have received dividends totaling $131.6 billion on its combined GSE preferred investment of $189.4 billion.
"The U.S. government paid no heed to the rights and interests of shareholders when it effectively nationalized these two corporations," said Robert Roseman, managing partner of SRKW in a statement. "While other major financial institutions were attempting to minimize their losses during a difficult economy, the government essentially forced Fannie Mae and Freddie Mac to do the exact opposite, expanding its exposure to some of the riskiest assets."
Steve Berman, managing partner and co-founder of Hagens Berman, said in a statement that the government was "obligated to provide just compensation under the Fifth Amendment for shareholders who suffered significant financial losses."
Common shares of Fannie Mae closed at $1.91 Monday, rising 635% since the end of 2012, when the shares closed at 26 cents. Freddie Mac's shares closed at $1.78 Monday, up 585% since the end of last year, when they also closed at 26 cents.
In afternoon trading Tuesday, Fannie's shares were up 6% to $2.02, while Freddie's shares were up 4.5% to $1.86.
The most liquid junior preferred GSE shares have also risen considerably this year. Fannie's preferred Series S shares (FNMAS), with a face value of $25, closed at $5.14 Monday, up 208% from $1.67 on Dec. 31. Freddie Mac's preferred Series Z shares (FMCKJ), with a face value of $25, closed at $5.35 Monday, rising 206% from $1.75 at the end of 2012.
Fannie Mae's preferred Series S shares were up 6% in afternoon trading to $5.45, while Freddie Mac's preferred Series Z shares were up 3.6% to $5.54.
The lower return for the junior preferred shares underlines their preference over common shareholders for dividends and in the event of liquidation, although KBW analyst Bose George in a report on Sunday wrote that it was
very unlikely for non-government GSE shareholders to realize any value at all
from their investments.
Despite their return to solid profitability, there is a huge obstacle holding back Fannie and Freddie: There's no mechanism in place for them to buy back any of the government-held senior preferred shares, no matter how much in dividends they pay to the U.S. Treasury. And the GSEs are required under their revised bailout agreements to pay all of their profits to the government, save minimal capital buffers of $3 billion apiece.
Possible Ways Forward
High profile investors including Ralph Nader and Bruce Berkowitz's
Fairholme Capital Management
have called for better treatment for private GSE investors. In a letter from Fairholme last week, the fund manager said "on behalf of the hundreds of thousands of Fairholme Funds shareholders who helped to rebuild
American International Group
(AIG) - Get Report
,
Bank of America
(BAC) - Get Report
,
CIT Group
(CIT) - Get Report
,
General Growth Properties
(GGP)
,
MBIA Inc.
(MBI) - Get Report
, and others after the Great Recession -- we stand ready to do our part.
This implies major political support for a settlement that allows non-government GSE shareholders to realize value, and also alludes to AIG's opportunity to move past its own epic bailout, when the government converted its preferred shares in the insurer to common shares. The government eventually sold all of its AIG shares back to the company or to the public,
claiming a significant profit for taxpayers
.
Then again, Standard & Poor's on Monday
raised its outlook for its sovereign debt ratings for the United States
to "stable" from "negative," in part because of the huge contribution of GSE dividends toward lowering the federal deficit. So President Obama and members of Congress will be weighing a potential loss of revenue against a potential loss of political support among investors holding shares in Fannie and Freddie.
When discussing prospects for investors in Fannie and Freddie in litigation against the government, George wrote "the companies are specifically chartered by the federal government and we think the courts will give the government far more deference in determining whether or not to pay a dividend to preferred shareholders even if the companies have paid back the taxpayers."
Senators Bob Corker (R., Tenn.) and Mark Warner (D., Va.) are
drafting a bill to dissolve Fannie and Freddie over a five-year period, while offering some consideration to private shareholders
, according to a Bloomberg report filed last week.
A likely series of class-action lawsuits will complicate negotiations in Washington for the reform of the U.S mortgage finance market.
Another Analyst Warns Investors
FBR analyst Edward Mills in a note to clients on Tuesday discussed his firm's analysis of the "of the guaranteed book of business of Fannie Mae and Freddie Mac to determine what economic value would be available to non-government security holders."
Mills concluded that "under almost all scenarios, the cash flows from the guarantee book would barely cover the principal owed to the U.S. government; as such, we continue to believe little, if any, economic value will be given to nongovernment securities."
"We see the Corker-Warner bill, with its five-year sunset provision, as the foundation for the legislative discussion," Mills wrote, but added "the economics of the books today and a political environment that does not favor transferring earnings to the non-government shareholders."
The political environment also doesn't favor a settlement that would apply subsequent payments by Fannie and Freddie toward "paying down the principal balance on the senior preferred shares," according to Mills.
-- Written by Philip van Doorn in Jupiter, Fla.
>Contact by
.
Philip W. van Doorn is a member of TheStreet's banking and finance team, commenting on industry and regulatory trends. He previously served as the senior analyst for TheStreet.com Ratings, responsible for assigning financial strength ratings to banks and savings and loan institutions. Mr. van Doorn previously served as a loan operations officer at Riverside National Bank in Fort Pierce, Fla., and as a credit analyst at the Federal Home Loan Bank of New York, where he monitored banks in New York, New Jersey and Puerto Rico. Mr. van Doorn has additional experience in the mutual fund and computer software industries. He holds a bachelor of science in business administration from Long Island University.