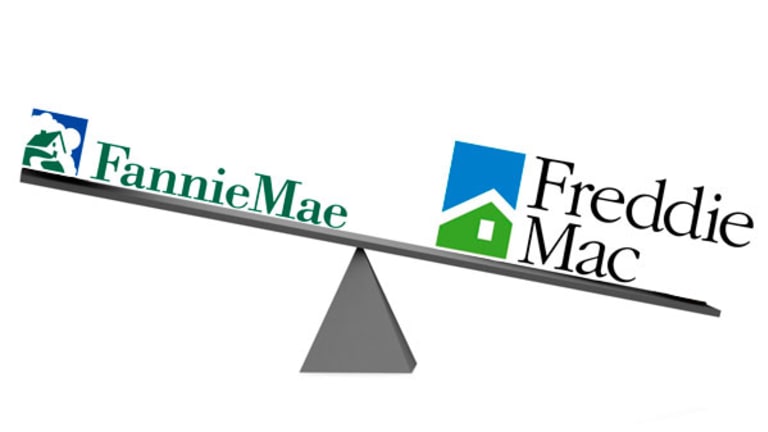 Fannie, Freddie Rise After Senators Offer Hope to Private Investors
Comments at Wednesday's Financial Services Round Table meeting seemed to indicate a willingness in Congress to consider investors' interests.
NEW YORK (TheStreet) -- Shares of Fannie Mae (FNMA) and Freddie Mac (FMCC) rose considerably on Wednesday, after comments at a Financial Services Round Table meeting indicated a willingness in Congress to consider the interests of private investors when winding down the two government sponsored enterprises (GSEs).
Common shares of Fannie Mae were up 5% in afternoon trading to $3.22, while Freddie's common shares were up 5.4% to $3.10.
The GSEs' junior preferred shares popped, with Fannie Mae's preferred Series F shares (FNMAS) rising 13.3% to $9.88, while Freddie's preferred Series Z (FMCKJ) shares were up over 9.1% to $9.88. Both preferred issues have par values of $25.00.
The GSEs were taken under government conservatorship at the height of the credit crisis in September 2008.  The U.S. Treasury holds $117.1 billion in senior preferred Fannie Mae shares and $72.3 billion in senior preferred Freddie Mac shares. Under their modified bailout agreements, the GSEs must pay all earnings to the government in excess of minimal capital cushions of $3 billion apiece. Including their December dividend payments, the government has received $185.3 billion in dividends from Fannie and Freddie, for a five-year investment of $189.4 billion.
But there's no mechanism in place for either GSE to repurchase any government-held preferred shares.  Several institutional investors holding junior preferred and/or common shares of Fannie and Freddie have sued the government over what they say has been an illegal seizure of their property. 
Consumer advocate Ralph Nader is firmly on the side of the GSEs non-government shareholders.
Bruce Berkowitz's Fairholme Capital in July sued the federal government "to protect its rights as an owner of preferred stock in Fannie Mae and Freddie Mac, including the right to receive dividends from the profitable companies."  Then in November, Berkowitz sent a letter to acting Federal Housing Finance Agency (FHFA) director Edward DeMarco, proposing to establish two privately funded companies "to purchase, recapitalize and operate the mortgage-backed securities insurance business of Fannie and Freddie."
Former North Carolina Rep. Mel Watt was sworn in as the new FHFA director on Monday.
Under Berkowitz's November proposal, Fairholme's suit against the government would be dropped, and the new companies would be capitalized with $34.6 billion from the conversion of junior preferred stock in the entities to common shares. At least another $17.3 billion of new capital would be raised from the junior preferred stockholders in a rights offering.  The GSEs' book of investments and insurance would be wound down and the proceeds would be used to fully repay the Treasury and provide a profit to taxpayers. Any proceeds remaining would go to common shareholders. 
Berkowitz proposal was quickly rejected by the White House, and it was clear the proposal would meet initial resistance in Congress, which wouldn't want to lose its GSE cash cow. Washington also perceived a lack of sympathy for the non-government shareholders of Fannie and Freddie, some of whom scooped up the shares at tremendous discounts in the hope of making a killing as the GSEs returned to consistent profitability.
At the Financial Services Round Table meeting in Washington, Senators Bob Corker (R., Tenn.) and Mark Warner (D., Va.) seemed to indicate a willingness in both parties of Congress to come to an agreement on GSE reform that will give consideration to private investors.
Corker and Warner introduced the Housing Finance Reform and Taxpayer Protection Act last June, which would replace Fannie and Freddie with a privately capitalized mortgage finance system.
According to a Financial Times report, Senator Corker "reiterated that the Fairholme plan proved there was an appetite for risk from the private sector, an issue that drew scepticism from critics of the Corker-Warner bill. White House officials have rejected the hedge fund proposal."
The Financial Times meanwhile reported Warner's off-the-cuff remarks to mean "a strong bipartisan bill that garnered the most support was the best way to success, hinting that the final outcome could be a combination of proposals. He added that those advocating for the status quo for Fannie and Freddie, which are under government conservatorship, were pushing for the wrong outcome."

Chart
The following chart shows the extraordinary run-up, along with plenty of volatility, for common shares of Fannie Mae and Freddie Mac since the end of 2012: 

data by YCharts
RELATED STORIES:

U.S. Banks Under Attack, But Still a Buy, Says Rafferty's Bove
Mel Watt Signals Change, Delays Fannie, Freddie Fee Hike
Big Bank Stocks Have Plenty of Upside for 2014, Says Jefferies
-- Written by Philip van Doorn in Jupiter, Fla.
>Contact by Email.
Philip W. van Doorn is a member of TheStreet's banking and finance team, commenting on industry and regulatory trends. He previously served as the senior analyst for TheStreet.com Ratings, responsible for assigning financial strength ratings to banks and savings and loan institutions. Mr. van Doorn previously served as a loan operations officer at Riverside National Bank in Fort Pierce, Fla., and as a credit analyst at the Federal Home Loan Bank of New York, where he monitored banks in New York, New Jersey and Puerto Rico. Mr. van Doorn has additional experience in the mutual fund and computer software industries. He holds a bachelor of science in business administration from Long Island University.