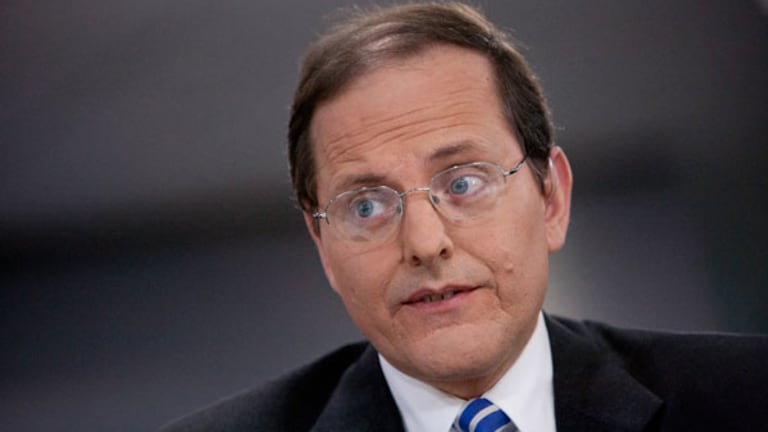 Fannie, Freddie Raises Guarantee Fee Ahead of Mel Watt Confirmation
Fannie and Freddie will charge a higher fee to guarantee mortgages, especially in states where foreclosure timelines are exceedingly long.
NEW YORK (TheStreet) -- The Federal Housing Finance Agency, regulator of bailed-out housing giants Fannie Mae (FNMA) and Freddie Mac (FMCC) , announced late Monday that the companies would raise the fees charged to lenders for guaranteeing mortgage loanss.
The so-called guarantee fee or g-fee would rise by an average of 11 basis points overall, representing a 14 basis point increase on typical 30-year mortgages and a 4 basis-point increase on 15-year mortgages. 100 basis points equal one percentage point.
The agency would also for the first time assess a higher fee for four states where foreclosure timelines are significantly longer than national average and where, the FHFA contends, the cost of disposition of problem loans is higher.
Accordingly, the up-front 25 basis point "adverse market fee" that has been assessed for all mortgages since 2008 will be eliminated for most states, while remaining in place in Florida, New York, New Jersey and Connecticut.
The FHFA had originally proposed an increase in fees in Illinois as well, but the state was not included in the final list.
The proposal to charge higher fees for states with longer foreclosure timelines comes amid stiff opposition from consumer activists who argue that the regulator is penalizing states that have more borrower-friendly laws.
The regulator said the adverse market fee is expected to be evaluated annually. The price changes will go into effect over March and April.
The increase in the g-fee follows FHFA-directed increases of 10 basis points, each announced in December 2011 and August 2012.
The agency has long regarded g-fee increases as necessary to reduce the dominance of the government-sponsored enterprises in the mortgage market and to draw in more private capital.
"Today's price changes improve the relationship between g-fees and risk," said FHFA Acting Director Edward DeMarco. "The new pricing continues the gradual progression towards more market-based prices, closer to the pricing one might expect to see if mortgage credit risk was borne solely by private capital. The price changes provide better protection of and return to taxpayers, who are providing the capital support that keeps these companies operating.
These changes should encourage further return of private capital to the mortgage market," DeMarco said.
Still, this could well be the last step taken by DeMarco. On Tuesday, Rep. Mel Watt (D., NC) is widely expected to be confirmed as the new director of the agency.
It is unclear whether Watt would approve more of fee increases, which raise the cost of conventional mortgage loas.
DeMarco has frequently clashed with the Obama Administration on a range of issues, notably his refusal to reduce principal on mortgage loans for struggling borrowers. DeMarco argues that principal reductions are not superior to other forms of mortgage relief and encourages moral hazard, much to the chagrin of consumer activists who believe it is the only effective form of consumer relief.
Watt is seen as someone who will be more aligned with the goals of the White House, including principal reduction. But his views on housing policy, particularly on the future of Fannie Mae and Freddie Mac, are not well known.
KBW analyst Bose George believes any g-fee increases under Watt would likely be slower. He also expects that a policy to charge higher rates for states with longer foreclosure timelines and arguably more consumer protections would not attract the same level of support from Watt.
Some in Congress are also opposed to g-fee increases because they worry that it can be used by the government to offset spending. Since the agencies are under conservatorship, any g-fee increases add to the government's revenue.
Senate banking Committee leaders Tim Johnson (D., SD) and Mike Crapo (R., ID) recently sent a letter to party leaders opposing the use of g-fee increases to offset spending.

-- Written by Shanthi Bharatwaj in New York
Disclosure: TheStreet's editorial policy prohibits staff editors and reporters from holding positions in any individual stocks.