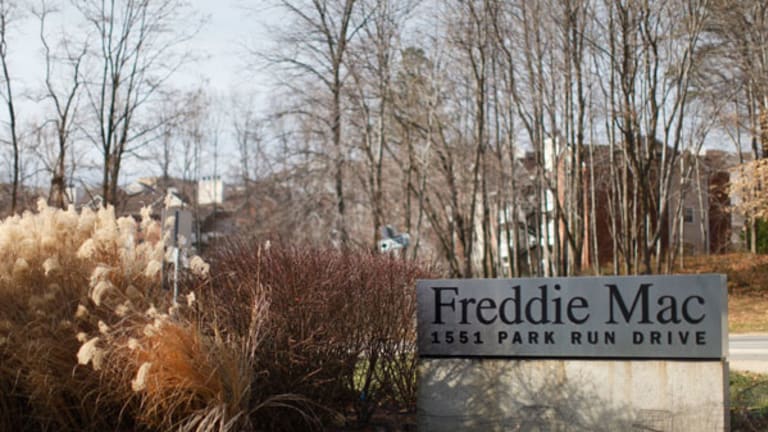 Fannie Freddie Rally Returns With a Vengeance
Fannie shares now up 700% year to date, while preferred shares lag.
NEW YORK (
) --
Fannie Mae
(FNMA)
and
Freddie Mac
(FMCC)
shares have more than doubled over the past 10 trading days on heavy volumes, adding to big gains posted in March after the shares had been dormant for several weeks.
Professional investors
who have long touted the junior preferred shares of the Government Sponsored Enterprises
(GSEs) have shaken their heads in disbelief at the common stock rally, though at least one big fund focusing on distressed investments is now rumored to be trading the common shares. The senior preferred shares of the GSEs and 80% of the common stock are owned by the U.S. Treasury, which put Fannie and Freddie into conservatorship in Sept. 2008.
Despite a broad market decline on Thursday, Freddie Mac common shares were up 17.37% to $1.98 at about 2:30 p.m. EST and are up about 650% year to date. Fannie Mae shares were up 14.21% to $2.09 and are up more than 700% year to date. That compares to roughly 200% gains for preferred issues.
Fannie and Freddie's combined market cap is now at about $17.5 billion vs. roughly $6.5 billion for the preferred shares, according to Michael Kao, head of Woodland Hills, Calif.-based hedge fund Akanthos Capital Management. If the preferred shares were fully valued, they would be worth more than $30 billion.
The most liquid preferred issues, such as the Fannie Mae "S" shares
(FNMAS)
and the Freddie Mac "Z" shares
(FMCKJ)
trade at roughly 20% of their issue price, meaning investors will make five times their money if Fannie and Freddie repay their debts to preferred holders. The preferred securities were also higher Thursday, though percentage gains were in the low- to mid-single digits.
"It's really bizarre," Kao says of the common stock rally. "I can see the technical reason why you would do it because it's highly liquid, it's been trading in huge volume and I guess you could make some quick money kind of day-trading the thing, but I don't see why you would want to own the common
given the current prices of the preferred."
Also see: Goldman Says, What Too Big to Fail Advantage? >>
According to standard securities laws, preferred holders would have to be paid in full before common shareholders would be able to claim any of the profits from the GSEs.
Fannie Mae and Freddie Mac are anything but standard, however,
even when compared to other big bailed out companies
like
AIG
(AIG)
that have offered big payouts to investors who bought shares after the subprime collapse.
The key difference is the GSEs' quasi-governmental status and the controversy that has long surrounded it -- even preceding the housing crisis. That means changing the status quo isn't going to happen without a big political fight -- or possibly a court fight.
And the status quo is that private stakeholders in Fannie and Freddie have no rights whatsoever. All the GSE profits are swept into the Treasury.
Should that ever change, the following math may come into play. The U.S. government has $117.1 billion in Fannie Mae preferred shares and $72.3 billion in Freddie Mac preferred shares as of March 31. Fannie has paid the Treasury $95 billion and Freddie has paid $29.6 billion.
The profit outlook for Fannie and Freddie is better than ever, according to Kao. Housing is rebounding, and Fannie and Freddie guarantee about 90% of mortgages, vs. 50% before the crisis. They also charge double their pre-crisis fee to provide that insurance, but they still haven't been able to attract private market competition.
Also see: 2013 Financial Literacy Forum Series Dispatch >>
The only question is how much of those profits the government will eventually allow to go to private investors. Currently, the profits
are being used to pay off the deficit
, and are potentially available for any other number of pet government projects.
The political risk, in other words, far outweighs the financial risk--something Kao freely admits.
"We've always acknowledged that there's uncertainty about whether the preferreds will be worth anything," Kao says. "If there's uncertainty on the preferred, there should be a lot more uncertainty on the common, and here you've got the exact opposite going on."
Kao says he has heard it rumored that a large fund focusing on distressed assets which also owns preferred shares has been buying common shares, though he doesn't know which one.
Also see: Tesla's Elon Musk: A Financial Wizard >>
Paulson & Co.
,
Claren Road Asset Management
and
Perry Capital
, all multibillion dollar funds, own preferred shares of Fannie and Freddie, according to
Bloomberg News
reports last month, though the funds haven't confirmed it. Senator Bob Corker (R., Tenn.) has said
big hedge funds have been lobbying the government
to allow the GSEs to return to the private market. Corker, along with Senators Elizabeth Warren (D., Mass.), David Vitter (R., La.) and Mark Warner (D., Va.) have proposed legislation called the "Jumpstart GSE Reform Act" to keep that from happening without Congressional approval.
Spokesmen for Paulson and for
The Carlyle Group
(CG)
, which owns Claren Road, declined to comment. A call to Perry Capital wasn't returned.
--
Written by Dan Freed in New York
.
Disclosure: TheStreet's editorial policy prohibits staff editors, reporters and analysts from holding positions in any individual stocks.