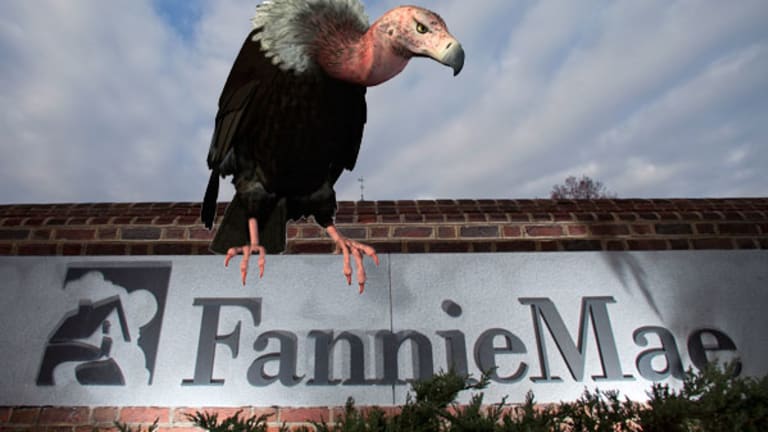 Fannie and Freddie Vultures Need a Facelift
Community banks -- if they still own preferred shares of Fannie and Freddie -- might be just the ticket.
NEW YORK (
) --
Fannie Mae
(FNMA)
and
Freddie Mac
(FMCC)
investors who have
in both common and preferred shares are looking pretty smart these days, but they aren't the most sympathetic lot.
Whether it's
, day traders chasing the latest penny stock craze,
ex-government officials looking to cash in on their expertise
, or even
, who despite a storied legacy as a consumer advocate has made lots of enemies on the right and the Obama/Clinton left, these aren't the kind of constituencies politicians are going to want to cite to make their case for taking GSE profits out of the Treasury and putting therm in private hands.
But that's what has to happen in order for Fannie and Freddie investors -- at least those in it for the long haul -- to claim a piece of those companies' profits. The courts are another option, but that will likely take longer.
Also see: Fannie and Freddie Continue Rocket Ride: Financial Winners >>
However, there appears to be a group of GSE shareholders that may attract more sympathy from the public. Community banks -- at least the abstract "It's a Wonderful Life" idea of them -- are the type of institution politicians of all types like to say they support.
And community banks lost an awful lot of money on their investments when the U.S. Treasury put Fannie and Freddie into conservatorship and suspended dividend payments on preferred shares in September 2008. The decision caused GSE preferred stock to become essentially worthless overnight. An estimated 600 depository institutions suffered "at least $8 billion in investment losses" on GSE preferred shares, according to a
published in March 2012.
"In addition, fifteen failures and two distressed mergers either directly or indirectly resulted from the takeover," the Federal Reserve said in the report.
Also see: Ralph Nader, Wounded Shareholder of Fannie Mae Freddie Mac >>
Regulators, including the Office of the Comptroller of the Currency and the Federal Deposit Insurance Corp., in many ways encouraged banks to own GSE preferred shares "even when the investments were large relative to their other investments," according to the report.
Community banks were given favorable tax treatment on their GSE losses, and Paul Merski, chief economist at the Independent Community Bankers of America, estimates about half of the trade organization's members that owned GSE preferred shares in 2008 have since sold them.
Not all 600 banks that owned GSE preferred shares are ICBA members, but if Merski's estimate is correct, and if ICBA members behaved similarly to the rest of the industry, it suggests there may be 300 banks out there that have seen the value of their GSE preferred shares go from about a penny in late 2010 to 27 cents on the dollar as of Tuesday's close. Put differently, that $8 billion in investment losses described in the Fed paper is now closer to $6 billion, and shrinking fast.
But, again, in order to recover the bulk of their money, community banks will need to make their case to the government.
Merski declined to comment on whether the ICBA has held discussions with policy makers about restoring dividends to holders of the preferred shares.
"We'd obviously like to get full value restored to our owners of the preferred shares," he says, reiterating what has always been the ICBA's official position.
Still, the issue may not be on the front burner for community banks, argues Frank Sorrentino, Chairman and CEO of
ConnectOne Bank
(CNOB) - Get ConnectOne Bancorp, Inc. Report
, which does not own GSE preferred shares and did not own them in 2008.
Also see: Fannie Freddie Rally Returns With a Vengeance >>
"There's bigger things that they need to deal with today rather than fighting the fight over whether or not they should seek to recover losses that occurred three or four years ago."
Maybe so, though there is an awful lot of money at stake, and all the investors buying up Fannie and Freddie shares on the cheap could certainly use a front man.
--
Written by Dan Freed in New York
.
Disclosure: TheStreet's editorial policy prohibits staff editors, reporters and analysts from holding positions in any individual stocks.