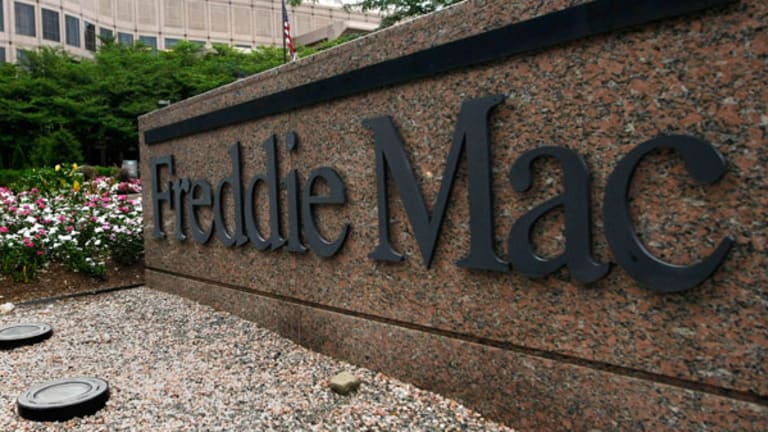 Fannie and Freddie Stocks Are Still Hot (Update 4)
The shares of both bailed-out mortgage giants were soaring again, a day after both popped over 30%.
Updated from 4.14 p.m. EST with market close information, additional information from the Federal Housing Finance Agency, and comments from Paul Hastings partner Kevin Petrasic and Pepper Hamilton partner Timothy McTaggart.
NEW YORK (
) -- The wild action continues for
Fannie Mae
(FNMA)
and
Freddie Mac
(FMCC)
.
Shares of both government-sponsored mortgage giants popped again early on Wednesday, a day after both soared on the prospect that the recapture of massive deferred tax valuation allowances could point the way to the repayment of government bailout money. Both companies were taken under government conservatorship in September 2008.
Fannie Mae's shares were up 50% to close at $1.08, after rising 38% on Tuesday. The
Wall Street Journal
on Tuesday called attention to a filing last Thursday, when the company said it would delay filing its annual 10-K report to the
Securities and Exchange Commission
.
Fannie said it would need extra time to analyze whether or not it could recapture some of its $61.5 billion valuation allowance for deferred tax assets (DTA), as of Sept. 30.
Shares of Freddie Mac rose 54% also closing at $1.08, following a 35% gain on Tuesday.
As of Sept. 30, the government had $116.1 billion in preferred Fannie Mae shares, and Fannie had paid the Treasury $28.5 billion in dividends.
Fannie reported a third-quarter profit of $1.8 billion, which was the company's third consecutive profit. Earnings for the first three quarters of 2012 were $9.7 billion, compared to a net loss of $14.4 billion during the first three quarters of 2011. The company was also able to pay its third-quarter dividend of $2.9 billion in the Treasury's preferred shares, without resorting to further government borrowings.
Fannie in the first quarter benefited from a
of a long-term dispute with
Bank of America
(BAC) - Get Free Report
. The bank agreed to pay Fannie $3.6 billion in cash and roughly $6.75 billion to repurchase about 30,000 mortgage loans.
Freddie Mac filed its
on time, on Feb. 28, saying its valuation allowance for deferred tax assets (DTA) was $31.7 billion, as of Dec. 31. The government held $72.2 billion in Freddie Mac preferred shares at the end of 2012. Freddie earned $11 billion during 2012, swinging from a loss of $11 billion in 2011. The company paid $7.2 billion in dividends to the Treasury during 2012, for a total of $23.8 billion in dividends paid since the company was taken under conservatorship.
Bloomberg
on Tuesday reported Freddie Mac has
for damages from the alleged manipulation of the London Interbank Offered Rate. The banks being sued include Bank of America,
JPMorgan Chase
(JPM) - Get Free Report
and
Citigroup
(C) - Get Free Report
.
The Federal Housing Finance Agency in August amended the agreements between Fannie, Freddie and the Treasury, to "phase in a requirement for the Enterprises to pay as dividends their positive net worth every quarter." The FHFA went on to say "the change in the dividend structure also will affect quarterly payments to Treasury, potentially resulting in the Enterprises returning more money to federal taxpayers sooner. Indeed, because of accounting treatment, sustained profitability of the Enterprises could result in a one-time large dividend payment from each Enterprise to Treasury."
So both companies, Fannie and Freddie, are now profitable and earning enough to pay their preferred dividends to the government, and then some. Investors see value in the penny common stocks, with the possibility that the government-sponsored enterprises (GSEs) can be significantly recapitalized through the recapture of DTA, enabling them to redeem large portions of government-held preferred shares. If that happens, Fannie and Freddie will likely have sufficient earnings to fully repay the government.
Even the preferred shares of both firms are rising, and all preferred dividend payments -- save those being paid to Uncle Sam -- have been suspended since September 2008. Fannie's preferred series E shares, with a coupon of 5.10% and a par value of $50, were up 34% to close at $6.99. Freddie's preferred series Z shares, with a coupon of 5.375% and a par value of $25, were up over 6% trading to close at $3.20.
Day traders can obviously make a quick gain, or take a quick loss, on the shares. For investors who can go in for a period of years, the common shares could eventually provide very large returns, if the GSEs manage to survive. The preferred shares are also intriguing, for investors who can stay committed for many years: If the dividends were ever resumed, the annual payout would come close to the current investment price, for an outrageously high yield.
In that event, the preferred prices would, of course, recover quite a bit, enabling a quick killing. It would be wonderful to face the quandary of taking a huge profit or sitting back and collecting a huge dividend yield, based on a paltry investment price for the preferred.
The Way Forward for the U.S. Mortgage Market
For now, investors see a light at the end of the tunnel for Fannie and Freddie. But the big question remains: Will Fannie and Freddie survive? Why not? They dominate the U.S. secondary mortgage market to a greater extent than ever. Both firms and the FHFA are likely to stick with much stricter underwriting, investment and risk management policies than they did during the real estate bubble.
Over four years after the bailout, neither President Obama nor Congress has pushed hard for true GSE reform. As House Financial Services Committee Chairman Jeb Hensarling (R., Texas) said at a hearing on Tuesday, reforming the mortgage finance system with a divided government will be "a heavy lift."
FHFA acting director Edward DeMarco said during testimony before Hensarling's committee on Tuesday that the companies would not return to their previous private form. The FHFA in October proposed a common securitization structure for Fannie Mae and Freddie Mac, to include "greater participation of private capital in assuming credit risk.
The FHFA proposal "is premised on the idea that Fannie Mae and Freddie Mac are one and the same, but clearly they aren't," according to Timothy McTaggart, a partner in the Washington office of Pepper Hamilton.
The FHFA needs to continue doing what it can to preserve assets within the conservatorship. While most of the focus on Fannie and Freddie is on their backing of single-family mortgage loans, "multifamily is very profitable for both GSEs," McTaggart says. Spinning off both companies' multifamily businesses could help the FHFA "claw back money for the conservatorship," he says, adding that such a move "is a stronger pathway to go, rather than the idea of pursuing the common securitization platform."
In regard to the continuing debate over a government role in the housing market, the Obama Administration is considering a move to an insurance-based model, rather than the previous implied government guarantee that was enjoyed by Fannie and Freddie. The old model "is the exact formula people hate about the GSEs, as the costs are borne on a collective basis, but the upside is spread among the private sector," according to McTaggart.
Looking ahead, McTaggart expects GSE reform to take another five years, with some continuing government role, following the "market failure" during the credit crisis.
Kevin Petrasic -- a partner in the Global Banking and Payments Systems practice of Paul Hastings in Washington -- says that "having 90% of the all mortgage loan originations backed by Fannie and Freddie is a bad thing," but that transition away from the GSEs needs to proceed slowly.
"One of the central concerns from a macro perspective of FHFA is trying to make sure that the solution for Fannie and Freddie allows for a continued stable housing market," Petrasic says, adding that "you don't want to go through all this effort to privatize, and to back to where we started."
"I would imagine that the primary agenda for the administration and Congress is to figure out a way to stabilize the housing market for the long term, without reliance on government programs," according to Petrasic.
While nobody can predict exactly how GSE reform might affect investors feasting on GSE shares today, "there can certainly be benefits to Fannie Mae and Freddie Mac, and to investors," he says.
-- Written by Philip van Doorn in Jupiter, Fla.
>Contact by
.
RELATED STORIES:
Campaign to Replace Fannie, Freddie Regulator May Fail
Philip W. van Doorn is a member of TheStreet's banking and finance team, commenting on industry and regulatory trends. He previously served as the senior analyst for TheStreet.com Ratings, responsible for assigning financial strength ratings to banks and savings and loan institutions. Mr. van Doorn previously served as a loan operations officer at Riverside National Bank in Fort Pierce, Fla., and as a credit analyst at the Federal Home Loan Bank of New York, where he monitored banks in New York, New Jersey and Puerto Rico. Mr. van Doorn has additional experience in the mutual fund and computer software industries. He holds a bachelor of science in business administration from Long Island University.