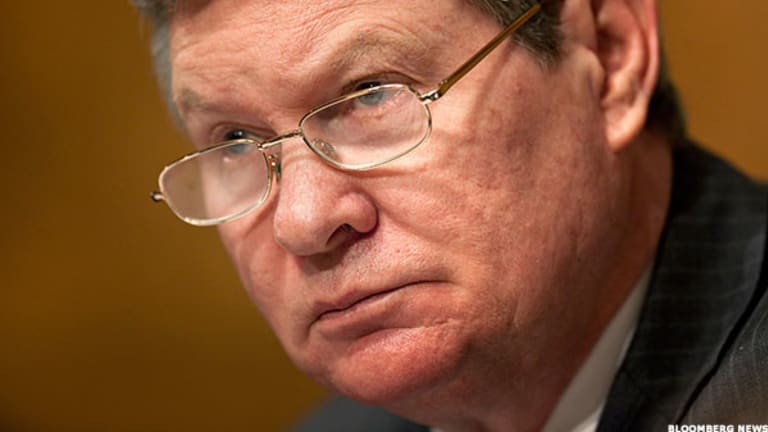 Fannie and Freddie Shares Seesaw Violently
Fannie Mae and Freddie Mac shares rose and then plunged sharply following an announced deal to end the government sponsored entities from Senate Banking Committee leaders.
NEW YORK (TheStreet) -- Fannie Mae (FNMA) and Freddie Mac (FMCC) shareholders were ignored by a Senate Banking Committee agreement unveiled mid-morning Tuesday, and they initially appeared to ignore the senators right back, sending shares of the government sponsored entities to multi-year highs.
Starting at about 1:30 pm eastern time, however, the shares begin a precipitous drop. Roughly an hour later--at 2:38 pm, shares of Fannie Mae were down 35% to $3.78, while Freddie Mac shares were at $3.76, down 31.88% on the day. Preferred shares, such as the Fannie Mae "S" series (FNMAS) , were also sharply lower, falling 8.54% to $11.25.
Tuesday's announced agreement from Senator Tim Johnson, chairman of the Senate Banking Committee and Mike Crapo, the top Republican on the committee, is to wind down Fannie and Freddie, following the stated goals of President Obama.
That said, no legislation was actually proposed and the likelihood of anything passing is a longshot, argued analysts at Keefe Bruyette & Woods in a note published Tuesday. A more legislative proposal will be released "in the coming days," according to a joint press release from the senators.
Read: Emerging Markets Can't Catch a Break
Tuesday's press release did not address shareholders in Fannie and Freddie, continuing a practice that the White House has followed with few exceptions since putting the GSEs into conservatorship in 2008.
Shareholders in Fannie and Freddie have filed nearly 20 lawsuits against the U.S. government and have put together a formidable bipartisan lobbying effort that includes former U.S. Solicitor General Ted Olson and consumer activist Ralph Nader, along with several wealthy hedge funds.
One of their allies in the Senate emerged last week in the person of Senator Pat Toomey (R., Pa.), who submitted a question for Jack Lew Friday based on a Thursday Finance Committee hearing with the Treasury Secretary.
"Retirement funds and other investors have all reached out to me to express their concern and even outrage about the unprecedented 'sweep' that takes all of the GSEs profits and gives them to the government,"  Toomey wrote. The Senator added that "the government's actions with respect to the GSEs profits raise serious concerns, including whether these actions lawfully respect the rights and interests of all Americans."
Read: Dicker: Why U.S. Natural Gas Can't Help Ukraine
A Treasury spokesman had no immediate response. Government officials typically take a few weeks to respond to questions submitted for the record after a hearing has ended.
As for the announcement by Senators Crapo and Johnson, a Toomey spokeswoman said the Senator "is looking forward to reviewing the details of the agreement as they are released in the coming days."
--Written by Dan Freed in New York
Disclosure: TheStreet's editorial policy prohibits staff editors, reporters and analysts from holding positions in any individual stocks.