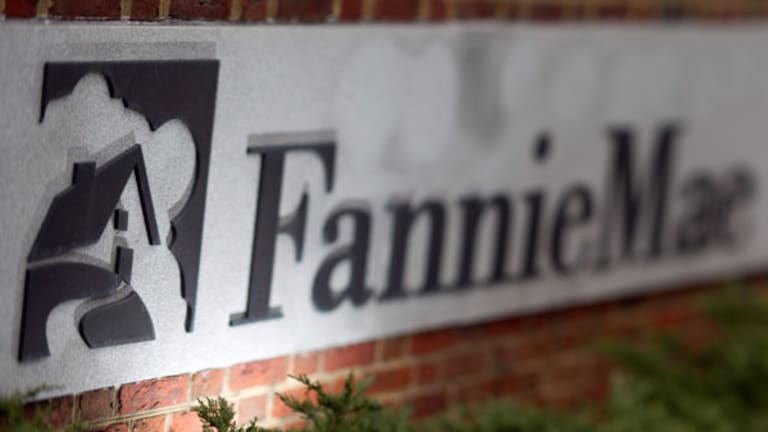 Fannie and Freddie Preferred Shares Left Behind in Rally
Fannie Mae and Freddie Mac preferred shares have largely sat out the recent rebound in common stock of the GSEs, but some observers believe the market has it wrong.
NEW YORK (TheStreet) -- Fannie Mae (FNMA) and Freddie Mac (FMCC) preferred shares have largely sat out the recent rebound in common stock of the government sponsored enterprises (GSEs), but some observers believe the market has it wrong.
Both preferred and common Fannie and Freddie shares took a beating Oct. 1, the first trading day after U.S. District Court Judge Royce Lamberth threw out several shareholder lawsuits against the U.S. government.
Fannie Mae common shares lost 37% that day, closing at $1.70, but Fannie Mae "S" series preferred shares lost a whopping 55% of their value, closing at $4.15. Since then Fannie Mae common shares have rallied 40% to $2.38, while the "S" series preferred shares have bounced back by just 7%, to $4.44.
Michael Kao, CEO of hedge fund Akanthos Capital Management, has long believed GSE preferred shares, which he owns, are a better play than the common shares.
"I think there are many scenarios where preferred [shares] could be worth at least par if not more than par where the common gets either zero or is severely diluted but to say they share the same all-or-nothing downside is an overly simplistic analysis," Kao said in an interview last week.
Despite its name, preferred stock in many ways resembles a bond. Par, in the case of the Fannie Mae "S" series preferred shares, would be $25 plus a quarterly dividend that varies over time. Fannie and Freddie suspended dividend payments when the GSEs were placed into conservatorship in 2008. But under traditional corporate finance laws, preferred shareholders would be entitled to recover all the missed dividends plus $25 per share before common shareholders would see a penny.
Among the scenarios Kao believes could be more favorable for preferred shareholders would be a liquidation of the GSEs, or a recapitalization along the lines of General Motors (GM) - Get Report and AIG (AIG) - Get Report , when the government converted preferred stakes in those companies into equity, which it then sold to the public.
"If government winds up owning 85% of new equity that could be worth hundreds of billions of dollars. But in this case, the old preferred becomes new equity. What happens to the old common I have no idea," Kao says.
Judge Lamberth's decision does not deal the final blow to investors' legal hopes, but it suggests "the road via litigation is going to be much longer and more winding than anyone originally envisioned," argues Isaac Boltansky, analyst at Compass Point Research & Trading.
That shifts the focus back to a possible legislative outcome for investors.
"Every legislative proposal thus far has involved a liquidation. Every single one of them," Boltansky points out.
While he believes GSE reform will take until 2017 at the earliest, a liquidation clearly means "it is safer to be higher up in the capital stack" by owning preferred as opposed to common shares.
Disclosure: TheStreet's editorial policy prohibits staff editors, reporters and analysts from holding positions in any individual stocks.