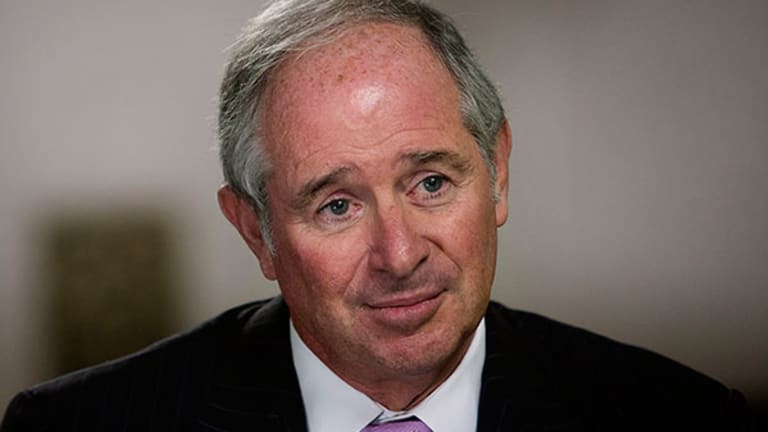 Fannie and Freddie Investor Blackstone Also Sought Advisory Role
The Blackstone Group and Skadden tried to advise the U.S. Treasury Department on its stake in mortgage giants Fannie and Freddie in 2011, according to court documents.
NEW YORK (TheStreet) -- The Blackstone Group 's (BX) involvement with Fannie Mae (FNMA) and Freddie Mac (FMCC)  appears deeper than previously known.
Blackstone sought to advise the Treasury Department on what to do with its controlling stake in the two government-sponsored home-loan companies in 2011, according to pitch documents provided to TheStreet by a public relations firm representing Investors Unite, a group of Fannie and Freddie shareholders. This information, which hasn't been previously reported, is noteworthy because in April Blackstone confirmed reports that it holds preferred shares in Fannie and Freddie. 
Blackstone spokeswoman Christine Anderson refused to say whether Blackstone owned Fannie and Freddie preferred shares at the time the private equity firm made its June 13, 2011 pitch to Treasury along with New York law firm Skadden, Arps, Slate, Meagher & Flom.She said the issue was moot since it never won the assignment.
"Blackstone had no conflict with its investment in Fannie/Freddie because its Restructuring group was neither engaged by nor advising Treasury. Blackstone did no more than submit a generic and preliminary pitch based on publicly available information," she wrote to TheStreet via email Tuesday.
A Treasury spokesman also downplayed the meeting with Blackstone and Skadden.
"As part of the policy making process, Treasury routinely engages with key stakeholders, market participants and consumer advocates. Treasury did not issue a Request for Proposals, and no contract was awarded," he said Tuesday in an e-mailed statement. The spokesman asked that his name not be used.
Van Durrer, a partner in Skadden's corporate restructuring practice, declined to comment.
The 52-page pitch shows Blackstone bidding to advise the Treasury on how best to dispose of its stakes in Fannie and Freddie. Blackstone and Skadden noted Fannie and Freddie's financial performance was improving and that its loss reserves were stabilizing. Much of the pitch was devoted to describing the group's qualifications as a potential adviser to the Treasury Department.
"We are pleased to have the opportunity to meet with the Department of the Treasury to discuss our qualifications and potential strategic alternatives regarding FNMA and FMCC," states the document, dated June 13, 2011, stamped "confidential" and including the Treasury seal on its cover page.
Flash forward three years to when Blackstone confirmed on April 17 that it owned preferred shares of the two government sponsored enterprises (GSEs). During a conference call with the media, Blackstone President and COO Hamilton "Tony" James said that the firm had "a plan that makes a lot of sense in terms of getting the GSEs out of being a liability for the government." James didn't say at the time when Blackstone acquired the shares.
Blackstone spokesman Peter Rose told TheStreet later in April that the plan was distinct from one floated last year by high-profile Fannie and Freddie shareholder Fairholme Capital, but he declined to elaborate. 
Treasury put Fannie and Freddie into conservatorship in 2008 at the height of the financial crisis at a time when its preferred and common shares had lost nearly all of their value and most observers doubted that the entities would ever again be profitable. However, by 2011 some small hedge fund managers were already going public with a contrarian view that Fannie and Freddie were a very attractive turnaround story. Behind the scenes, giant hedge fund Perry Capital was also betting on the shares, information that didn't become public until Perry sued the government on July 7, 2013.
The reason for Perry's suit, and several others filed around the same time, was a controversial 2012 third amendment to the government's conservatorship of Fannie and Freddie which sent all profitsfrom the companies to the Treasury, effectively wiping out both common and preferred private shareholders. 
Blackstone has not sued the Treasury Department over the GSEs, spokesman Rose told TheStreet in April.
When the third amendment was issued on Aug. 17, 2012, public preferred shares in Freddie Mac trading under the ticker FMCKJ -- a favorite at the time with sophisticated investors -- fell from $2.83 to $0.42. They have since rebounded, partly on the view that investors suing the government have a strong case. On Tuesday they traded at $12.
The 52-page pitch document from Blackstone and Skadden suggests three options for allowing the government to monetize its stake in the two GSEs by selling it to the private sector. Such a proposal, though, ran counter to the Obama administration's preference at the time: winding down the GSEs by allowing their loan portfolios to run off over time. 
Each of the three options includes a list of pros and cons. In each of the three scenarios, mitigating litigation with holders of preferred stock is listed as a pro, while "potential holdouts reap windfall" is listed as a con. The litigation referred to in the 2011 document preceded the higher-profile lawsuits, including those of Perry and Fairholme, which followed the 2012 amendment.
Correction: The 2011 pitch documents were not turned over to Fairholme as previously reported. TheStreet regrets the error. 

Disclosure: TheStreet's editorial policy prohibits staff editors, reporters and analysts from holding positions in any individual stocks.