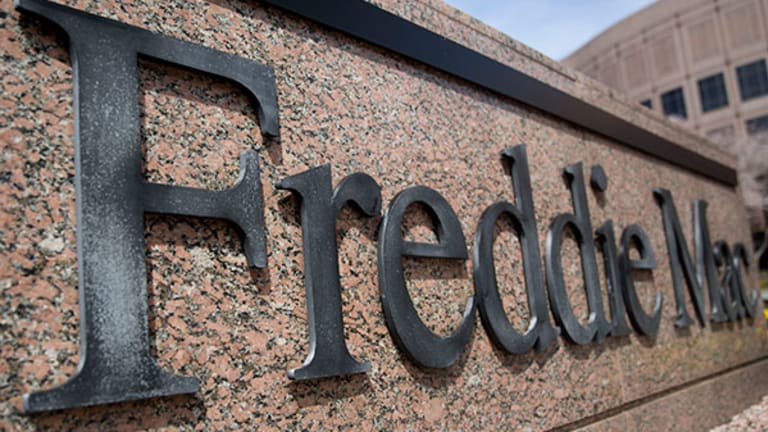 Fannie and Freddie Defy Obama, Look Invincible
Just a couple of years ago it looked like no one in Washington wanted to let Fannie Mae and Freddie Mac live, but the government sponsored entities have lately found defenders in unlikely places and are even showing signs of being independent of the Obama Administration.
Fannie Mae and Freddie Mac article updated from 5:29 pm Monday to include comments from KBW analyst Brian Gardner in second and 12th paragraphs.
NEW YORK (TheStreet) -- Just a couple of years ago it looked like no one in Washington wanted to let Fannie Mae (FNMA) and Freddie Mac (FMCC)  live, but the government sponsored entities (GSEs) have lately found defenders in unlikely places and are even showing signs of being independent of the Obama Administration.
"We think the prospects of Fannie Mae's and Freddie Mac's survival are greater than we previously estimated," wrote KBW Washington analyst Brian Gardner in a report published Tuesday.

The surprising resilience of the mortgage giants comes ahead of a scheduled vote in the Senate Banking Committee Tuesday on legislation sponsored by Sens. Tim Johnson (D., SD) and Mike Crapo (R., ID) aimed at winding down Fannie and Freddie, a stated goal of President Obama.
While the bill is expected to pass the Senate Banking Committee with at least 12 votes, it will likely require approval from 15 of the 22 committee members to have a chance at passing the full Senate, argues FBR Capital Markets analyst Ed Mills in a report published Monday.
Even then, passage in the House is seen as a near impossibility given that House Financial Services Committee Chairman Jeb Hensarling (R., Texas) has sponsored his own housing reform legislation which, as Mills describes it "fully privatizes the housing industry." While the Johnson Crapo bill winds down Fannie and Freddie, it still leaves a large role for the government.
An unusual combination of conservative and liberal groups have opposed the Johnson Crapo bill for various reasons. And a slowing home sales market appears unlikely to help matters. Moody's Analytics on Monday estimated the proposal will cause mortgage rates to rise by 0.41-0.58%.
But opposition to the bill took a dramatic turn late on Friday, as The Wall Street Journalpublished a total of five separate documents from Fannie, Freddie and their regulator, the Federal Housing Finance Administration. Over 90 pages, single spaced, with small type, the documents (which were not intended for publication) listed a host of concerns.
If the legislation were to pass, "the risk Freddie Mac would not be able to carry out its Core Policy Function is extremely high," read one of the documents, an April 16 letter from Freddie Mac CEO Donald Layton to FHFA Director Melvin Watt.
A draft memo of "identified issues" from the FHFA to the Senate Banking Committee states the legislation could create "regulatory confusion and potential for arbitrage." The memo also argues Johnson Crapo would allow large banks to "further their dominance" in the housing finance market.
"Large banks could (and do) play several roles (originator, aggregator, guarantor and servicer), thus dominating the housing finance market -- but they would be primarily regulated by the Federal banking agencies, whose regulatory focus is safety and soundness of individual institutions and not on the functioning of the housing finance system," the memo states.
FBR Capital Markets' Mills sees "long odds for the bill to become law this year." And next year could be even more difficult, since Johnson is retiring and the likely next Chairman of the Senate Banking Committee, whether Sherrod Brown (D., Ohio) or Richard Shelby (R., Ala.) are both seen as opponents of the legislation.
"Inertia is a powerful ally of Fannie Mae and Freddie Mac. The longer Congress avoids acting on mortgage finance legislation, the greater the chances the two companies survive," KBW's Gardner adds in Tuesday's report.
Several giant hedge funds as well as mutual fund company Fairholme Funds have invested in Fannie and Freddie common and preferred shares. The Fannie and Freddie preferred shares, which were essentially worthless after they were put into government conservatorship, have now recovered nearly half their original value. The common shares in the two entities, which were also essentially worthless now have a market value of about $34 billion.
The securities sold off sharply when the Johnson Crapo legislation was unveiled, since it leaves little if any value for private shareholders. Still, private investors are suing the government and much of the value residing in the shares may be attributable to the potential success of the litigation. In any case, publication of the issues raised by the GSEs and their regulator appeared to have little impact in trading of the common shares on Monday. Fannie finished down 1.04% at $3.80, while Freddie shares gave up 0.51% to close at $3.88.
Disclosure: TheStreet's editorial policy prohibits staff editors, reporters and analysts from holding positions in any individual stocks.