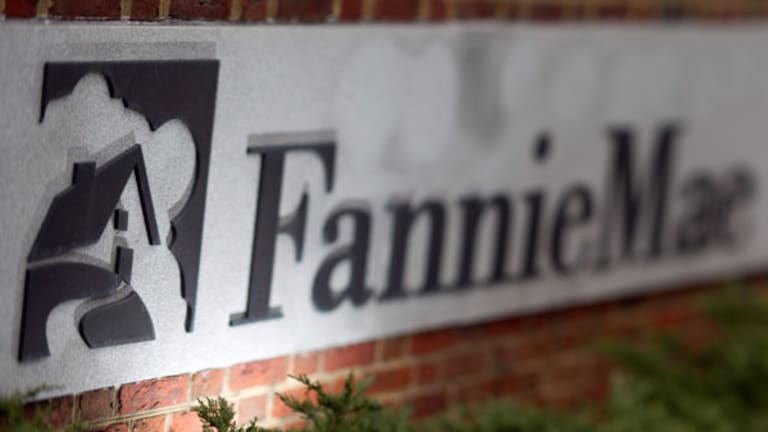 Fannie and Freddie Continue Rocket Ride: Financial Winners
Shares of Fannie and Freddie keep soaring after the S&P/Case-Shiller Home Price Indices show strong and sustained gains for home prices.
Updated from 2:21 p.m. ET with closing prices and bank stock action.
NEW YORK (
) --
Fannie Mae
(FNMA)
and
Freddie Mac
(FMCC)
continued their amazing winning streak as investors returned on Tuesday, following the long Memorial Day weekend.
Shares of Fannie Mae rose 37% to close at $4.08, while Freddie Mac was up 33% to close at $3.75.
The two mortgage giants together are known as the government-sponsored enterprises, or GSEs, and were taken under government conservatorship in September 2008.
GSE shares were strong all last week, but they soared on Friday after Ralph Nader in an op-ed piece in the Wall Street Journal said
the two companies' common shareholders should fight
against the federal government's "great Fannie and Freddie rip-off."
The shares got a very strong push on Tuesday, after the S&P/Case-Shiller 20-city home price index showed a month-over-month increase of 1.4%, while increasing 10.9% from a year earlier. The national 20-city and 10-city indices all saw their largest year-over-year gains since 2006, according to S&P Dow Jones Indices. Economists polled by
Thomson Reuters
on average had expected the 20-city index to show a year-over-year increase of 10.2%.
"Phoenix again had the largest annual increase at 22.5% followed by San Francisco with 22.2% and Las Vegas with 20.6%. Miami and Tampa, the eastern end of the Sunbelt, were softer with annual gains of 10.7% and 11.8%," according to David Blitzer, chairman of the index committee at S&P Dow Jones Indices. "The weakest annual price gains were seen in New York (+2.6%), Cleveland (+4.8%) and Boston (+6.7%); even these numbers are quite substantial."
Blitzer also said in his firm's press release that "other housing market data reported in recent weeks confirm these strong trends: housing starts and permits, sales of new home and existing homes continue to trend higher. At the same time, the larger than usual share of multi-family housing, a large number of homes still in some stage of foreclosure and buying-to-rent by investors suggest that the housing recovery is not complete."
The strong housing data sent the broad indexes all up nearly 1%, led by big banks. The
KBW Bank Index
undefined
was up 1.3% to close at 61.68, with all but two of the 24 index components showing gains for the session. State Street led the way among the large banks, with shares rising over 4% to close at $67.15. Next was JPMorgan Chase, with shares up 2.5% to close at $54.60.
Also see: Texas Home Prices Hit New Highs, LPS Says >>
The continued flow of data supporting the strong and continuing housing recovery can only be good news for the GSEs and for the U.S. government.
As part of its bailout agreements with Fannie and Freddie, the GSEs granted the government warrants to purchase just under 80% of the common shares of the two GSEs at a strike price of $0.00001 per share.
"The zombie common shareholders have no rights or remedies against Fannie and Freddie, both operationally active companies, or their regulator--the Federal Housing Finance Agency," Nader wrote on Friday. "FHFA ordered the Fannie and Freddie boards and executives to suspend communications with shareholders and abolish the annual stockholders meeting."
President Obama is expected soon to offer a proposal for the future of the U.S. secondary mortgage market, which will, of course, include a long-term plan either for the dissolution of Fannie and Freddie, or their continuance in a modified form. The GSEs together purchase roughly 90% of new mortgage loans being issued, as private players' secondary market purchasing and securitization hasn't yet recovered to anywhere near their pre-crisis levels.
And if the President and Congress wish to abolish the GSEs, it will be a very complicated matter, as Fannie Mae had $3.2 trillion in total assets as of March 31, while Freddie Mac had $2.0 trillion in assets.
Nader wrote that "the common shareholders of Fannie and Freddie need to organize and make their voices heard in Washington. Clearly, they should have a say in how Fannie and Freddie are managed--in the board room and in Congress--from here onward."
Investors feel more confident every day about common shareholders of Fannie and Freddie eventually recovering a significant portion of their interest in the two companies. Shares of both GSEs traded for just 26 cents at the end of 2012.
Government-Held Preferred Shares
The U.S. Treasury holds $117.1 billion in Fannie Mae senior preferred shares and $72.3 billion in Freddie Mac senior preferred shares, in lieu of bailout funds provided to both companies. Fannie Mae announced on May 9 that it would pay the Treasury a second-quarter dividend of $59.5 billion, after the GSE determined it could recapture most of its valuation allowance for deferred tax assets (DTA) at the end of the first quarter,.
Freddie Mac announced on May 8 that it would pay a dividend of $7 billion to the Treasury in June.
Following the announced June dividend payments from Fannie Mae and Freddie Mac, the government will have received dividends totaling $131.6 billion on its combined GSE preferred investment of $189.4 billion.
So the government has made a very nice return on its investment in Fannie and Freddie, and still has the potential for quite a payday at the expense of the GSEs' common shareholders if it decides to exercise the warrants.
Meanwhile, there is still no mechanism for either GSE to repurchase any government-held preferred stock.
Also see: Bank Stress Tests May Get More Stressful >>
Junior Preferred
Dividend payments on junior preferred shares of Fannie Mae and Freddie Mac were suspended when the GSEs were taken under conservatorship in September 2008, instantly sinking in price to pennies on the dollar, and causing many institutional investors, including scores of community banks, to mark their preferred shares to market and book huge losses.
The market action for the junior preferred shares has also been very strong, and this continued on Tuesday. Here are two of our favorite examples:
Fannie's preferred series E shares, with a par value of $50.00, were up 43% on Tuesday to close at $20.00, following a 59% increase on Friday. The shares trade under the ticker FNMFM and have risen from 1,150% from $1.60 at the end of 2012.
Freddie's preferred series Z shares, with a par value of $25.00, were up 3% to close at $6.69, following an 11% increase on Friday. The shares trade under the ticker FMCKJ and have risen 282% from $1.75 at the end of last year.
Also see: Fidelity National Reacquires LPS for $2.9 Billion >>
-- Written by Philip van Doorn in Jupiter, Fla.
>Contact by
.
Philip W. van Doorn is a member of TheStreet's banking and finance team, commenting on industry and regulatory trends. He previously served as the senior analyst for TheStreet.com Ratings, responsible for assigning financial strength ratings to banks and savings and loan institutions. Mr. van Doorn previously served as a loan operations officer at Riverside National Bank in Fort Pierce, Fla., and as a credit analyst at the Federal Home Loan Bank of New York, where he monitored banks in New York, New Jersey and Puerto Rico. Mr. van Doorn has additional experience in the mutual fund and computer software industries. He holds a bachelor of science in business administration from Long Island University.