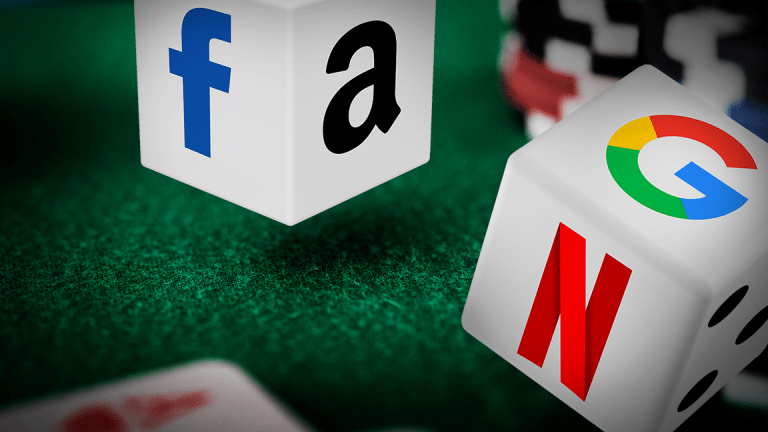 Are the World's Biggest FANG Stocks Screaming Buys?
Here's how best performing analysts size up tech's biggest giants. Rejoice Facebook bulls.
It's no secret that tech stocks have crushed the market this year.
The Technology Select Sector SPDR ETF (XLK) - Get Technology Select Sector SPDR ETF Report has surged over 12% since the first of the year. Compare that to the S&P 500's undefined growth under 5% and you get the idea: tech has made for a strong investment in 2018.
Here's what TheStreet's founder Jim Cramer just told Action Alerts PLUS members about tech stocks. 
Meanwhile, tech enthusiasts are growing worried after content king Netflix (NFLX) - Get Netflix Inc. Report just stumbled its way through second quarter subscriber adds. Monday night, Netflix reported one million short for net sub adds against its own guidance. The tech leader hadn't under-performed on this metric for the last five quarters.
"The one problem with being a high-flying stock is that high momentum brings high expectations and any sign of trouble sends the fast money jumping off the bandwagon in a big hurry," explained Colin Cieszynski, SIA Wealth Management's chief market strategist.
Here, we turned to TipRanks' market data to find out all the latest stats on tech giants dubbed as the 'FANG' stocks. 
Facebook
Social media empire Facebook (FB) - Get Meta Platforms Inc. Reportremains a Wall Street darling, and key Action Alerts PLUS holding. Come July 25 after the bell, Facebook is primed to release its second quarter print. Sentiment ahead of Facebook earnings bodes well. This "Strong Buy" stock has received 26 buy ratings in three months and only one sell in the mix.
Between four-star and five-star analysts across the Street, consensus expectations for the stock's price round out to $231.16. In other words, the best analysts on Wall Street see another 11% in upside potential still in store for Facebook. 
Just look at one of the top analysts of the Street in Stephen Ju of Credit Suisse -- ranked #38 out of over 4,800 analysts -- a Facebook bull who just got more confident. On Monday, Ju hiked his price target on the social media giant from $240 to $265 (27% upside potential). Ju grew more confident on Facebook on the heels of positive advertiser checks. 
Much like the quarter before, Ju's advertiser checks suggest a "modest deceleration" in ad budget gains. However, Instagram proves to be a stellar counterpart to sluggish budget growth. Right now, Instagram takes an estimated 20% slice of spending on ads, a notable jump from the 5% seen in the first quarter of last year and 15% in the fourth quarter.
Ju believes, "Street models are too conservative and underestimate the long-term monetization potential of upcoming new products."
Amazon
Online e-commerce king Amazon (AMZN) - Get Amazon.com Inc. Report  is another bullish favorite among analysts. It's also an Action Alerts PLUS holding. The 'Strong Buy' stock has racked up 32 buy ratings in three months and only two hold ratings. Get ready for Amazon earnings on July 26. Meanwhile, one bull says Amazon Prime Day was bound to be "highly successful." 
Anthony Chukumba of Loop Capital maintains a Buy rating on Amazon's stock with a $1,900 price target (3% upside potential) and sees three key positives from Prime Day: (1) meaningful shopping volume; (2) new membership adds; and (3) "valuable free advertising." Additionally, Chukumba says Prime Day 2018 is set to offer six more hours compared to Prime Day 2017, Amazon's longest Prime Day to date. 
Netflix
Video streaming giant Netflixcaused bulls to frown after Monday night's second quarter print. The stock collapsed 14% in the earnings aftermath. Shares fell 5% Tuesday for this 'Moderate Buy' stock. Yet, consensus expectations show optimism is baked into expectations. The 12-month average price target on Netflix of $401.00 points to almost 9% in upside potential. The bullish camp still wins out on the tech stock -- our data shows 31 buys from analysts in three months. 
Morgan Stanley's Benjamin Swinburne is one of Netflix's bulls, and so far, his upbeat recommendations have paid off. With an 89% success rate on the stock, Swinburne earns an impressive 66.8% in average profits when he recommends Netflix.
Don't overreact to lackluster sub adds for the second quarter or a rocky guide for the third quarter. Netflix's business and ability to turn a profit continue to be "healthy and clear," argues Swinburne.
Swinburne's advice: view Netflix share weakness as a compelling opportunity. The analyst reiterates an Overweight rating on Netflix with a $480 price target (30% upside potential). 
Alphabet
Alphabet (GOOGL) - Get Alphabet Inc. Report  has received a 'Strong Buy' analyst consensus rating: 22 buys from Wall Street's best performing analysts in the last three months. Only three analysts are choosing to play it safe on this tech giant. 
When it comes to tech giants like Alphabet, "the big get bigger," cheers Nomura analyst Mark Kelley. The analyst just joined Alphabet's big bullish camp, initiating coverage with a Buy rating. Look for any regulation-impacted "uncertainty" to eventually "reverse course."
For Kelley, Alphabet stands out among the tech giants, along with Facebook: "With large audiences already in place, the large platforms (Google and Facebook, in our coverage) are best positioned." 
TipRanks.com offers exclusive insights for investors by focusing on the moves of experts: Analysts, Insiders, Bloggers, Hedge Fund Managers and more. See what the experts are saying about your stocks now at TipRanks.com. Author: Julie Lamb.