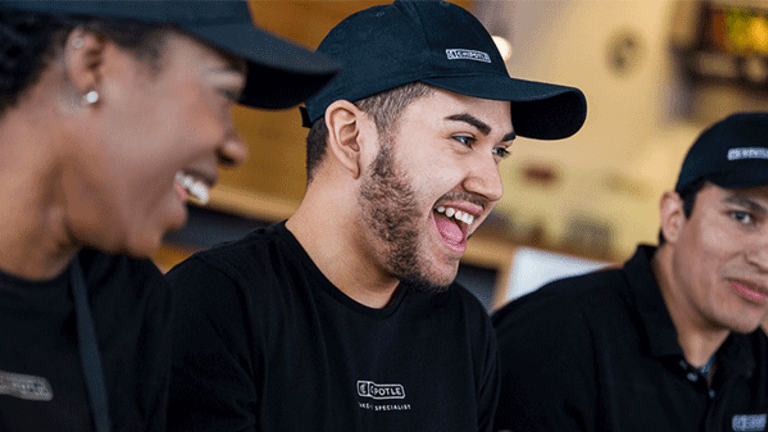 Chipotle Is Being Abandoned Because of Falling Rats and New Health Scare, Data Reveals
Not pretty for the burrito joint.
Chipotle's (CMG) - Get Chipotle Mexican Grill, Inc. Report image is looking pretty sickly right now. 
Shares of Chipotle dropped 3.3% to $344.45 by Friday's close, hitting new 2017 lows, as Chipotle grappled with twin PR crises. Public health officials confirmed that a customer at a Chipotle location in Sterling, Va. is ill with norovirus, while data from food poisoning crowdsourcing website iwaspoisoned.com indicates that over 100 customers at that location also fell ill. The same week, customers complained that a Dallas location had rats "falling from the ceiling."
"Not surprisingly, online sentiment plummeted in recent days. Daily net sentiment (a measure of "positive" vs. "negative" online commentary) fell from 55 on July 17, to -11 on July 18," Credit Suisse analysts revealed in a new poll on Monday. "This sentiment data has had a +76% correlation with Chipotle's same-store sales since the 2015 food safety crisis. This data suggests same-store sales have likely fallen to at least negative 10% in recent days, if not worse."
A new foodborne illness scandal requires a total re-brand at Chipotle, according to one branding expert.
Foodborne norovirus outbreaks are usually caused by individual ill workers, rather than larger supply chain problems, a fact that Eric Schiffer, chairman of Reputation Management Consultants and CEO of private equity firm Patriarch Equity, said is "irrelevant."
"If it had happened at any other brand, it's a nonstory, but if it happens at Chipotle it's a mortal wound," he said, given Chipotle's multistate E. coli outbreak in 2015. "This brand is a perfect candidate for a name change. You can only have so many hotbeds of evil themes that can happen to a brand and not create a seismic shift in public perception."
Watch:Chipotle Is Now Off the Radar for 18 Months, Jim Cramer Says
Echoing Schiffer, BMO Capital Markets Corp. analyst Andrew Strelzik wrote that "customer psyche likely remained somewhat fragile in the wake of Chipotle's previous food safety issues and we believe there is a reasonable probability that media coverage of the new illnesses will outweigh the actual severity of the incident and create renewed same-store sales weakness, similar to the impact of media coverage in late 2015 and early 2016."
A total rebrand requires a new name, a new look and an aggressive new commitment to quality inspection.
"The leadership is letting ego take this brand down," Schiffer continued, calling Chipotle's management "the single most incompetent leadership team in the history of restaurants." CEO Ells must be "wedded to nostalgia and ego, or they would have done it."
There's precedent for such rebranding, including Arthur Andersen's spinoff of Accenture plc (ACN) - Get Accenture Plc Class A Report and WorldCom rebranding as MCI before selling to Verizon Communications Inc. (VZ) - Get Verizon Communications Inc. Report in 2006 for over $6 billion.
Of course, other brands have recovered from seemingly fatal blows without rebranding. Johnson & Johnson's (JNJ) - Get Johnson & Johnson Report response to poisoned Tylenol capsules in 1982 is a legendary example of crisis management, while Domino's Pizza Inc. (DPZ) - Get Domino's Pizza, Inc. Report is thriving after recovering from viral videos of two employees performing unsanitary pranks in its kitchen.
A Tylenol-style turnaround is harder at a restaurant chain, but not impossible, Schiffer said. "The problem is they waited so long and people have such a repugnant view of the brand that this is reckless. They don't have many options."
He added that Chipotle's response to the 2015 crisis does not engender confidence. "The current advertisement campaign that they invested in is the biggest waste of money that I have seen in a long time," attempting to deflect criticism of the company without driving demand.
A "Hindenburg scenario" is the likeliest outcome, according to Schiffer: "A Band-Aid won't fix this, and they've been doing partial Band-Aids on a full laceration."
Chipotle shares fell 3.8% to $342.46.
More of What's Trending on TheStreet:
Sears Continues on Path to Close All Its Stores -- Here Are 50 Reasons the Company Is Dying
Honda Finally Makes a Cool-Looking Accord Sedan Because Everyone in America Is Buying SUVs