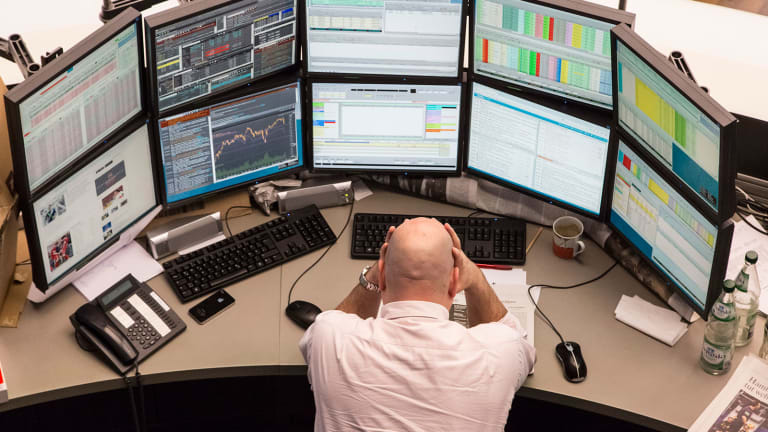 How to Protect Your Portfolio From an Explosion of Junk Debt
S&P says that 53 investment-grade companies have been cut to junk status this year, the most since 2009. More downgrades are expected, but there are ways to safeguard your portfolio.
The credit ratings of more than four dozen investment-grade companies worldwide were cut to junk status this year, the most since the financial crisis.
The tally of so-called fallen angels reached 53 as of Nov. 9, according to a Monday report from Standard & Poor's, which said the figure is more than double last year's count of 21 and compares with 67 in 2009. The shift "can be attributed to the downgrade of Brazil's sovereign rating and geopolitical instability in Russia," said Diane Vazza, head of global fixed income research at S&P.
Brazil accounts for 12 of the downgrades and Russia for 16, Vazza said. And the worst isn't over: investors should brace for further losses in emerging markets as the U.S. Federal Reserve prepares to hike rates, according to Swiss financial services firm UBS. Currencies from the countries are projected to weaken as much as 6% on average in 2016, the bank said.
The foreign-exchange weakness should drag down stocks from developing economies, which will probably underperform those from developed markets next year, UBS analysts led by Bhanu Baweja wrote in a Nov. 17 report. The MSCI Emerging Markets Index (EEM) - Get iShares MSCI Emerging Markets ETF Report , the benchmark for many money managers in the arena, is down 12% this year, even as the Standard & Poor's 500 Index (SPY) - Get SPDR S&P 500 ETF Trust Report gained 1.6%.
UBS recommends buying bank bonds from developed markets such as the U.S. and U.K., while betting against emerging-market financial firms' bonds.
"The key thesis underpinning this trade is that EM economies, having levered up steadily since the crisis, are likely to face a weak growth profile, negative credit impulse and more severe asset-quality problems moving forward," the analysts wrote.
Local bonds, or those denominated in the countries' own currencies, could lose as much as 2%, even after payment of coupons that tend to be much higher than for U.S. Treasuries, UBS said. 
High-yield companies from Latin America are likely to face a wave of credit downgrades in 2016, even after defaults this year were at the highest in more than a decade, Fitch Ratings said in a report Monday. 
China's slowing growth and weak exports should cause Asian currencies such as the Taiwan dollar, Philippine peso, Singapore dollar and Thai baht to slide against the U.S. dollar, according to UBS.
"We don't see any currency in emerging markets appreciating against the U.S. dollar next year," the analysts wrote.
The Mexican peso probably will weaken as its current account deficit -- a measure of imports vs. exports -- increases to 2.7%, the widest in 15 years, UBS said. Given low inflation and "ongoing slack in the labor market," the country's central bank is unlikely to raise rates at the pace that many traders are currently expecting, according to the report.
"The combination of low oil prices and falling production have exposed Mexico's weak fiscal underpinnings," UBS said. "The fiscal situation in 2016 will prove more challenging."
Even though Brazil faces its worst recession in 25 years, prices for the country's credit derivatives -- financial instruments that are used to bet on a borrower's creditworthiness -- are probably incorporating too high a likelihood of a default, according to UBS.