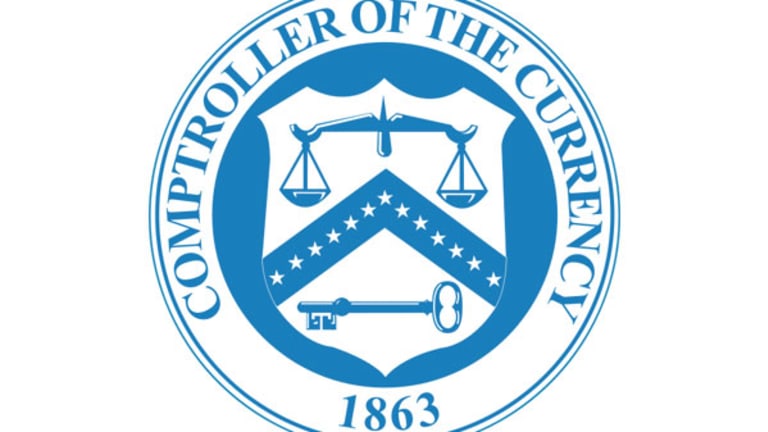 Fake Bank Scam Targets Consumers Rebuilding Credit
Consumers seeking to rebuild credit scores with secured credit cards need to know this 'bank' is a fraud and 'deposits' are disappearing.
NEW YORK (
) -- A scam being operated through an imaginary bank is being used to steal money from consumers seeking to rebuild their credit ratings by signing up for secured credit cards.
The Office of the Comptroller of the Currency on Friday in a letter directed to all executives of U.S. banks, as well as federal and state regulators warned that "an entity entitled Freedom Gold Club is claiming to be associated with a national bank named Freedom 1st National Bank," which doesn't even exist.
The OCC is the primary regulator of nationally chartered U.S. banks and savings and loan associations.
The regulator said "Freedom 1st National Bank is a fictitious entity used as part of a scheme that involves soliciting consumers for semi-secured credit cards through the U.S. mail."
The fake bank targets consumers through direct mail offers of semi-secured credit cards, with customers required to make deposits of $500 to $900.
Legitimate secured credit cards do indeed require customers to make deposits, and in return provide actual credit lines, helping customers rebuild credit scores. Customers can eventually withdraw their deposits after their credit scores improve, or they can simply pay their credit balances to zero, close the accounts and get their deposits back.
But in the case of "Freedom 1st National Bank," consumers have been sending in checks and signing program agreements, only to see their deposits disappear.
"The checks are cashed by an individual using the name of Bradford C. Ege II, and the victims never receive the anticipated credit card," the OCC said.
The phony "Freedom 1st National Bank" has also been claiming to be affiliated with a real bank, Credit One Bank, N.A., of Las Vegas, which offers credit cards and is regulated by the OCC. The regulator took pains to make clear that "Credit One Bank, N.A., has no connection" with the "Freedom 1st National Bank" scam.
The regulator requested that anyone with information on the "fraudulent entity... purportedly located
at 601 NE 11th Street, Ft. Lauderdale, Fla.," contact the OCC via email at occalertresponses@occ.treas.gov.
So what can consumers seeking to rebuild credit do to protect themselves from this type of scam? For one thing, it is fairly easy to confirm whether or not a bank exists. The customer agreements should mention the actual name and address of the chartered depository institution taking the deposits. You can then go to the Federal Deposit Insurance Corp. Web site and search for the institution's call report or thrift financial report, by
.
Then, for report type, select "Call/TFR." Then type the institution's name to search for it. If no report comes up, and we are in the middle of the quarterly cycle when banks file their financial information with regulators, you may need to go back a quarter when selecting the report date.
The call report includes the bank's address right at the top.
The credit card offer should also include a customer service phone number. Call them and speak with a representative, to make sure you know which bank is involved.
And if they don't provide a customer service phone number, take your business elsewhere.
-- Written by Philip van Doorn in Jupiter, Fla.
>Contact by
.
Philip W. van Doorn is a member of TheStreet's banking and finance team, commenting on industry and regulatory trends. He previously served as the senior analyst for TheStreet.com Ratings, responsible for assigning financial strength ratings to banks and savings and loan institutions. Mr. van Doorn previously served as a loan operations officer at Riverside National Bank in Fort Pierce, Fla., and as a credit analyst at the Federal Home Loan Bank of New York, where he monitored banks in New York, New Jersey and Puerto Rico. Mr. van Doorn has additional experience in the mutual fund and computer software industries. He holds a bachelor of science in business administration from Long Island University.