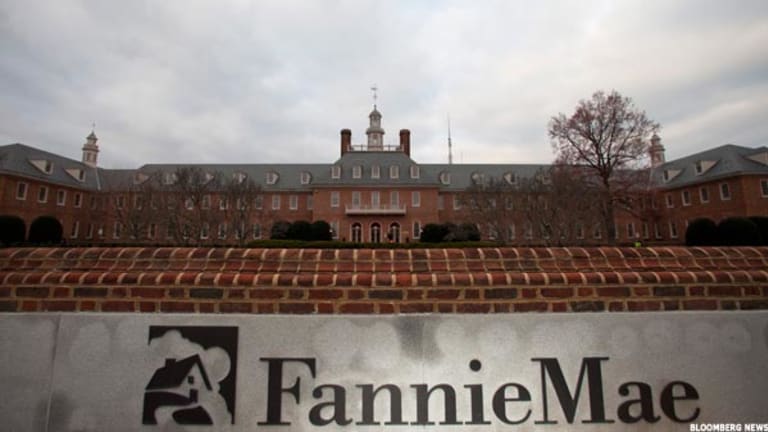 Fairholme GSE Proposal: What's In It For Shareholders
Bruce Berkowitz's offer to buy out parts of Fannie Mae and Freddie Mac promises upside for common shareholders.
NEW YORK (
) -- Shares of
Fannie Mae
(FNMA)
and
Freddie Mac
(FMCC)
jumped Thursday following a
proposal by
Fairholme Capital's
Bruce Berkowitz to purchase the insurance businesses of the bailed-out housing giants.
The fund manager's
new plan calls for the creation of two state-regulated insurance companies by purchasing, recapitalizing and operating the insurance businesses of Fannie and Freddie. The new companies will have no federal charter or special status and the names "Fannie" and "Freddie", which have become political poison, would be retired.
The new companies would be capitalized with $34.6 billion from the conversion of junior preferred stock in the entities to common shares. At least another $17.3 billion of new capital would be raised from the junior preferred stockholders in a rights offering.
The government sponsored enterprises' legacy book of investments and insurance would be wound down and the proceeds would be used to fully repay the Treasury and provide a profit to taxpayers. Any proceeds remaining would go to common shareholders.
The proposal was pitched as an answer to the "broad bipartisan call for more private capital in a way that can advances reform from concept to a viable, sustainable solution," but analysts reacted with skepticism.
"No matter the type of fund - hedge, mutual, or private equity - the bulk of lawmakers will publicly distance themselves from any proposal which could be framed as "enriching" money managers no matter its merits," Isaac Boltansky, analyst with Compass Point, wrote in a note.
Still, shares of Fannie Mae rose 17% to close at $3.06 on Thursday, while shares of Freddie Mac closed 18.8% higher at $2.90.
Meanwhile, the preferred shares of the entities did not rise much on the news, even though there was significant trading volume.
The Fannie Mae Preferred Shares S Series, which trades at about 34 cents to the dollar, was down 1.9% at $8.68. The Freddie Mac Preferred Shares Z Series, which trades at 35 cents to the dollar, finished 1% higher at $8.90.
For common shareholders, the biggest advantage might come from the fact that "preferred stock is removed as a senior claim on the run-off value of Fannie and Freddie." That means, common shareholders will stand next in line after the government is repaid.
The new companies might also allocate common stockholders a portion of the rights offering.
For preferred shareholders, there are risks in this deal. While they essentially recover their investment in Fannie and Freddie, they will be plowing it back into a new insurance business.
All capital received in the conversion of preferred stock of Fannie and Freddie would be retained by the new companies as locked-in capital for a minimum of five years to support writing new insurance. No dividends or distributions would be paid using that capital during the initial five year period.
"But preferred stocks face these risks already," the proposal notes.
-- Written by Shanthi Bharatwaj New York.
>Contact by
.
Disclosure: TheStreet's editorial policy prohibits staff editors and reporters from holding positions in any individual stocks.