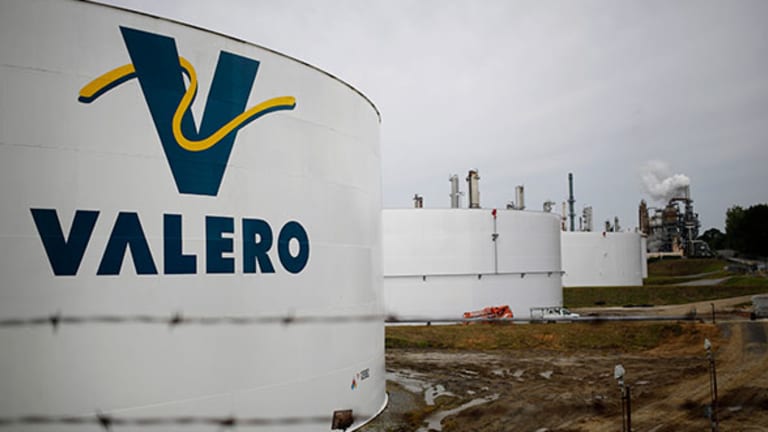 Fade Valero Energy Off Hurricane Harvey, It's Topped Short-term: Chart
Shares of VLO have triple topped, fade the stock.
The tragedy that has struck Houston, Texas, in the wake of Hurricane Harvey is devastating to say the least. Flood damage is likely to hit the tens of billions after the storm dropped over 42 inches of rain on the fourth-largest city in the U.S.
What's even worse, is that this crisis might not be over. The National Weather Service is predicting that the storm is likely to make landfall again, this time in Louisiana on Wednesday as a tropical storm with winds of 50 miles per hour. New Orleans was slammed by Hurricane Katrina back in 2005, and now looks to be hit again. There's the possibility of another 50 inches of rain pounding the next path in its destruction before it finally dissipates.
As someone who plays the markets, it's often hard to separate tragedy from opportunities to make money. However, we can't control what happens in the world, so we have to separate our emotions and find the next big trends. Of course, you can always offer help or donate during times like these, but at the end of the day we have to trade what's in front of us as it unfolds due to any tragedy.
With that being said, one area of the market that has benefited off Hurricane Harvey is the energy sector. Specially, the oil refinery stocks, since the storm forced Houston-based refiners to shut down. A number of major oil companies have taken their refiners offline, like Exxon Mobil Corp. (XOM) - Get Exxon Mobil Corporation Report , Royal Dutch Shell plc (ADR) (RDS.A) and Chevron Corp. (CVX) - Get Chevron Corporation Report . Those refiners are likely to be back online soon, but a spike higher in gasoline prices, not crude oil prices, might already be priced in by the markets.
Take for example shares of Valero Energy Corp. (VLO) - Get Valero Energy Corporation Report , which have traded up, to $69.79 from $64.22, in just a few days. The problem here is that the spikes are usually short-lived following a hurricane, so it creates a short-term trading opportunity for the nimble.
If you take a look at the chart for VLO, you'll notice that this recent spike due to the storm has pushed this stock into some major resistance at around $69 a share. This has now formed a triple top that dates back to around 2016. Every time shares of VLO have traded up to around $68 to $69 a share, the stock has been met with sellers.
This spike is likely to be met with sellers again, once the storm dies down and refiners come back online. This will give nimble traders an opportunity to short the stock and fade the move, and for traders who caught the spike an opportunity to exit before the fade.
Traders should look for short-biased trades in VLO at current levels, and as long as this stock doesn't break north of that recent high of $69.79 a share. If the stock breaks out over $69.79 I would close any short position immediately. However, if that massive resistance remains, I would look for this stock to trade back down to $64 to $63 a share, and if $63 doesn't hold, look for $60 in the very near future.
The bottom line, shares of VLO are likely to get faded as the Hurricane Harvey news flow dies down, so look to short the stock unless it breaks topside of its recent high of $69.79 a share. The chart has formed a triple top and lower prices are likely on the way, so take advantage of the storm-driven spike.
This article is commentary by an independent contributor. At the time of publication, the author held no positions in the stocks mentioned.