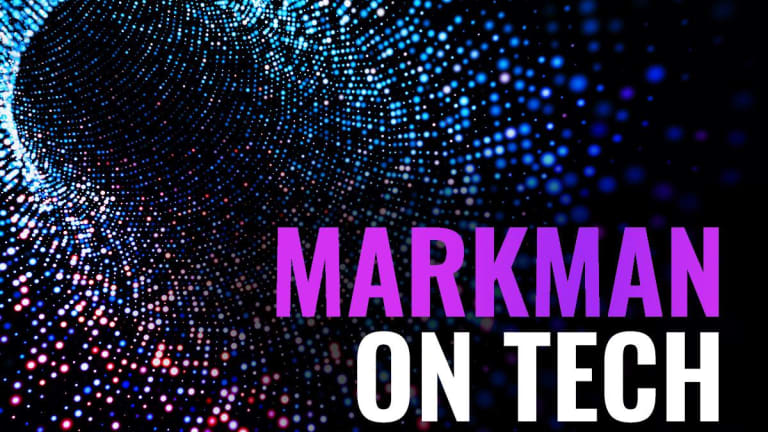 Facebook Launches Intense New Battle to Serve as Your Wallet
The social media giant is exploring ways to allow its two billion users to exchange money in an ecosystem that makes cash obsolete.
Facebook (FB) - Get Meta Platforms Inc. Report is much maligned for its privacy foibles but the company is planning its second act. Surprise! The social media giant wants to be your wallet.
The company is exploring back-end infrastructure, according to a report in the Wall Street Journal, that would allow its two billion users to exchange money, make payments and buy stuff in the real world.
It's an evolution of the ubiquitous platform. And it will be formidable.
Facebook is often demonized for its carelessness. During the 2016 presidential election cycle, the company failed its responsibility to oversee third-party developers and root out inaccurate stories. Behind the scenes, some were weaponizing platform data to target voters and spread disinformation.
Critics blamed Facebook and its founder, CEO and chairman, Mark Zuckerberg. And it's clear that detractors are winning the public relations war. The San Francisco company has become a punchline for jokes about lax privacy in the online era.
For a time, the setback seemed to derail corporate ambitions.
Zuckerberg has been planning Facebook's next act for a long time. With its wide net, the platform has the potential to capture large parts of lucrative untapped markets, like banking, payments and e-commerce. And it has the potential to move beyond a simple platform to become another important operating system.
The Journal reports Facebook managers are seeking $1 billion in investment from Mastercard (MA) - Get Mastercard Incorporated Report , Visa (V) - Get Visa Inc. Report and First Data (FDC) - Get First Data Corporation Class A Report for a new cryptocurrency backed by government-issued currency.
The benefits of this approach are obvious.
Bitcoin is unusable as an actual currency. Volatility is too high. Say what you will about fiat currencies like U.S. dollars, but the benefit is that the cost of buying a loaf of bread at the local supermarket doesn't rise and fall during the day.
Tying a digital currency to government-issued dollars brings price stability. It also brings the presumed cost savings of blockchain technology. And restricting access to trusted players like Visa and Mastercard reduces the number of moving parts.
This should allow the backend to scale to meet the demand of billions of users conducting millions of transactions every minute.
The rise of sophisticated smartphones and faster wireless networks means most of the developed world can now get online, and authenticate identity with a facial scan or fingerprint tap. Despite all of the media hyperventilating about privacy, most people have some form of Facebook software installed on their device. Everything is laid out for the taking.
AppAnnie, an online smartphone application analytics firm, found that Facebook properties, Facebook, Messenger, Instagram and WhatsApp, dominated the list of most downloaded apps.
In January, Zuckerberg announced plans to tie together the back-ends of all these services. At the time, analysts speculated his mission was to make it easier to serve ads. That assessment was always too narrow. It ignored the 2012 promise to make Facebook an open, modular, all-encompassing platform.
It's a model alive and well in the east.
China's Tencent (TCEHY) is a financial technology pioneer. Its popular WeChat social media platform is widely viewed as the vanguard of contactless payments.
Think of WeChat as Facebook Messenger, with far more functionality. In addition to making calls, sharing photos, emoji and stickers, WeChat users can hail cars, order food, pay bills online and make real-world purchases. Outdoor street vendors in China accept WeChat. Soon, the Chinese will even be able to use the service as a wallet for their government-issued IDs.
WeChat is a living ecosystem. And it makes cash obsolete.
Facebook has that kind of potential. And if not for the 2016 election cycle, there would be no doubt the company is capable of pulling it off.
It's easy to take swipes at the business Zuckerberg has built. Betting Facebook users will not trust the company with sensitive financial data is probably the consensus opinion. For investors, that's the opportunity. Users will be trusting Visa, Mastercard and First Data, not Facebook.
The right partners are everything.
I have been a Facebook bull for a long time. Regardless of the rough edges, it's a wonderful business that, through one app or another, has managed to enslave most of the developed world. And the company has designs of enticing the rest.
Now Facebook managers are focused on pushing the platform to the next level. They see an opportunity to leverage ubiquity. The potential to capture a tiny piece of millions of financial transactions every minute could be a gold mine.
Facebook shares have been on a bit of a rollercoaster since late 2016. During the following two years, shares were nearly cut in half. Now they are ready to make a run at record highs. At 21x forward earnings and 6x sales, the stock is not expensive.
During the last five years, sales growth has averaged 48%, cresting with $55.8 billion in fiscal 2018. And Facebook is expected to grow earnings by 31.4% in 2019.
I suspect the stock can trade to $290 during the next two years, which would be a 50% move.
Facebook is a holding in Jim Cramer'sAction Alerts PLUS Charitable Trust Portfolio. Want to be alerted before Cramer buys or sells FB? Learn more now.
To learn more about Jon Markman's stock picks at the crossroads of culture and technology, check out his daily investment newsletter Strategic Advantage. To learn about Markman's practical research in the short-term timing of market indexes and commodities, check out his daily newsletter Invariant Futures
The author owns the following stocks mentioned in this column: Mastercard and Visa