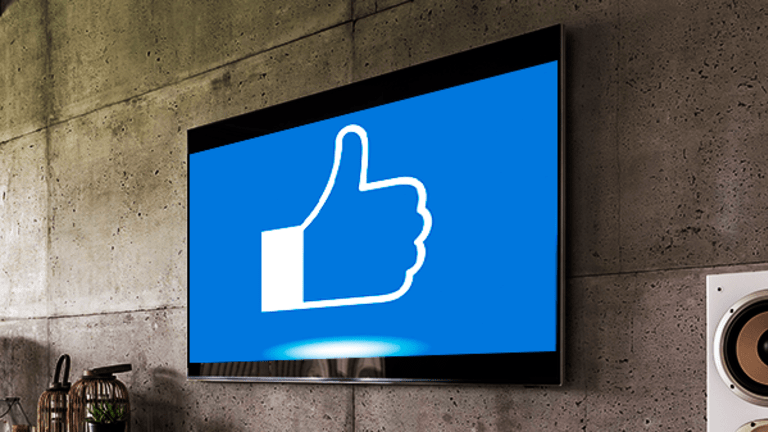 Facebook Is Taking a Very Different Approach From Netflix and Amazon to Original Content
The social network reportedly plans to have a slate of new content available as early as the end of the summer.
Facebook Inc. (FB) - Get Report wants to start making original video content the same as Netflix Inc. (NFLX) - Get Report , Amazon.com Inc. (AMZN) - Get Report and even Apple Inc. (AAPL) - Get Report . But unlike its large tech rivals, Facebook is aiming for a big piece of television advertising.
Facebook is planning to acquire and create original video content to run on its website and mobile platforms, interspersing episodic serials with advertising that normally might run on TV, broadcast and cable, The Wall Street Journal reported on Sunday, June 25. While Amazon sells ads, Netflix and Apple steer clear of the medium, preferring business models based solely on subscriptions.
As might be expected, Facebook's video effort will focus on its core audience of 13-to-34-year-olds. The world's largest social media platform plans to have new content available on its site under its Spotlight section as early as the end of the summer. Flush with cash, Facebook is more than willing to spend roughly $3 million per episode, the Journal reported.
The company could not immediately be reached for comment. Facebook shares closed down slightly on Monday to $153.59. The stock has added nearly 34% this year.
Facebook's interest in owning original content is simple: it wants a bigger share of the billions of advertising dollars spent each year on television. Despite digital ad sales surpassing linear TV expenditures in 2016 for the first time ever, television still isn't far behind, according to IPG Mediabrands' Magna.
National and local TV accounted for $67 billion in ad sales last year, compared with $70 billion for digital. And though Facebook and Alphabet Inc.'s (GOOGL) - Get Report Google dominate digital ad sales, the company is focused on grabbing a larger share of TV ads.
Facebook and Google accounted for more than two-thirds of global ad spend growth from 2012 to 2016 and 20% of global advertising expenditures across all media, according to Zenith Optimedia.
With so many advertising dollars in TV, the question is what took Facebook so long to get into producing and acquiring video. Netflix has been creating its own shows for years, and Amazon stepped up its production in 2015 when it hired indie-film producer Ted Hope to run its original movies group at Amazon Studios. Of course, both companies make the bulk of their money through subscriptions.
By comparison, Vice Media, which also targets millennial audiences, albeit with a far edgier tone, launched its Viceland network in February 2016, expressly to go after TV advertising. Vice's move into TV was fueled in part by the realization that Google and Facebook would continue to dominate digital ad sales and that a video produced by its cable TV network could be repurposed across its many digital platforms.
Vice Media last week secured $450 million in new financing from TPG Capital LP, bringing its total of venture capital money to more than $1.4 billion.
To survive, media companies have had to diversify their revenue streams, whether moving into other mediums or creating subscription services to augment, or offset, challenges in advertising. And despite its success, Facebook wants to offer traditional TV advertisers more places to run their video marketing.
Facebook is said to be looking for content along the lines of Walt Disney Co.'s (DIS) - Get Report "Pretty Little Liars," which runs on its Freeform channel, formerly known as ABC Family, as well as ABC's "Scandal" and the reality franchise "The Bachelor," the Journal reported.
Jim Cramer and the AAP team on a recent call with members of the investment club said they aren't buying Apple here and think Facebook and Alphabet look better on a dip.

Visit here for the latest business headlines.