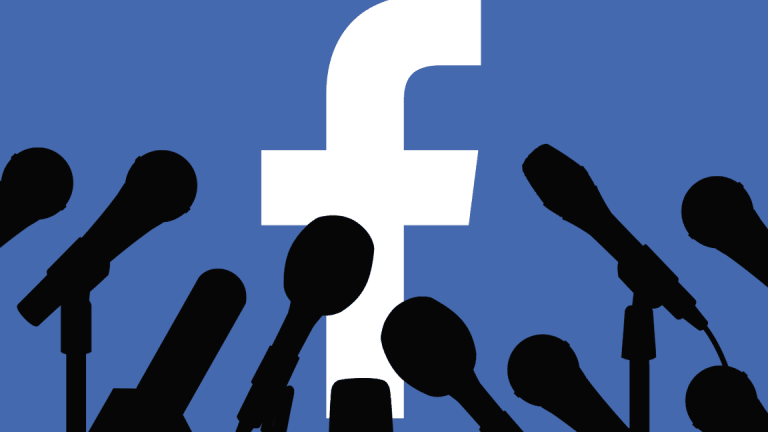 Facebook's Latest User Trends Show Why It Needed to Make Big News Feed Changes
Facebook usage in the U.S. appears to have been under pressure for much of 2017. The company's recent moves are meant to keep the issue from turning into a serious long-term problem.
With each passing week, more evidence piles up that Facebook's (FB) - Get Meta Platforms Inc. Report decision to prioritize social interactions on its core platform isn't just a PR tactic meant to deflect recent criticism, but a needed business move in light of recent user engagement trends.
Signs are also mounting that -- whether or not this happened to be one of the company's goals -- Facebook's actions will provide a fresh boost to ad prices that have already been growing rapidly.     
Pew Research's latest annual survey on U.S. social media usage -- it was conducted in early January, and involved about 2,000 people -- suggests the percentage of U.S. adults using Facebook proper remained flat relative to an April 2016 level of 68%. Moreover, the percentage of Facebook users saying they use its site or app "several times a day" fell to 51% from 55%.
Instagram's numbers are better: 35% of respondents reported using the Facebook-owned photo-/video-sharing platform, up from 28% in April 2016. The percentage saying they use the platform several times a day rose by two points to 38%. In September, Instagram disclosed it had topped 800 million global monthly active users (MAUs), twice as many as it had two years earlier.
Pew's numbers are backed up by data from Nielsen indicating Facebook's share of online time spent among U.S. adults gradually fell in 2017. For November, Nielsen believes Facebook's platforms saw a 4% annual drop in U.S. "aggregated time spent," in spite of 6% user growth, with usage declines for Facebook proper offsetting healthy Instagram growth.
The data's arrival comes after Facebook disclosed (in tandem with its Q4 report) that North American daily active users (DAUs) for its core platform and Messenger fell by 700,000 sequentially to about 184 million -- the first reported sequential decline since Facebook went public in 2012. Globally, DAUs still rose by 33 million to 1.401 billion, but with nearly half of the company's revenue still coming from the U.S. and Canada, the North American decline naturally made some investors nervous.
Also disclosed at that time: News feed algorithm changes that lowered the number of viral videos seen by by users reduced global time spent on Facebook last quarter by about 50 million hours per day, or 5%. Those changes, along with moves launched in 2018 to lower the amount of brand and publisher content that appears, are part of a broader effort by Facebook to grow the percentage of usage that involves social interactions rather than passive content consumption.
Mark Zuckerberg hasn't shied away from warning that this effort will lead to short-term drops in time spent and "some other measures of engagement." At the same time, citing internal research that suggests passive social media consumption is harmful to mental health and that interactions with family and friends are beneficial, he insists Facebook's moves will guarantee that "time spent is time well spent."
Considering all of the data suggesting Facebook's North American usage rates came under pressure long before this effort was launched, there are good reasons to think that Facebook is also trying to safeguard the long-term health of its core business by prioritizing the kind of usage that lead many of its users -- including ones who may not necessarily love using Facebook -- to view it as indispensable utility. Particularly when quality digital entertainment alternatives are provided by Netflix (NFLX) - Get Netflix Inc. Report, Alphabet's (GOOGL) - Get Alphabet Inc. Report YouTube and many others.
Jim Cramer and the AAP team hold positions in Facebook and Alphabet for their Action Alerts PLUS Charitable Trust Portfolio. Want to be alerted before Cramer buys or sells FB or GOOGL? Learn more now.
Notably, CFO Dave Wehner has insisted that a decline in "passive video" viewing on Facebook won't necessarily do a lot of damage to the number of ad impressions Facebook gets to show, since time previously spent watching video often gets directed towards viewing other Facebook posts (including ads). "[W]e're still driving a lot of engagement on [the] news feed and the number of posts that you see," he said during a recent Morgan Stanley conference talk.
Facebook's total ad impression growth fell to a mere 4% in Q4. But the company has predicted it will continue seeing "modest" impression increases going forward.
Meanwhile, as brands, news publishers and viral content creators all see major declines in the organic reach of their Facebook posts -- that is, the number of times that posts are shown for free on the news feed to users following a particular brand or publisher -- due to the recent algorithm changes, they have more incentive than ever to up their Facebook ad spend. "If any brands haven't already shifted their Facebook strategy entirely to paid [posts], then they may have to soon," wrote ad industry site Digiday last month.
And those hoping that Facebook's recently-launched Explore feed for publisher content would provide an alternative way to freely distribute their content just got some bad news. On Thursday, news feed chief Adam Mosseri disclosed Facebook is shuttering the Explore feed. "People don't want two separate feeds. In surveys, people told us they were less satisfied with the posts they were seeing, and having two separate feeds didn't actually help them connect more with friends and family," Mosseri wrote.
For video creators, Facebook's Watch professional video platform might provide an alternative way to both distribute and monetize content. But for now, Watch is something of a poor man's YouTube, with much work still needed to grow the platform's content selection and scale.
The upshot: Facebook's average ad price, which was up 43% annually last quarter and has been seeing accelerating growth for some time, should continue growing strongly in the coming quarters. That's true both because of how Facebook's rich user data and advanced targeting/measurement tools are making advertisers comfortable with paying more for Facebook ads, and because many brands and publishers have no choice but to grow their Facebook ad budgets if they don't want to see major drops in the amount of traffic they get from the world's biggest social media platform.