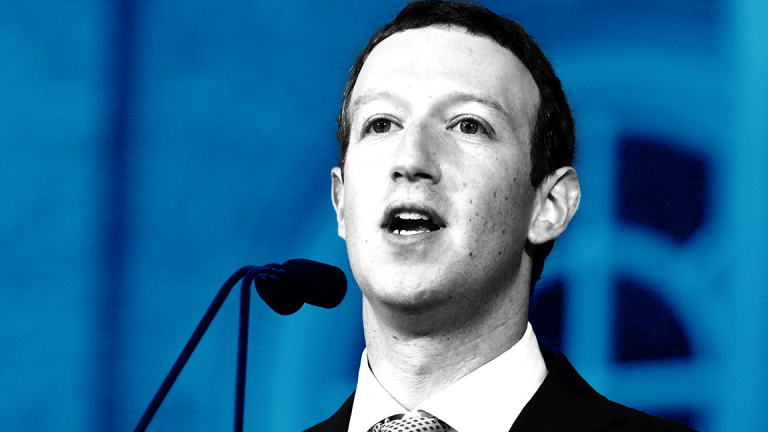 Facebook Introduces New Tools for Fundraising and Disaster Response
CEO Mark Zuckerberg announced the new features at Facebook's Social Good Forum in New York City on Wednesday.
Facebook Inc. (FB) - Get Free Report is rolling out a slew of new features to help people promote fundraising campaigns, donate to nonprofits and improve response to crises around the world. 
CEO Mark Zuckerberg introduced the new tools at Facebook's second annual Social Good Forum in New York City on Wednesday. He kicked off his keynote speech by announcing that Facebook is eliminating its 5% payment transaction fee on donations made to non-profits via Facebook. Many users had requested that the fees be removed, he added. 
Facebook has increasingly become a place where users create fundraising campaigns and promote their favorite causes. 
"When I started Facebook, I wasn't thinking of it as a way to raise money to fight disease, but people were," Zuckerberg said. "People are raising money for healthcare costs for a friend and also for anyone anywhere around the world." 
The company is also doubling down on its efforts to be a force for social good. Zuckerberg unveiled the Facebook Donations Fund, which is a $50 million annual fund to help disaster ridden communities recover by direct contributions and matching dollars.
"We want to really double down on helping to support communities that are recovering from disasters, and really help people on Facebook to support the causes that they want to support," Zuckerberg said.
On top of that, Facebook introduced a new Fundraisers API, which allows users to sync any off-Facebook fundraising campaigns to their Facebook fundraisers. There, they can share updates on their campaign, keep track of their fundraiser and any updates, including new donations, will be synced between both the off-Facebook and Facebook campaigns.
One of Zuck's favorite quotes, apparently: "There are two kinds of people in the world: Optimists and pessimists. Optimists tend to be successful and pessimists tend to be right."
Syncing the two pages can help people reach their fundraising goals faster, Zuckerberg said. 
Facebook is also making it easier for people to connect during times of crisis or disaster situations. The company is creating a new Community Help API, which gives disaster response organizations, such as the Red Cross, detailed data on users that are in need of help or basic needs like food, clothing or shelter. Asha Sharma, Facebook's Social Good Product Manager, said the organizations can use the Community Help API to respond to crises faster and more effectively. 
The company highlighted its new suicide prevention feature, announced on Tuesday, that uses artificial intelligence to detect any posts where a user might be threatening their life, without the need for users to report the posts first. Additionally, Facebook is rolling out a blood donations feature that connects donors to blood donation events. 
To be sure, Facebook has heightened its focus in the past year on enhancing features aimed at connecting local communities and improving social good, all while it continues to face heightened criticism about its role on the 2016 presidential election, the spread of fake news on the platform and other issues. 
Zuckerberg pointed to how he just finished his yearlong road trip around the U.S. and that he learne how communities are more important "than we normally discuss." 
"There's no doubt we live in a challenging time right now, but one of the things that strikes me so much is the deep sense of optimism that you all have," Zuckerberg said. "This belief that in the face of challenges, that every one of us can make a difference...It's our responsibility to help you do more, so that's what today is all about."
More of What's Trending on TheStreet: