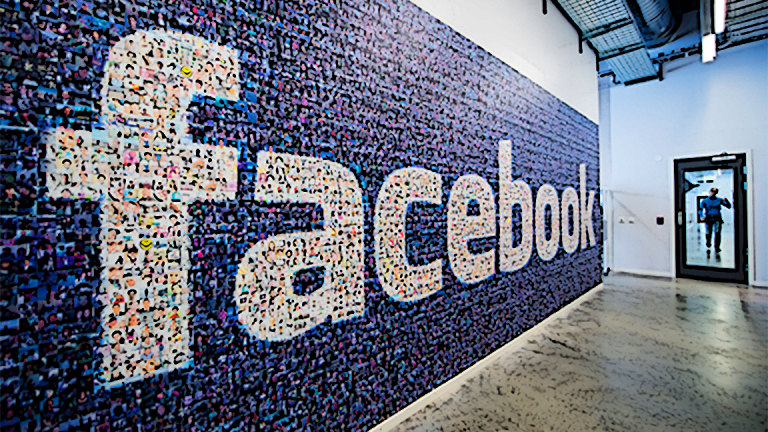 Facebook's Latest Test Shows How Willing It Is to Shake Things Up
As the social media giant tries to get users to share more content on its app and come back more often, it's increasingly willing to think outside the box.
Give Facebook Inc. (FB) - Get Meta Platforms Inc. Class A Report this: For a fast-growing Internet colossus that might do $40 billion in sales this year, it's quite willing to overhaul how its core apps and services function if it sees a better way to do things or is worried about a major strategic threat.
Creating a separate platform within its core app for professional video content is a reflection of this mindset, as is aggressively promoting Facebook's Live streaming service within the core app, and giving Snapchat Stories clones prominent placement on the home tabs of the core app, Instagram and Messenger.
If rolled out more broadly, a news feed change being tested would arguably represent Facebook's most dramatic revamp of its core services in recent years. And though it's far from a given that a broad rollout of the change will happen, the fact that Facebook is willing to consider it says a lot about how seriously it takes recent social usage trends.
On Oct. 23, The Guardian observed that in several countries, Facebook is experimenting with taking all non-advertised content from followed public Pages (run by businesses, publishers, celebrities, etc.) off its main news feed, and placing it on a separate feed. It added that this change had resulted in "users' engagement with Facebook pages [dropping] precipitously, with publications reporting a 60% to 80% fall."
Soon afterwards, Facebook news feed chief Adam Mosseri confirmed the test is ongoing in Sri Lanka, Bolivia and four other small markets. He insisted Facebook currently has no plans to expand the test, albeit noting that the test aims to "understand if people prefer to have separate places for personal and public content." He also said that, as with other tests, the initiative could lead to "additional tests in the coming months so we can better understand what works best for people and publishers."
The move comes just a week after Facebook began rolling out a tab called Explore, which had been in testing since February, that features articles, videos and other public content that it thinks a particular user could be interested in. Mosseri clarifies Facebook's latest test is separate from Explore, which shows content from Pages that a user isn't currently following.
Facebook is also, of course, just a couple months removed from launching its Watch tab, which shows professional videos that are monetized via mid-stream ads and which has reportedly been given a $1 billion 2018 content budget. It also comes as Facebook experiments with extending the reach of its Craigslist-like Marketplace feature to show product listings from third-party merchants.
What's driving these moves? It seems a couple of factors are clearly at play:
Facebook remains worried about how much user-created material (i.e., status updates, photos and videos taken with phone cameras) its users are sharing to its main news feed, as more of this activity shifts to messaging apps. Last year, Facebook tweaked its news feed algorithm to give greater priority to user-generated content, and also stepped up the frequency at which it notified users when a "friend" shared something. Moving content shared by followed Pages to a separate tab would be a new, more drastic attempt to promote user-created content. It's also worth noting here that Facebook also just acquired tbh, an app that lets users run polls that let friends and acquaintances compliment users on various traits.
Facebook is eager to turn its core app into a place that users expressly visit to find content that interests them, rather than just to see content from friends and followed accounts that Facebook thinks they'll be interested in. The Watch tab and recent Marketplace changes fit with this effort, and while the Explore tab and newly-tested Pages tab still rely on algorithm-based feeds, they do act as new venues that a user might visit Facebook in order to check out.
There are also a couple other factors that may be affecting Facebook's decision-making:
As management has cautioned for a long time, Facebook no longer expects major increases in its ad load, or the number of ads its shows on its main news feed for a given amount of scrolling. That makes the future growth of Facebook's core news feed ad business dependent on user growth, higher daily usage and higher ad prices. By pulling organic content from Pages off its main news feed and (as The Guardian's data suggests) doing a number on how much traffic publishers get from organic posts, Facebook ups the incentive for publishers to spend more on ads to obtain news feed traffic (many are already spending a lot), which in turn should yield higher ad prices. And if its new tabs for Pages content lead to higher total Facebook usage, they'll produce additional ad inventory.
In Q2, Facebook's daily active user (DAU) growth slightly trailed its monthly active user (MAU) growth on a sequential basis for the first time in a while. This may have just been a temporary blip, but combined with how much more aggressive Facebook has gotten lately in sending mobile, e-mail and in-app notifications to users, it does raise the possibility that the company is feeling more pressure to boost how often users engage with its core app.
Facebook's Nov. 1 Q3 earnings report and call should provide some insight into just how much revenue and user growth trends are or aren't increasing the company's need to revamp its main app, as well as some commentary from Mark Zuckerberg and others about how Facebook is looking at such issues going into 2018. For now, the company's long-term track record for its core services are enough for it to get the benefit of the doubt regarding what it's doing.
Jim Cramer and the AAP team hold a position in Facebook for their Action Alerts PLUS Charitable Trust Portfolio. Want to be alerted before Cramer buys or sells FB? Learn more now.
More of What's Trending on TheStreet: