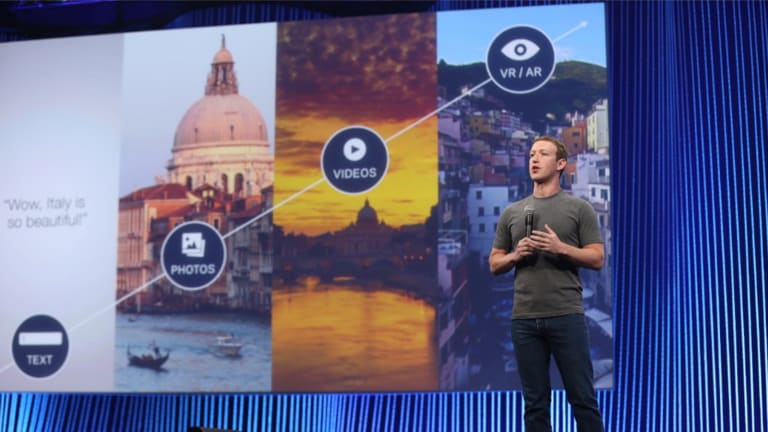 Facebook's Virtual Reality Unit Needs to Speed Up Its Hardware Launches
The company's new standalone VR headset isn't as powerful as devices that pair with PCs or consoles. And its original Oculus Rift headset is starting to look dated.
Mark Zuckerberg has previously suggested that in the long run, Facebook Inc.  (FB) - Get Facebook, Inc. Class A Report is less interested in being a major virtual reality hardware vendor than in creating a popular VR software platform and enabling immersive social experiences. "We're mostly interested in the software," he said in a 2016 interview. "But there is a time early on in the development of any new platform where you really need to do the hardware and the software at the same time."
While Facebook's Oculus VR unit certainly can't be accused of ignoring the hardware side of things, as shown by the launch of a standalone VR headset at its Oct. 11 Oculus Connect event, it also seems less focused on pushing the boundaries of what VR headsets can do than on hitting low price points. That could be a mistake, given where the VR market stands today.
At Connect, Facebook showed off the Oculus Go, a $199 headset that doesn't need to be paired with any other device to work. By contrast, the Oculus Rift (launched in 2016) needs to be connected to a PC, as do HTC's Vive headset and a recently-launched headsets based on Microsoft Corp.'s (MSFT) - Get Microsoft Corporation (MSFT) Report Windows Mixed Reality platform. Sony Corp.'s (SNE) - Get SONY GROUP CORPORATION SPONSORED ADR Report PlayStation VR headset, as its name implies, requires pairing with a PlayStation 4 console. And Samsung's Gear VR headset, which runs on Oculus software, uses a paired high-end Samsung phone to supply the device's display and processing power (among other things).
But there are some catches involved. The biggest one: Like the Gear VR, but unlike PC and console-paired headsets, the Oculus Go doesn't come with any external sensors that can track a user's movements within a room (it can, like the Gear VR, track head movements). That greatly reduces its functionality, and -- together with its reported reliance on the relatively limited processing power of Qualcomm Inc.'s (QCOM) - Get QUALCOMM Incorporated Report Snapdragon 821 system-on-chip (SoC) -- makes it more of a substitute for smartphone-paired headsets than an alternative to their more powerful cousins.
Also: Whereas most VR headsets to date rely on OLED displays due to the ability of OLEDs to cut down on motion blur -- last year, Zuckerberg declared OLEDs "the only screens that can update faster than your eye" -- the Go relies on an LCD panel. Facebook does declare the Go's display cuts down on how much consumers see individual pixel dots (the screen door effect), but overall, it looks as if the company opted for an inferior display technology to keep costs down. Likewise, whereas the Rift is now bundled with two advanced motion controllers, the Go ships with one relatively simple controller.
Facebook is prepping a more powerful standalone VR headset codenamed Santa Cruz. Unlike the Go, it will have built-in sensors to track user movements (i.e., inside-out tracking), come with a pair of advanced controllers and reportedly run on Qualcomm's Snapdragon 835 SoC, which can be found in this year's high-end Android phones and has been optimized for VR headsets.
But it could be a while before consumers can buy the device: For now, Facebook only says they'll be offered to developers at some point next year. Meanwhile, Alphabet Inc./Google (GOOGL) - Get Alphabet Inc. Class A Report has been working with HTC and Lenovo on rolling out standalone headsets that support inside-out tracking and run on the Snapdragon 835, and promises they'll arrive soon.
Jim Cramer and the AAP team hold positions in Facebook and Alphabet for their Action Alerts PLUS Charitable Trust Portfolio. Want to be alerted before Cramer buys or sells FB or GOOGL? Learn more now.
With regards to the Rift, Facebook used its event to announce the summer discount it announced for its flagship headset is being made permanent: A bundle featuring the Rift and two Oculus Touch controllers will cost $399, $200 less than what it did going into July. That's a smart move, given the arrival of aggressively-priced Windows Mixed Reality headsets and Sony's decision to price the PlayStation VR at $449. But it would've been nice if Facebook, which in July hinted a second-gen Rift might not arrive for a while, provided reason to think a successor device is on the way, given the Rift's hardware is starting to look dated.
Whereas the Rift comes with two OLED panels (one for each eye) that each sport 1080x1200 resolutions, many Windows Mixed Reality headsets sport 1440x1440 resolutions per eye. And while it costs $499, Samsung's Windows-based Odyssey headset, which has received good initial reviews, pushes the envelope further with a 1400x1600 resolution per eye. Considering how much resolutions remain a weak spot for VR headsets in general -- the closer a display is to a user's eyes, the higher the resolution needs to be to provide a quality experience -- this matters.
Moreover, the Rift's sensor setup arguably isn't as good as that of HTC's Vive headset, which relies on game giant Valve's SteamVR platform (set to support Windows Mixed Reality). The Rift relies on a single sensor that needs to be connected to a PC, whereas the Vive relies on two sensors (called base stations) that don't need to be connected. And Valve recently unveiled a second-gen sensor solution that can use 4 base stations to provide tracking for a room 10 meters by 10 meters in size.
HTC, for its part, is 9 months removed from launching its innovative Vive Tracker accessory. The Vive Tracker can attach to a variety of third-party peripherals, electronics and household objects to make them part of a user's VR experience. Developers have attached the Vive Tracker to everything from gloves to toy guns to baseball bats to drones. Oculus hasn't yet announced anything similar.
But while Facebook has its work cut out for it on the hardware front, the company did also show at Oculus Connect that it's pushing the envelope as much as anyone on the software side of things. The company's innovative Facebook Spaces VR app, which lets users interact via avatars overlaid on real-world backgrounds, was updated to let users display photos and videos, as well as launch 360-degree live streams. It also previewed an app called Venues, which will let users watch live events with other people as if they were at the same place. And it showed off Rift Core 2.0, a streamlined version of the Oculus user interface that makes it easier to switch between apps and content, and also allows for more personalization.
With VR still likely 2-to-3 years away from primetime, owing to the limitations current headsets have in display resolution and other areas, the current hardware shortcomings of Facebook's VR lineup is hardly disastrous. And the company's software strengths do act as a selling point. But if Facebook's hardware shortcomings affect its market share, they could also affect its developer support. Particularly since Microsoft and Google have plenty of clout with developers as well.
For that reason, it makes a lot of sense for Facebook to get more aggressive about launching more powerful and versatile VR headsets, even if it wants to hand over the job to third parties in the long run.
More of What's Trending on TheStreet:
Editors' pick: Originally published Oct. 11.