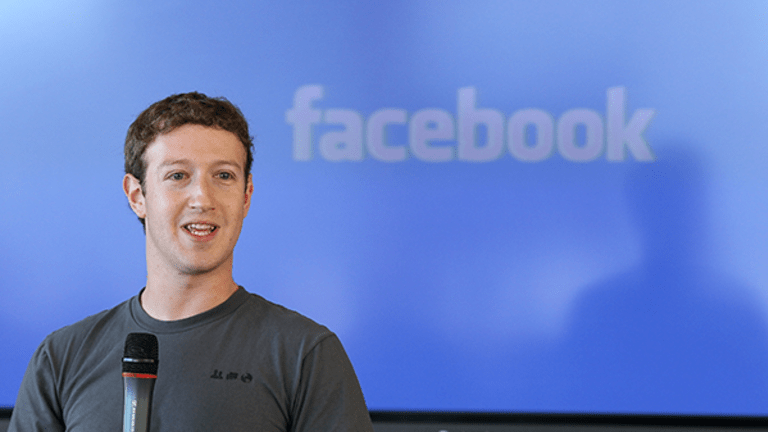 Facebook's Video Strategy Is All About Building a YouTube Rival
The social media giant is reportedly willing to pay top dollar to license content that could help change how users watch videos on its app.
According to the Wall Street Journal's latest report about Facebook Inc.'s (FB) professional video content push, the social media giant has told the content creators that it's looking to finance that their material should "steer clear of shows about children and young teens as well as political dramas, news and shows with nudity and rough language." Facebook, it seems, is desperate to avoid having its financed material either offend a subset of users or otherwise have its appeal limited to a small percentage of its base.
As anyone who has watched House of Cards or The Man in the High Castle knows, Netflix Inc. (NFLX) and Amazon.com Inc. (AMZN) haven't had similar hang-ups for their original content investments. But then again, Facebook video efforts aren't meant to take on Netflix and Amazon as much as Alphabet Inc./Google's (GOOGL) YouTube, and its long-term goal is to create a platform popular enough that it can avoid paying for top-notch content and rely solely on YouTube-like ad revenue-sharing deals.
That's easier said than done, given YouTube's incredible success. And it goes a long way towards explaining Facebook's apparent video priorities.
Jim Cramer and the AAP team hold positions in Facebook and Alphabet for their Action Alerts PLUS Charitable Trust Portfolio. Want to be alerted before Cramer buys or sells FB or GOOGL? Learn more now.
The WSJ's sources state Facebook has told top talent agencies such as Creative Artists and United Talent that it's willing to pay as much as $3 million per episode for premium content -- a budget on par with costlier cable TV shows. Facebook is also reportedly interested in scripted shows featuring a mid-to-high six-figure cost per episode, and in short-form content for which creators are guaranteed between $5,000 and $20,000 per episode in ad revenue.
Creators such as BuzzFeed, ATTN and Refinery 29 are said to be working on short-form Facebook content. In addition, a millennial-focused relationship drama called Strangers has been lined up, and a deal is reportedly close for licensing Loosely Exactly Nicole, a family comedy that Viacom Inc.'s (VIA) MTV recently cancelled.
Such details mostly fit with a late-May Reuters report stating Facebook has reached deals with BuzzFeed, Vox and other millennial-focused content creators. However, whereas Reuters said Facebook is only looking to pay up to $250,000 per episode for 20-to-30 minute shows, the WSJ's report suggest the company is now willing to spend more aggressively.
The WSJ states Facebook is now aiming for a late-summer launch for its content. Re/code reported last month that the launch, originally slated for June, had been pushed back to late July or early August, and that Facebook was still "figuring out" where to place professional content, outside of the Video tab in its core app. Other reports have signaled that the Video app Facebook recently launched for streaming set-tops and smart TVs will also showcase the material.
On earnings calls, both Mark Zuckerberg and CFO Dave Wehner have insisted that in the long run, Facebook doesn't want to pay for content, and instead plans to rely solely on ad revenue-sharing deals. The company reportedly plans to give creators a 55% revenue cut on "mid-roll" ads that will appear in the middle of a video. YouTube also gives a 55% revenue cut, and relies on both mid-roll ads and "pre-roll" ads that appear before a video starts. Facebook wants to avoid showing pre-roll ads for the sake of its user experience.
But even without pre-roll ads, Facebook's monetization strategy puts it at a clear disadvantage relative to Netflix and Amazon, each of which avoid showing ads, for longer material -- at least unless it's being shown live. YouTube, whose viewing skews more towards short and medium-length content, is clearly Facebook's main target. Twitter Inc. (TWTR) and Snap Inc.'s (SNAP) professional video offerings are being targeted to an extent as well.
Facebook's massive scale and high engagement rates -- the company had 1.28 billion daily active users (DAUs) as of the end of March, and as of April 2016 DAUs spent over 50 minutes per day on average between Facebook proper, Messenger and WhatsApp -- clearly acts as a big selling point for content creators. So does the scale and targeting/measurement abilities of its ad platform, which already does brisk business selling news feed and Instagram video ads. The company's ability to recommend videos based on a user's demographics, likes and past Facebook activity is also an asset.
Still, creating a successful rival to YouTube won't be easy. The video giant disclosed last week it now has over 1.5 billion monthly active logged-in users, and that its average daily viewing on mobile devices has eclipsed one hour. These users have generally spent a lot of time finding and "subscribing" to YouTube creators that they like, and in many cases discussing content (for better or worse) on comment threads. YouTube, in turn, has gotten very good at taking the oceans of viewing data it has compiled to recommend videos that they might like.
YouTube's head-start also means that it can provide a massive searchable library of videos that Facebook is unlikely to match in the near-term, even after accounting for all the professional material that has been shared on its site to date. And YouTube, forecast by eMarketer to produce $3.5 billion in 2017 U.S. net ad revenue, is no slouch in the monetization department either.
One could point out here that Facebook's news feed is already widely used to watch professional videos from major publishers and brands, and that its core app has had a Video tab for over a year. But how users consume this content is typically very different from how they do so on YouTube. Today, Facebook videos are often watched without sound, and are usually seen only because an algorithm chose to show them in the news feed or Video tab.
YouTube videos, by contrast, are typically watched with sound. And though many end up being seen because of an algorithm's recommendations, many are also seen because a user searched for a certain type of video, or visited YouTube to see content from one of more followed creators.
Cultivating similar habits on a large scale will require some serious legwork on Facebook's part. That, in turn, explains much of the company's near-term video strategy.
Paying to license "tentpole" video content that can create media buzz could do much to grow the visitor count for Facebook's Video tab and app, as well as change user perceptions of what Facebook's video experience is like. Focusing on material that appeals to a large swath of younger users that spend a lot of time on platforms such as YouTube and Netflix, rather than just a subset of them, also aids this goal.
Over the long run, the hope is that the popularity of such content will create a large base of viewers visiting Facebook specifically to watch videos from their favorite creators, and to discover and search for videos from other creators whose content they might like. At which point, Faebook no longer has to bother with paying for content, and can trust big-name creators to supply content in exchange for a 55% ad revenue cut.
That kind of success won't come overnight. And Facebook, like other firms to bet big on professional online video, will likely endure some setbacks and make a few bad bets during its journey. But considering the company's scale and resources, and its execution to date on big product initiatives, the odds of Facebook creating a platform that's at least reasonably successful -- even if it's not YouTube 2.0 -- look pretty good.