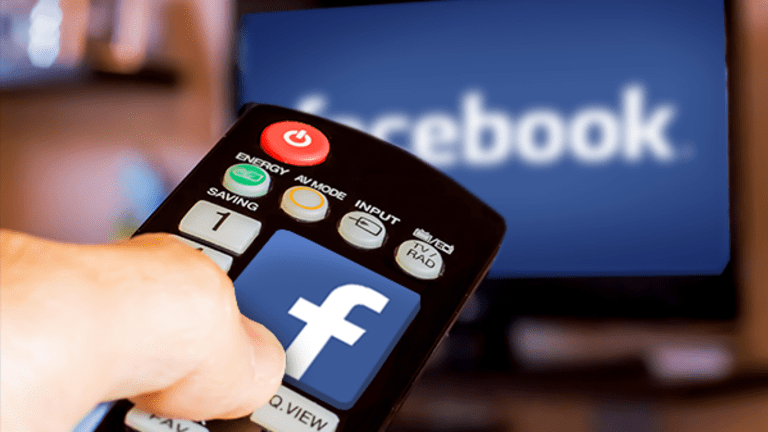 Publish date:
Facebook's New Video Platform Is No YouTube Killer -- But It Doesn't Need to Be
Facebook has the scale and resources to make its new Watch video platform pay off.
Facebook has the scale and resources to make its new Watch video platform pay off.
This column has been updated with information about the Aug. 31 launch of Facebook Watch and additional content deals inked by Facebook.
As Facebook Inc. (FB) - Get Report  gradually taps out on its ability to get its two billion-plus monthly users to spend more time on its main news feed, as well as its ability to show more ads on that feed, a dedicated professional video service is a pretty smart way to keep both viewing time and ad inventory growing for Facebook's main app.
That's going to make for a very interesting battle in the coming years between Facebook and Alphabet Inc./Google's (GOOGL) - Get Report YouTube, the one social (or perhaps semi-social) platform on the planet that can match Facebook's scale. The enormous strengths that YouTube has built up over the years make it unlikely that even Facebook can topple the online video giant. But this isn't a zero-sum game, and Facebook, aided by some unique strengths of its own, is well-positioned to make its effort pay off.
Jim Cramer Reveals Why Not to Buy Apple's Stock Right Now
On August 9, Facebook officially unveiled its much-rumored professional video platform, albeit while providing some unexpected twists. Whereas past reports had suggested that the platform's content would appear in the Facebook app's Video tab (along with the Video app the company has created for streaming set-tops and smart TVs), Facebook is instead creating a new Watch tab within its main app to showcase its material.
And on August 31, Facebook announced that Watch is rolling out to all U.S. users over the next few days, while promising international launches will happen in time. The news comes just after Facebook unveiled some new content for Watch: A pair of YouTube shows aimed at Latinos called Mom's Movie Reviews and What's Good In Your Hood, as well as Ball in the Family, a docu-series about Lakers rookie Lonzo Ball, his outspoken dad LaVar and the rest of the Ball family.
With the Video tab currently filled with the kind of "viral" videos one often sees in the news feed, creating a separate tab to showcase professional content makes sense. The same goes for the tab's inclusion of a Watchlist feature -- clearly, Facebook wants to turn its app into a place that users explicitly visit to see content from various creators, rather than just a place where they see short videos that an algorithm thought they might be interested in.
In line with prior reports, the platform features a mixture of short and medium-length recorded shows, live shows and live sports, with much (though not all) of the content targeting younger users.
The smattering of MLB games Facebook is streaming this year will be shown on Watch. Other initial partners include A&E, National Geographic, NASA and Time. The Wall Street Journal has reported that Facebook is willing to pay up to $3 million per episode for some longer premium shows, and mid-to-high six figures for others. For short-form content, Facebook is said to be guaranteeing creators $5,000 to $20,000 in ad revenue.
Though willing to pay for content to get the ball rolling, Mark Zuckerberg and others have made it clear that the business model for Facebook's platform will be much more like YouTube's than Netflix Inc.'s  (NFLX) - Get Report over the long run, with creators getting paid through a YouTube-like 55% ad revenue cut. But whereas YouTube both shows ads before a video starts and (for longer material) during the middle of a video, Facebook only plans to do the latter. That might not sit well with some creators, but viewers will no doubt feel differently.
Facebook's efforts to use its social strengths and data to drive Watch viewing should also help it grow its audience. The platform will include sections that show videos one's "friends" are watching and which are being discussed a lot, among others, and also let users easily see comments and share content with friends while watching.
Facebook's giant user base is of course a big selling point to creators -- and it's worth keeping in mind here there's nothing stopping many big YouTube creators from simultaneously publishing their material on both YouTube and Watch. Meanwhile, the video-viewing and user-interest data Facebook has built up should help it personalize what videos are recommended to a user, and the scope of its ad platform, with its millions of advertisers and powerful targeting and measurement tools, should give creators confidence that popular videos will be well-monetized.
Jim Cramer and the AAP team hold positions in Facebook and Alphabet for their Action Alerts PLUS Charitable Trust Portfolio. Want to be alerted before Cramer buys or sells FB or GOOGL? Learn more now.
More of What's Trending on TheStreet:
But is all of this enough for Facebook to supplant YouTube as the most popular platform for ad-supported online video? Probably not. For starters, YouTube can claim many of the same advantages that Facebook can.
Scale? YouTube now has over 1.5 billion monthly active logged-in users, and its daily viewing has topped 1 billion hours. Personalization? YouTube, aided by its data and Google's AI investments, has gotten very good at recommending videos based on past activity and followed accounts. Monetization? YouTube, recent controversies notwithstanding, counts legions of big-name advertisers as clients, and has been estimated to be pulling in over $3 billion in net revenue (implies over $6 billion in gross revenue) in the U.S. alone.
Moreover, YouTube's big head-start means that search and discovery are going to remain key competitive advantages for some time. An unmatched library of free videos to search through, together with an unmatched base of creators, means that those looking to find a particular kind of video or creator will be probably continue going to YouTube first.
There's also the matter of inertia. YouTube users have grown accustomed to relying on it as their go-to free video source, and have often "subscribed" to dozens of creator accounts along the way. Getting users to stop doing this in favor of relying just on Watch is going to be a very tough sell.
Facebook Top Exec Sheryl Sandberg: 'No Tolerance' For Sexual Harassment
That said, from a revenue standpoint, Facebook could cause some headaches for YouTube in time. Facebook's eschewal of "pre-roll" video ads in favor of only showing "mid-roll" ads could prompt YouTube to cut the number of pre-roll ads it shows to keep users happy. And if Facebook starts offering larger ad revenue cuts to some high-profile creators in exchange for exclusivity, YouTube might feel pressured to match.
Either way, YouTube doesn't need to be crushed for Watch to succeed. Not when total online/mobile video viewing continues to grow rapidly -- partly at the expense of traditional TV viewing -- and draw in fresh ad dollars from offline channels along the way. And especially not when Facebook will be promoting Watch to a base of 1.3 billion-plus daily active users (DAUs) that on average spend over 50 minutes per day on the core Facebook app, Messenger and Instagram.
After fielding many questions on Facebook's Q2 earnings call about his company's budding efforts to monetize Messenger and WhatsApp, Zuckerberg went out of his way to stress that video "is going to be a much bigger driver of [Facebook's] business over the next two to three years." By launching Watch, Facebook just took a big step towards making Zuck's prediction a reality. Even if predictions of YouTube's pending demise are greatly exaggerated.
Watch More with TheStreet:
Who Holds the Biggest Share of Snap?
It's Not Just North Korea, This is a Stronger Time for Gold