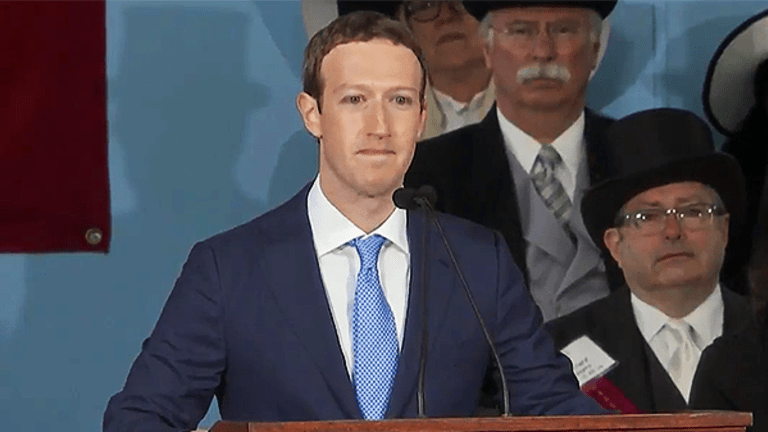 Facebook's Livestream of Zuckerberg's Harvard Speech Was One of Many Tech Failures, Here's Some More
Zuckerberg wants to live in a world 'where everyone has a sense of purposos.'
Mark Zuckerberg gave a heartfelt speech Thursday to Harvard University graduates, in which he even made a plea for universal basic income, and of course Facebook (FB)  live-streamed the event.
But, if you were a viewer with the sound turned off, you probably made out little of what the social network CEO actually said.
As The Verge first reported, the live-stream captions following what Zuckerberg was saying in his commencement speech were complete gibberish.
According to the captions, Zuckerberg wants to live in a world "where everyone has a sense of purposos." And, Harvard graduates shouldn't give up on their dreams because "J.K. Rowling Rauling got rejected 12 times before she finally" saw Harry Potter published.
Facebook told The Verge that the glitch was out of its control as a Harvard University team handled the captioning. It is unclear whether that team was a robot or human.
It's OK, Zuckerberg, this isn't the first tech fail the Internet has seen. Here's a look back at a few of the most memorable.