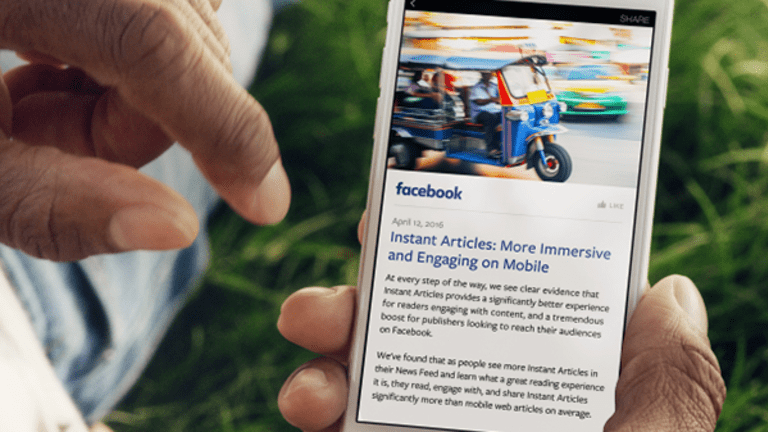 Facebook's Instant Articles Just Isn't Making Enough Money for Publishers
Facebook's Instant Articles arrived with great fanfare. But two years later, publishers are underwhelmed.
Facebook's (FB) - Get Free Report Instant Articles was built for speed and efficiency -- not necessarily making money.
That was the central message from a deep dive into Instant Articles by The Verge's Casey Newton, a critical look at the two-year-old news platform that Facebook originally touted as a means to both educate users while offering a much-needed jolt to publishers who have been mostly battered by the transition from print to digital.
Instant Articles, Newton explains, works nicely on mobile devices but that hasn't translated into meaningful revenue for online news organizations. And with Facebook's content algorithms increasingly favoring video over text, Instant Articles doesn't appear to be getting the high profile that publishers first envisioned when the platform launched in Spring 2015.
"Two years after it launched, a platform that aspired to build a more stable path forward for journalism appears to be declining in relevance," Newton wrote. "After scrambling to rebuild their workflows around Instant Articles, large publishers were left with a system that failed to grow audiences or revenues."
A major problem with Instant Articles is that it was built just as the advertising market was shifting. The idea behind behind the platform was that Facebook, with its fire hose of online traffic, could generate more eyeballs for stories from online publishers. Initially, the idea was met with great anticipation.
New York Times (NYT) - Get Free Report , Buzzfeed, Hearst, Vice Media and newspapers like the Los Angeles Times and the Chicago Tribune signed up. For publications eager to sell advertising, getting boatloads of traffic from Facebook seemed like a can't-lose proposition.
Instant Articles was a technological play meant to solve the problem that story links off a Facebook page were taking much too long to load. To resolve the problem, Facebook told news sites it would build a better platform.
The social media giant also told publishers that they could keep all of the revenue from any ads that they sold, or 70% of sales from ads that Facebook sold for them. Publishers were also given analytics tools to better understand their audiences viewing habits. The ground work for success was seemingly in place.
But in the two years since Instant Articles launched, and in the year since Facebook opened-up the platform to any and all publishers, a strange thing happened in digital advertising. It all dried up. Actually, it all dried up for everyone except Alphabet's (GOOGL) - Get Free Report Google and you guessed it, Facebook.
That's the irony. Of course, for publishers in need of cash, irony isn't what they wanted.
"The whole model of monetizing traffic was built on the notion that if publisher give an article away, they'll get the eyeballs," David Chavern, president of the News Media Alliance, an industry group that includes most major U.S. newspapers, said in a phone interview from Arlington, Va. "But monetizing eyeballs is proving to be really hard."
Facebook and Alphabet are holdings in Jim Cramer's Action Alerts PLUS Charitable Trust Portfolio. Want to be alerted before Cramer buys or sells FB or GOOGL? Learn more now.
As unbelievable as it may sound, nearly 60% of all U.S. digital advertising dollars this year will go to Google and Facebook, according to eMarketer, the ad-industry monitoring firm. Google's share is 40% while Facebook is a little less than half that amount. Drilling down, Google holds a 78% share of search ad sales while Facebook accounts for one-third of all displace advertising. 
The overarching picture for digital ad-spending is a bright -- eMarketer expects it to grow 16% in 2017. But most of that money is going to just two companies.
Declining ad sales are at the root of a 15-year decline in the newspaper business. The number of U.S. newspaper jobs has actually fallen by 56% over the past 15 years, dropping to 174,000 as of September from 412,000 in January 2001, according to data compiled by the Bureau of Labor Statistics. Newspaper industry businesses fell to 7,623 last year from 9,310 in 2001, a drop of 18%.
With advertising dollars harder to secure, online news publishers are increasingly focusing on subscription revenue. While The New York Times, Wall Street Journal, Washington Post and Boston Globe are having success building subscription sales, other newspapers are doing the same, Chavern said. Two examples are the Minneapolis Star-Tribune and Dallas Morning News, which have both started charging for full access to their sites.
To be sure, Facebook is tweaking Instant Articles. As Newton points out, Facebook began allowing publishers to post more display ads with their stories; then they were given more opportunities to place video ads and advertiser-sponsored posts.
More recently, Facebook began allowing publishers to place an advertisement in a story after every 250 words instead of after every 350 words. Its also begun to give publisher's the option of placing a pop-up ad within a story asking if a reader would like to become a subscriber to a given news website. Such pop-ups, known as a call-to-action, might also ask if a reader would like to download a publication's app.
The thinking here is that Facebook is trying to help publishers sell subscriptions. Some ads offer readers full access to a publication's website as part of a 30-day trial.
In a statement responding to The Verge story, Facebook sought to emphasize that Instant Articles is growing. the platform currently hosts some 9,000 publishers, a 16-fold increase over the 12 months, and 27% since the beginning of the year.
"We are fully committed to Instant Articles and are encouraged by the improvements to monetization over the last 6 to 12 months, but we know there is still work to be done," a Facebook spokesperson said in a statement. "We will continue to work closely with publishers to iterate on the product."
When it comes to Instant Articles, though, publishers are in a show-me state of mind, Chavern said. If Facebook can develop functions for Instant Articles that genuinely increase ad sales or subscriptions, that's great but publishers aren't allocating more employee time on a platform that remains largely underwhelming.
"Instant Articles has been really bad at figuring out how to lead people from reading articles to providing economic return to the publisher," Chavern said. "If they don't do that, they'll have two choices: either evolve the product to really generate economic return, or let it wither away."
Facebook, it's your move.