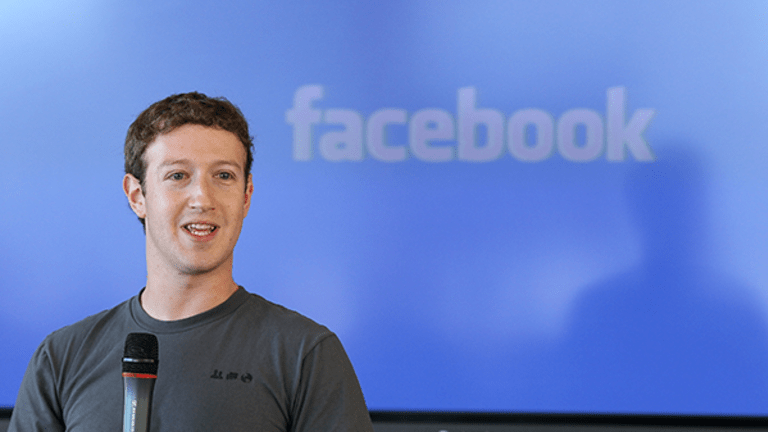 Facebook's Earnings Reveal a Company Spending Whatever It Takes to Succeed
The company is spending aggressively to stay ahead.
Much like Google (GOOGL) or Amazon (AMZN) , Facebook (FB) has never been shy about saying it doesn't try to "manage" its spending to hit quarterly or annual earnings targets. If the company thinks making giant investments in one field or another will leave it better-positioned to exploit a big long-term opportunity, it doesn't care much about the spending's impact on the next few quarters.
The social networking giant emphatically reminded everyone of this during its fourth-quarter earnings call, via its 2017 spending guidance. But for now, markets only seem a little worried by the outlook, given another round of strong results and a stellar track record.
Facebook reported fourth quarter revenue of $8.81 billion (up 51% annually) and adjusted earnings of $1.41 a share (up from $0.79 a share a year ago), topping consensus analyst estimates of $1.31 a share and $8.52 billion. Ad revenue rose 53% to $8.63 billion, and monthly active users (MAUs) and daily active users (DAUs) grew 17% and 18%, respectively, to 1.86 billion and 1.23 billion, beating consensus estimates of 1.83 billion and 1.2 billion.
Some 84% of ad revenue came from mobile devices (up from 80% a year ago), and 62% of MAUs are now mobile-only (up from 52%). Facebook mentioned free promotional mobile data plans from carriers, along with the company's efforts to optimize its Android app experience, have boosted its user growth in emerging markets. But North American and European users are also growing, albeit at a slower pace.
Shares initially rose close to 3% on the numbers. But they started paring their gains after Facebook guided on its call for adjusted costs and expenses (boosted by the aggressive hiring of engineering talent) to grow 47% to 57% this year, and set a 2017 capital spending budget of $7 billion to $7.5 billion. The latter figure is well above reported 2016 capex of $4.5 billion (itself up 78%), and must be music to the ears of Intel (INTC) , Nvidia (NVDA) , Arista Networks (ANET) and others supplying chips or hardware going into Facebook data centers.
Facebook finished after-hours trading nearly unchanged in response to its numbers and guidance. The fact shares went into earnings just $0.27 away from an all-time high of $133.50 needs to be kept in mind here. The company's market cap is now around $390 billion.
Facebook's burgeoning video ambitions likely have something to do with the capex guidance. Mark Zuckerberg reiterated Facebook is taking a "video-first" approach to app development, and expects users to consume a lot more video on its core app over time. He added Facebook -- with the help of the video tab being rolled out on its apps -- wants to be a place users go to discover and "episodically" watch content they're interested in, rather than just a place where videos are pushed to them through the news feed. With Zuck also saying Facebook is focusing on "shorter-form content" -- well-suited for its mobile apps -- the company appears hungry to directly challenge Alphabet's (GOOGL) YouTube.
Facebook and Alphabet are holdings in Jim Cramer's Action Alerts PLUS Charitable Trust Portfolio. Want to be alerted before Cramer buys or sells FB or GOOGL? Learn more now.
Wall Street generally liked Facebook's quarter
Zuckerberg remains focused on dominance
Zuck also said Facebook plans to step up its nascent original content efforts in 2017. CFO David Wehner mentioned most of Facebook's content deals (like YouTube's) will be focused on revenue-sharing rather than licensing, but added the company is "funding some seed content" to build out its video ecosystem.
The remarks follow a Wall Street Journal report stating Facebook is building a "video-centric app" for streaming set-tops such as Apple TV, and is in talks with media firms to "license long-form, TV-quality programming" it can distribute through the app. They also follow a report Facebook is testing ads that would appear in the middle of videos, with plans to give publishers a 55% revenue cut.
While Facebook pushes ahead with its ambitious video strategy, ad load increases, user growth, still-improving user engagement rates and superb execution keep allowing the company's ad sales to surpass expectations.
Wehner mentioned ad impressions grew 49% annually, thanks largely to impression growth for Facebook and Instagram's mobile feeds, with price per ad rising 3% despite the surge in inventory. Mobile ad sales grew 61%, and PC ad sales grew 22% despite declining PC activity; Facebook's efforts to combat ad-blockers helped with the latter.
COO Sheryl Sandberg noted Facebook's top-100 advertisers made up less than a quarter of its revenue, and declined on a percentage basis thanks to growing sales to smaller businesses. She also highlighted the success of Facebook's Dynamic Product e-commerce ads -- they now feature more advanced targeting tools, and have been tailored to address big verticals such as travel and retail -- as well as its efforts to improve ad measurement, and to work with brands on mobile video ad campaigns.
Wehner did once more caution Facebook expects its presently-tremendous ad revenue growth to slow "meaningfully" in 2017 as News Feed ad load growth diminishes. But between user growth, higher engagement, Instagram ads, video ads and better targeting/measurement (can drive higher ad prices), Facebook still has a lot of near-term growth drivers. And over the long run, Facebook Messenger and WhatsApp, which are just beginning to be monetized, can act as additional growth drivers. Though growth rates could slip a bit, all signs point to Facebook and Google adding further to their joint online ad dominance this year.
Some notable and impressive new stats were also shared on the call. Instagram now has over 400 million DAUs, up from 300 million in June, and WhatsApp has topped 1.2 billion MAUs, up from 1 billion last February. Some 65 million businesses now have Facebook Pages, up from 60 million in September. Of those businesses, only 4 million-plus are advertising on Facebook, leaving plenty of room for growth.
While the company's spending plans are bound to put some on edge, Facebook's sales growth and key metrics remain quite solid. The company is once more asking investors to trust its ability to make giant short-term investments in a sensible way. Given its history, a measure of trust is warranted.