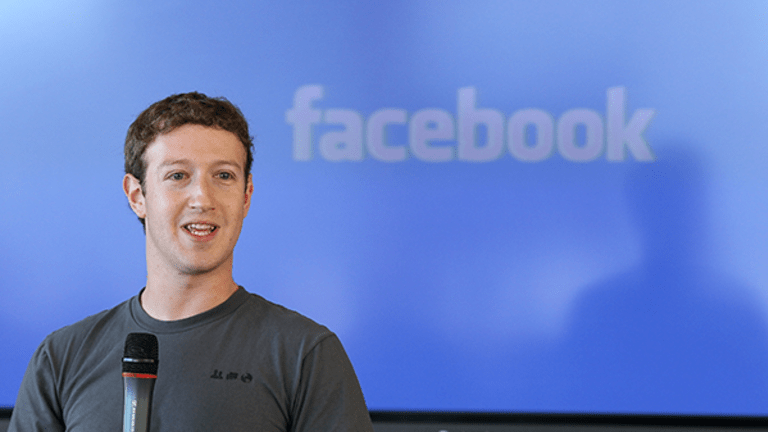 One Significant New Trend Boosted Facebook's Latest Quarterly Earnings
The company's results once more benefited from user growth, rising engagement and higher ad loads. But strong ad price growth also provided a lift this time around.
On the surface, Facebook's (FB) - Get Meta Platforms Inc. Class A Reportfirst-quarter earnings report looks a lot like the ones it delivered throughout 2016. The company soundly beat estimates on the back of very strong ad sales growth and also continued seeing healthy growth for its massive active user base.
But in addition to the usual reasons, some relatively new trends gave Facebook a boost in Q1. One of them -- a sizable increase in ad price growth -- could bode well for the company's ability to keep growing strongly in the coming quarters.
Facebook reported Q1 revenue of $8.03 billion (up 49% annually) and GAAP EPS of $1.04 (up 73%), topping consensus analyst estimates of $7.83 billion and $0.87. Ad revenue rose 51%, to $7.86 billion, a growth rate nearly even with Q4's 53%. Payments & Other Fees revenue, hurt by declining PC gaming activity, fell 3%, to $175 million.
With shares up 32% on the year going into earnings, some investors are taking profits: Facebook fell in after-hours trading on Wednesday and was trading down 0.8% to $150.65 on Thursday late morning.
Shares were down as much as 4% on Wednesday after hours at one point after CFO Dave Wehner cautioned on the earnings call that Facebook expects ad sales growth rates will slow meaningfully over 2017, that increases in ad load (the frequency at which ads are shown to users) soon won't have a major impact on sales growth, that GAAP costs and expenses will rise 40% to 50% in 2017 and that payments/fees revenue will drop this year. But they pared their losses as investors remembered Wehner basically said the same things on prior calls.
A lot of the factors fueling Facebook's sales and EPS growth are unchanged from the past several quarters. Specifically:
Growth in the number of users Facebook can monetize. Monthly active users (MAUs) grew 4% sequentially and 17% annually to 1.94 billion, and daily active users (DAUs) grew by 4% sequentially and 18% annually to 1.28 billion. While much of this growth comes from emerging markets featuring low per-user revenue, Facebook also added 8 million MAUs sequentially in North America and Europe.
Rising user engagement. Mark Zuckerberg noted total time spent per DAU for Facebook's app family continues to grow, and that growth was especially strong for Instagram, which just topped 700 million MAUs four months after topping 600 million.
Ad load growth. Though not growing as fast as before, ad load increases still helped Facebook's total ad impressions rise 32% annually. It's worth noting here that Instagram's feed still has a low ad load compared with Facebook's main news feed.
Advertiser growth. Facebook topped 5 million advertisers in April, up from 4 million in September 2016 and 3 million in March 2016.
Jim Cramer and the AAP team hold positions in Facebook and Alphabet for their Action Alerts PLUS Charitable Trust Portfolio. Want to be alerted before Cramer buys or sells FB or GOOGL? Learn more now.
But there were also some other factors providing a Q1 boost. Arguably the most important was that Facebook's average price per ad rose 14% annually, after growing just 3% in Q4. That helped offset a slowdown in impression growth to 32% from 49%.
Facebook's steadily improving targeting and measurement abilities, aided by its volumes of data on user activity, demographics and ad interactions, are compelling marketers to both pay for more ads and increase how much they pay on a per-click or per-view basis. On the call, COO Sheryl Sandberg claimed even Facebook's basic age/gender targeting is 38% more accurate than alternatives, due to the fact that users share their real names and identities. She also argued Facebook's targeting/measurement will be a major differentiator for its mobile video ads relative to TV ads as more video ad dollars move online. "I think, increasingly, the question is not if you can do without TV, but if you can do without mobile," she declared.
Scott Kauffman, CEO of ad agency owner MDC Partners (MDCA) - Get MDC Partners Inc. Class A Report, noted ahead of Facebook's earnings that many of the creative briefs his firm writes for clients' video ad campaigns now start with a social strategy. He also mentioned that in many cases, video content will initially be created for social ad campaigns, with some of that footage later repurposed for TV campaigns. "Facebook is one of the great beneficiaries of this trend ... they are causing a lot of that behavior to happen," Kauffman added.
Meanwhile, on Facebook and elsewhere, video ads tend to carry higher prices than text or photo ads. Aside from basic Facebook and Instagram feed ads containing a video clip, the company is banking on newer formats that combine video with other content, such as its e-commerce-focused Collections Ads and its full-screen Canvas Ads.
Though its still early, the mid-roll video ads Facebook is looking to sell against long-form professional content clearly have potential. As do the video ads it can run against its various Snapchat Stories clones. On the call, Zuckerberg mentioned that WhatsApp's Stories clone, known as Status, already has 175 million DAUs. Instagram Stories (now supports ads) topped 200 million DAUs last month. Snap (SNAP) - Get Snap, Inc. Class A Report delivers its first post-IPO earnings report on May 10.
In addition to higher prices, Facebook benefited for the second quarter in a row from a 22% increase in PC ad sales, which accounted for 15% of total ad revenue. The company is clearly benefiting from its efforts--launched in Q3 2016--to combat PC browser ad blockers, and understandably cautions that its PC growth will slow in Q4 2017. But it also can't be overlooked that PCs still account for a large percentage of the average consumer's digital time spent, especially among older demographic groups. And as Facebook and Alphabet/Google (GOOGL) - Get Alphabet Inc. Class A Report continue taking online ad share from rivals, this is helping them prop up their PC-related revenue.
One other factor lifting Facebook's earnings in Q1: The company had just a 10% effective tax rate, down from 21% in Q4. Wehner notes the rate would have been 19% in not for an accounting change enacted in Q4. Facebook expects a midteens tax rate for both Q2 and the whole of 2017, slightly below 2016's 18%.
But from a long-term perspective, it's the ad price growth -- held down in prior quarters by ad inventory growth, but less so now -- that's really encouraging. Worries about how fast Facebook will grow once ad load increases decline have been frequently aired over the past several months. Q1's pricing trends, together with continued usage growth and the untapped revenue potential within Instagram, Facebook Messenger and WhatsApp, show why those worries could be overblown.